July 25, 2022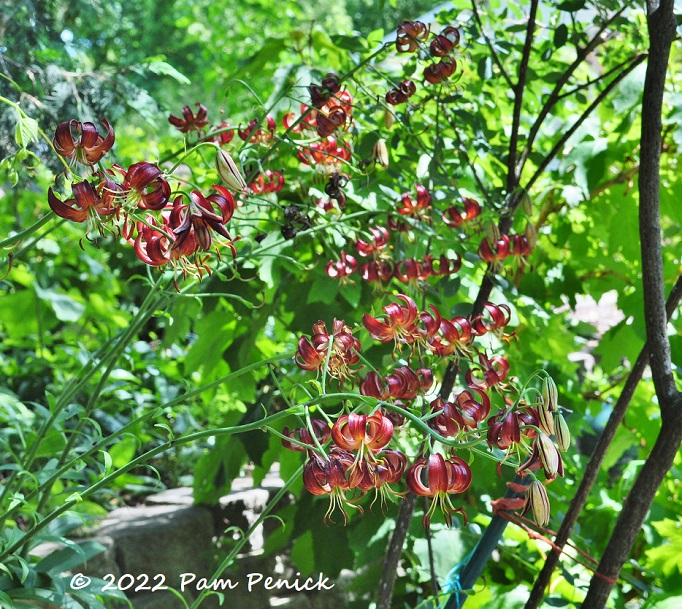 "The garden has been my retreat, my laboratory and my playground," Rita Thomas told us at the Madison Fling, a 3-day tour for gardeners on social media, held last month in and around Madison, Wisconsin. For 35 years, Rita has been playing in her Fitchburg garden, learning about plants and design along the way. Today he describes himself as "a plant collector, looking for the unusual, the best species or the latest introduction". My main interests are native woodland plants, daylilies and irises."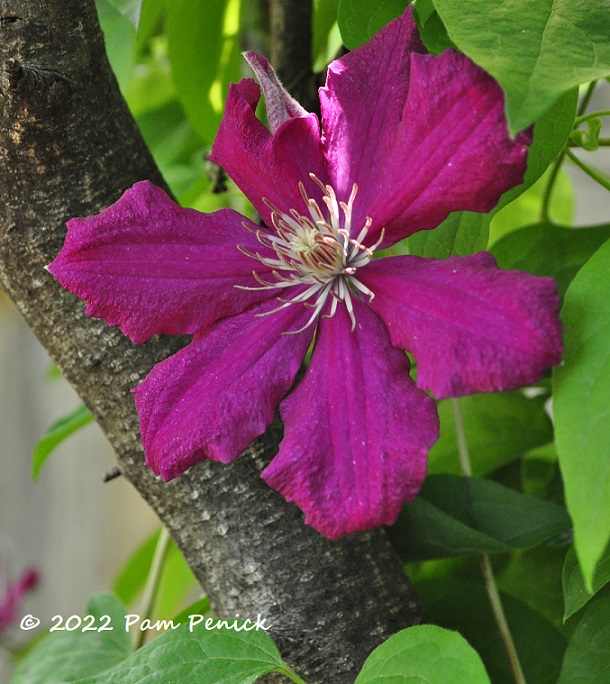 As with other Madison gardens, I was impressed by the number of gorgeous clematis. Rita encourages vines to twine between her trees, adding a surprising spark of color between the gray branches.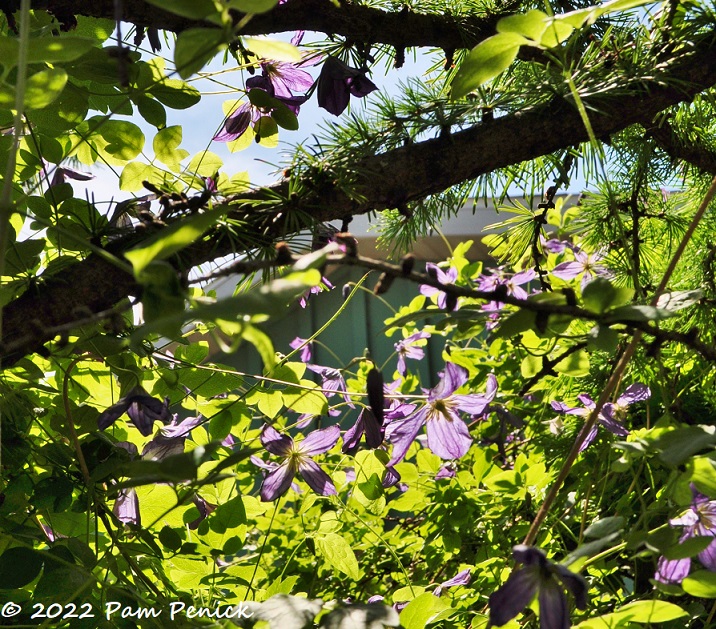 Backlit purple clematis swirl through the jagged branches of conifers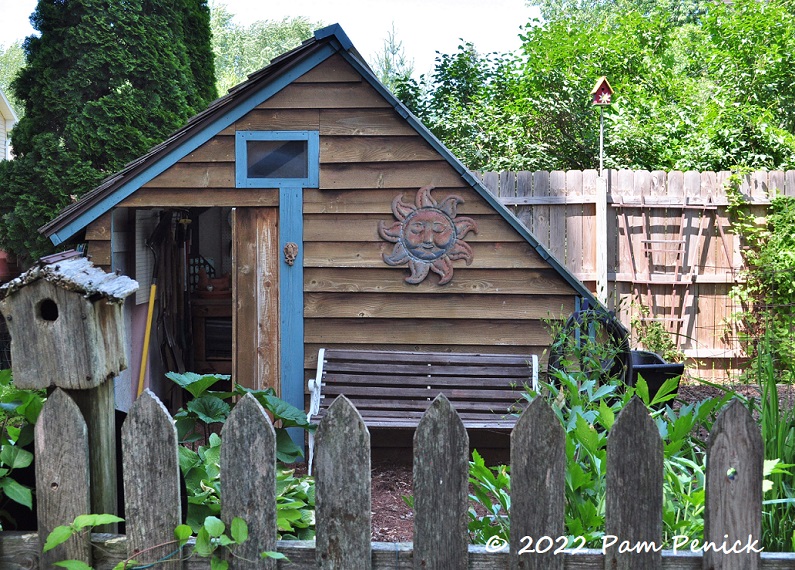 Behind a picket fence in her back garden, Rita grows vegetables next to a charming, sloped-roofed shed.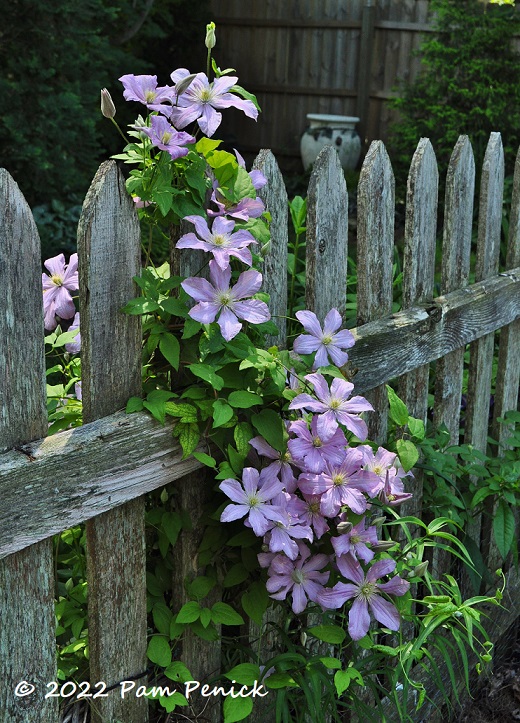 The fence makes an irresistible scaffold for other clematis.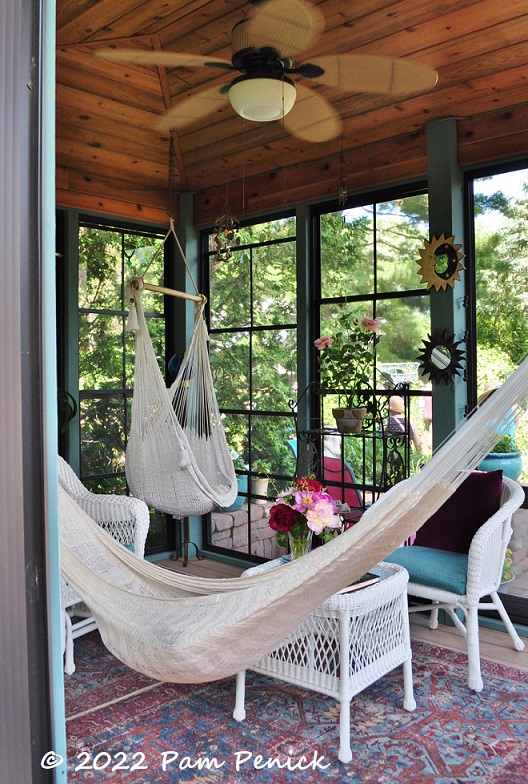 On one side of the garden, a fully screened gazebo is inviting with white wicker, a hammock and a hanging chair.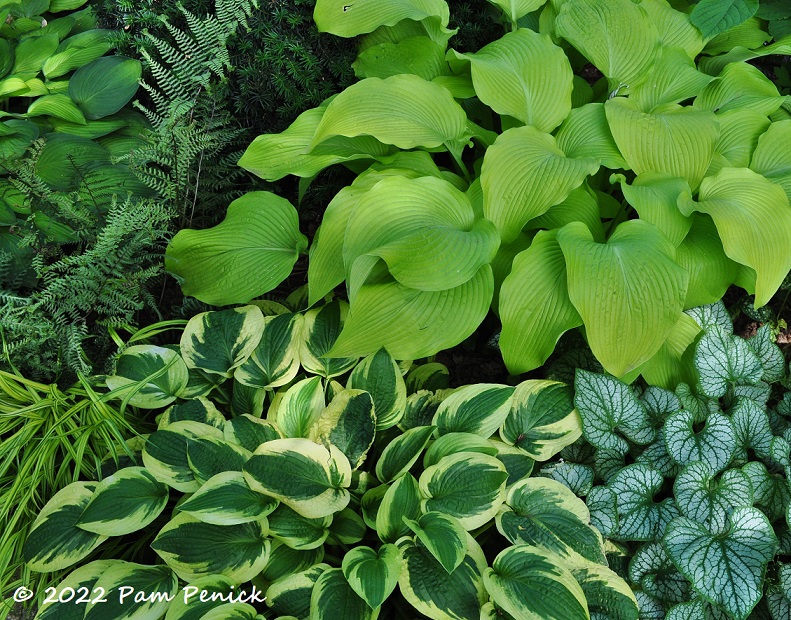 Shadow lovers in the shade of green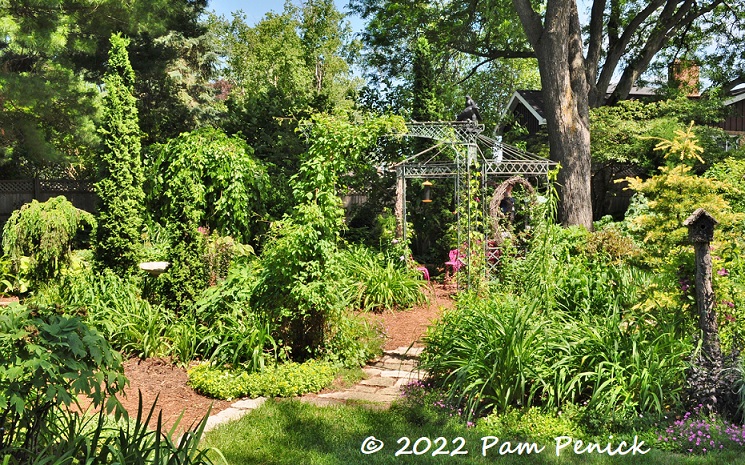 In the sunny center of the garden, a metal pergola shelters hot-pink, wrought-iron chairs. The bright sun made it difficult to capture the details of the surrounding plantings.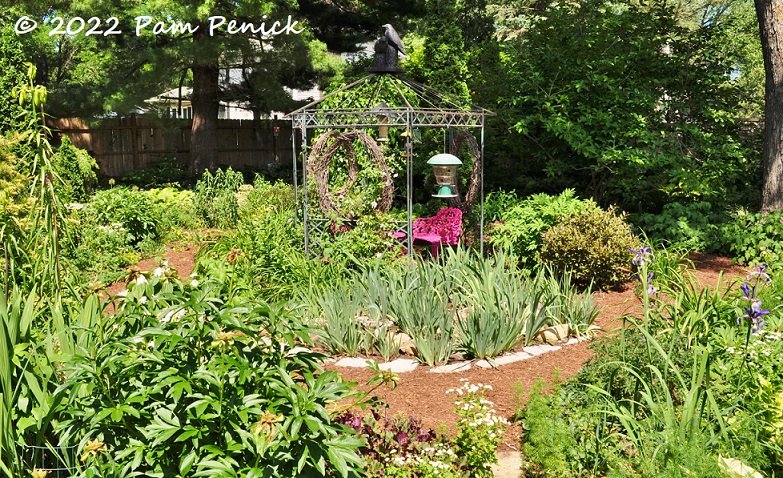 Another angle shows how far his backyard extends, the far fence shaded by many large trees, giving him an enviable mix of shade and sun in the garden.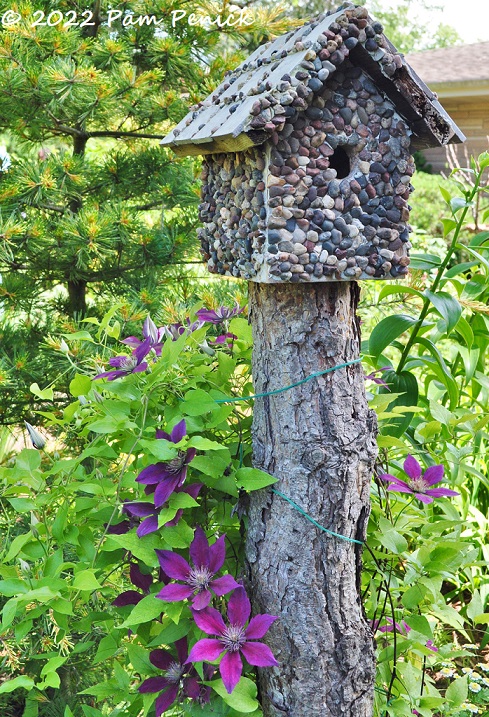 An old tree stump makes a perfect perch for a gravel birdhouse, with purple clematis swinging overhead.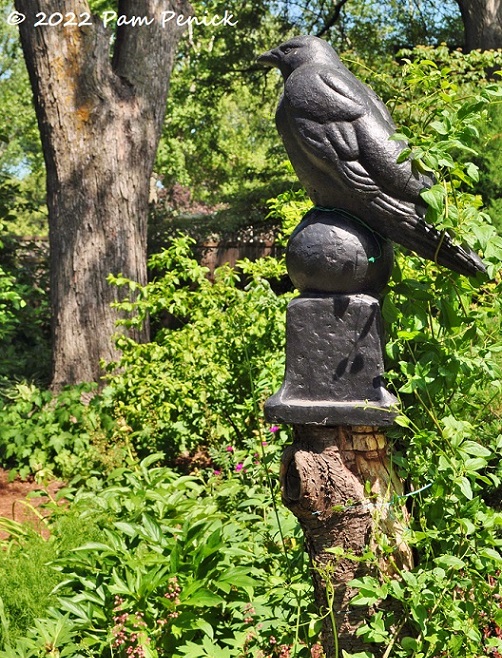 Another stump supports a sculpture of a raven.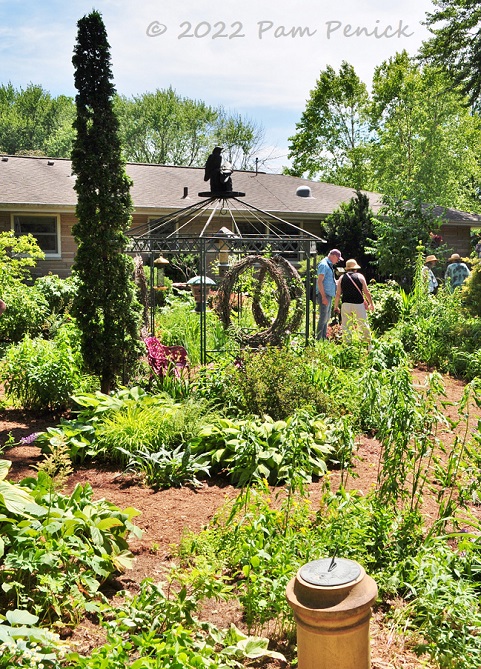 Look closely and you'll see another raven atop the metal pergola.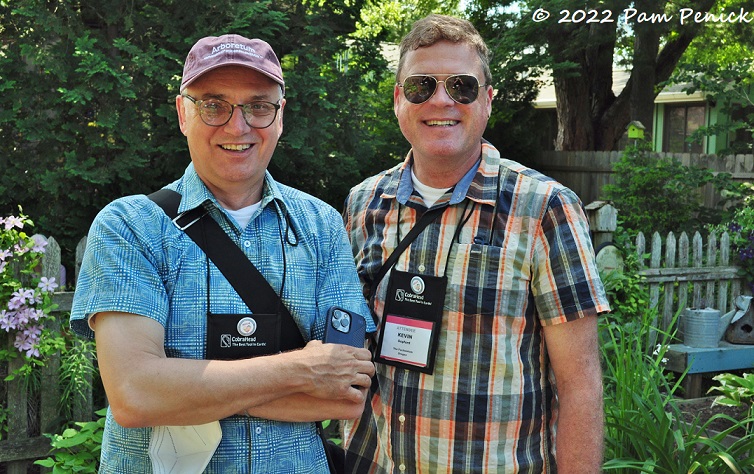 Fellow flingers Theo and Kevin of The Fuchsitum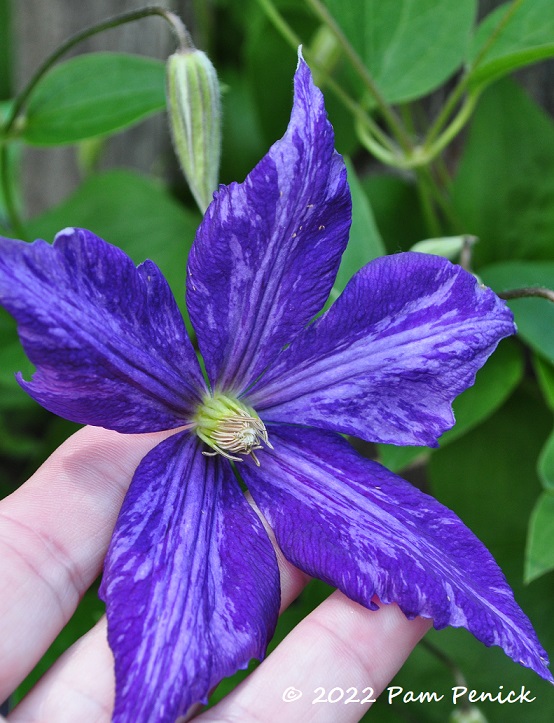 I surprised this clematis with streaky purple-and-lavender petals.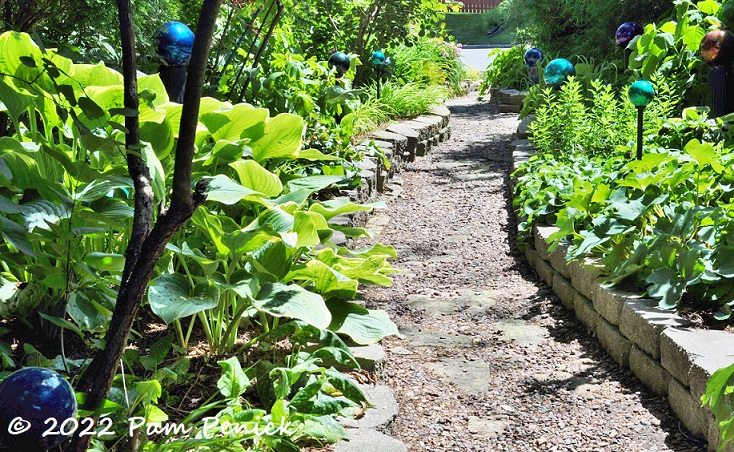 Above the side garden path, where raised beds sparkle with colorful globes on black posts.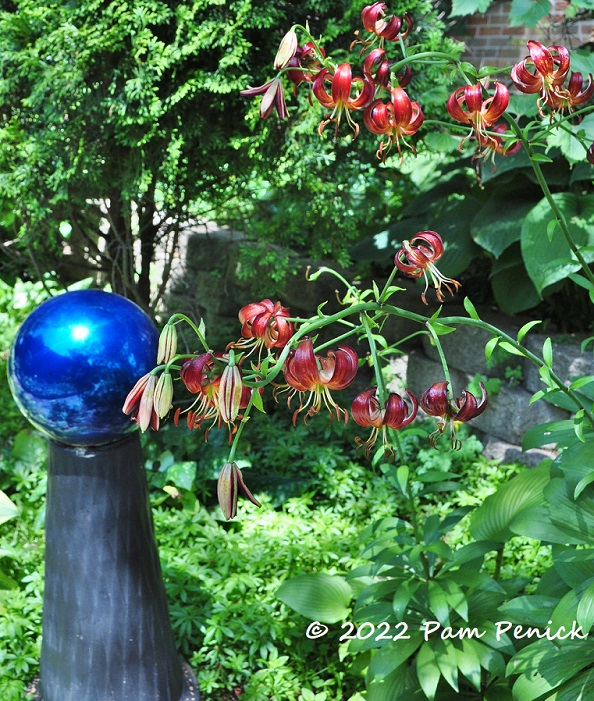 And where the Martagon lily bows beside a blue resplendent globe.
Next: Epic System Campus' wildly imaginative and epic-scale gardens. To see Flinger's Fun at the Rotary Botanical Garden, click here.
I welcome your comments. Scroll to the end of this post to leave a. If you're reading an email, click here to go to Digging and find the comment box at the end of each post. And hey, did someone forward you this email and you want to subscribe? Click here to have Digging delivered straight to your inbox!
__________________________
dig deep
Join the mailing list for Garden Spark! Hungry to learn about garden design from the experts? I host a series of inspirational talks by designers, landscape architects, and authors several times a year in Austin. These are limited-attendance events that sell out quickly, so join the Garden Spark email list for advance notice. Just click on this link and ask to be added. Season 6 will begin in Fall 2022.
All material © 2022 by Pam Penick for Excavation. Unauthorized reproduction prohibited.