January 25, 2023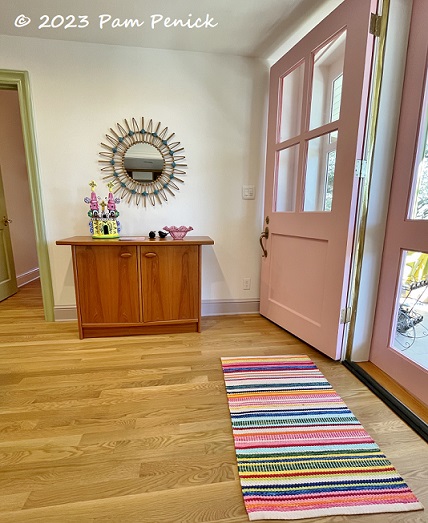 The quiet season for gardening makes it the perfect season to focus on interiors—and to join Austin's annual Tribeca Interiors Tour. After a two-year pandemic hiatus, the tour resumed last Sunday and I was there. I'll be featuring highlights today and tomorrow for my fellow design aficionados and those just curious about what other people do with their homes.
CG&S Design-Build: A rainbow-bright Rollingwood home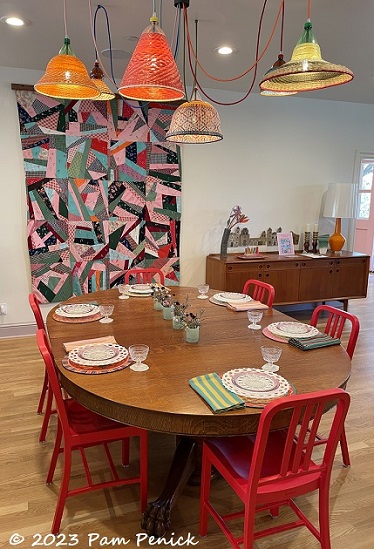 One of my favorites on the tour was Jenny Norris' exuberant color-confident home in the Rollingwood neighborhood. Ginny is a color consultant, and draws on her textile collection to create a rainbow of sorbet colors throughout her home.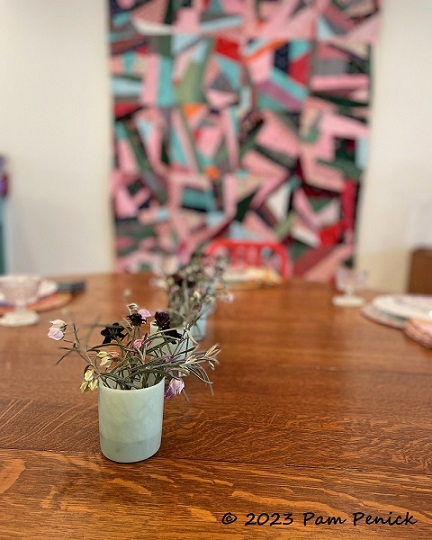 According to Tribeca:
"CG&S Design-Build's client Jenny Norris, as a color consultant, painted the facade in bright cheerful colors: indigo, avocado, scarlet and pink. Ginny's love for color began with her interest in old textiles instilled by her mother. And it was a particular 1970s Colt that inspired her and her husband's restoration journey over the past few years. Jenny and Randy approached CG&S Design-Build to renovate the entire home: new outdoor living and pool as well as a third story 'crow's nest' to enjoy city views.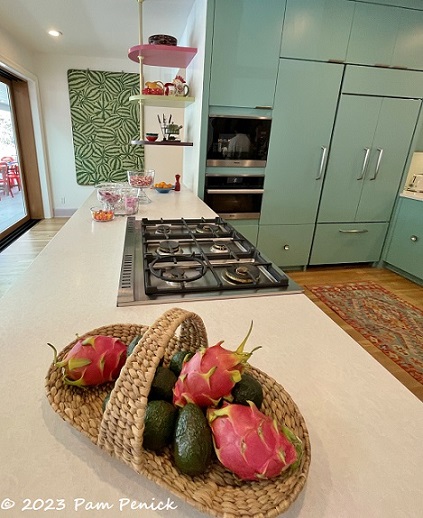 In the kitchen, a graphic watermelon artwork echoes green cabinetry painted by Sherwin Williams.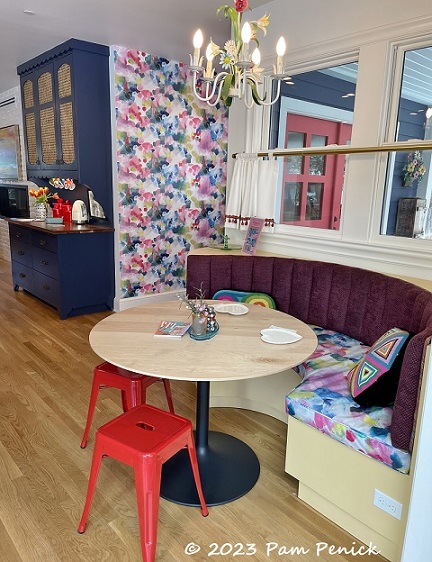 I love a banquette and have one in my own home, so I especially enjoyed this curved version with a plush, burgundy back and fabric cushions to match the colorful, abstract seafield wallpaper in Bluebell Grey.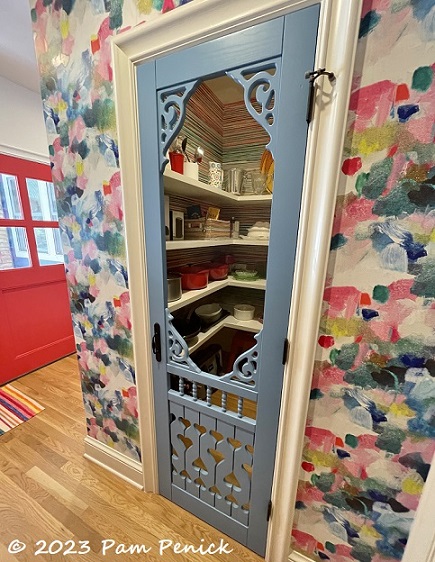 In the mudroom, an old-fashioned screen door – sans screen – opens to a butler's pantry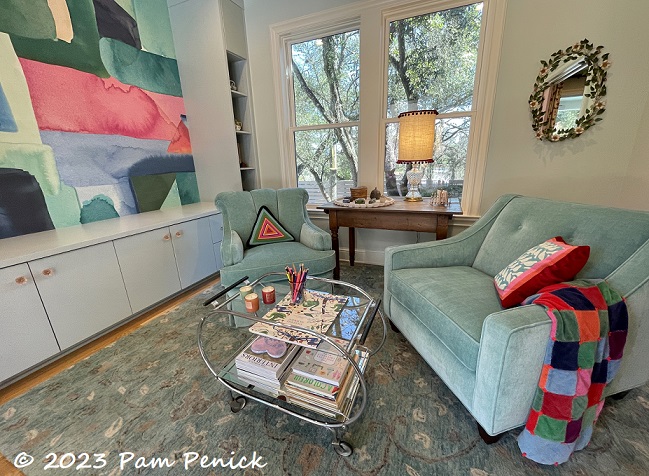 A spacious living room off the master bedroom is inviting with seafoam-green armchairs and a large watercolor mural or wallpaper. This room overlooks…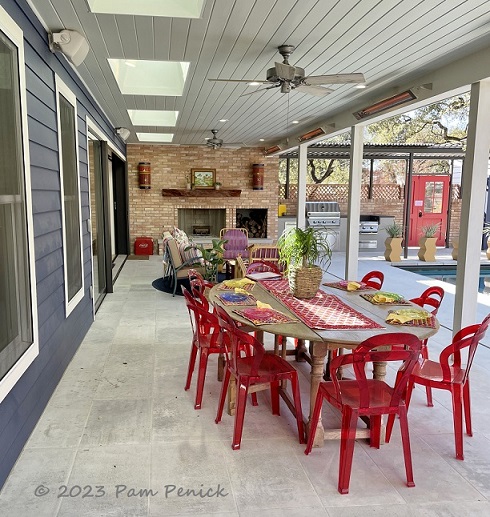 …a deep covered porch that runs the length of the back of the house. Light wells in the veranda roof bring sunlight indoors while the deep roof keeps the veranda shaded and dry. Ceiling fans and built-in heaters, plus an outdoor fireplace, provide comfort no matter the season.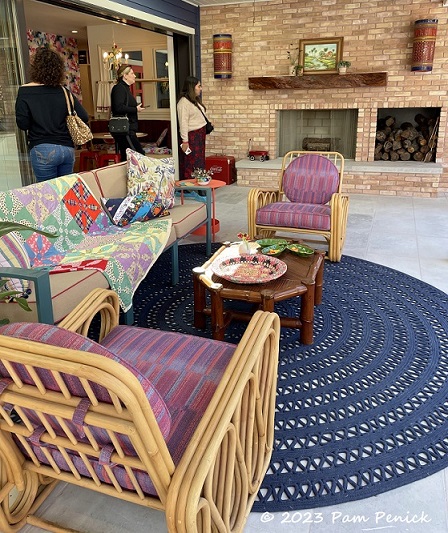 Inviting porch furniture (Rivera lounge chairs by Jonathan Adler and Boline Navy indoor/outdoor rugs by Annie Selk) and oversized clay sconces on the fireplace wall add style. A generous sliding door erases the separation between indoors and outdoors.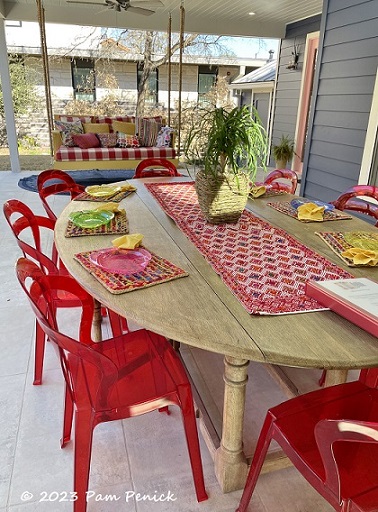 A large dining table with red Lucite chairs and a bench swing out of the seating options.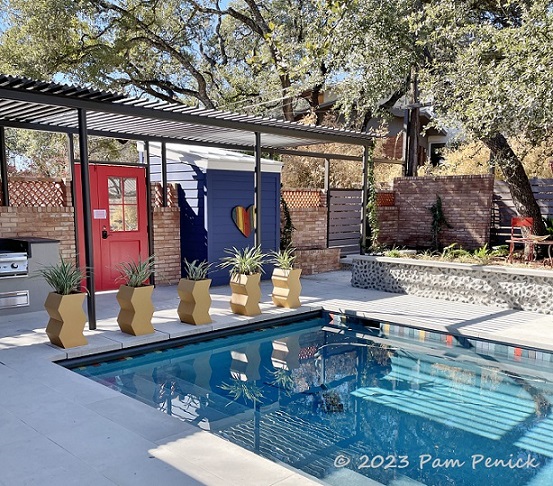 The colorful waterline tile reminded me of Bee Jane's pool tile — inspiration, perhaps? Zigzag planters from Peace seem to dazzle one end of the pool.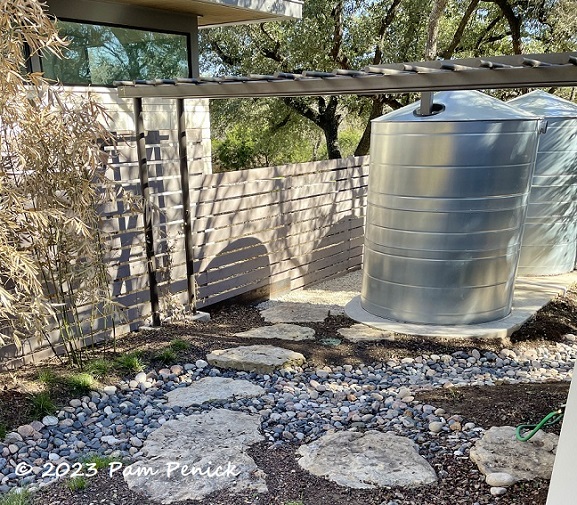 In the side yard, two large galvanized cisterns collect and store rainwater from the roof.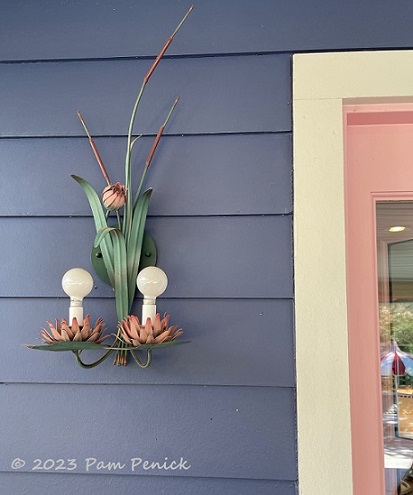 At the door of the living room, I noticed this lovely tall thorn and lotus flower.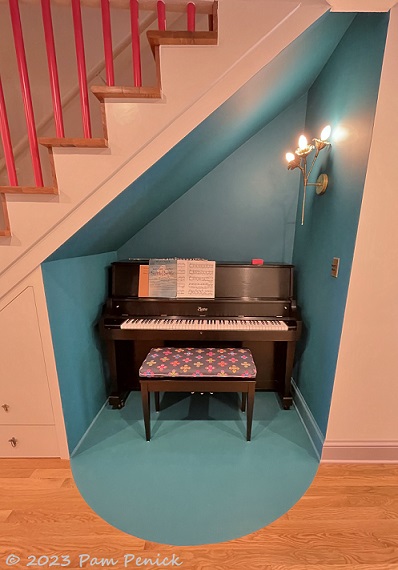 In a nook under a staircase, a piano gets the star treatment with blue paint (Sherwin Williams "Truly Teal") that pops out onto the hardwood floor like a stage spotlight. A metallic floral sconce from Sazerac Stitch illuminates this charming music niche.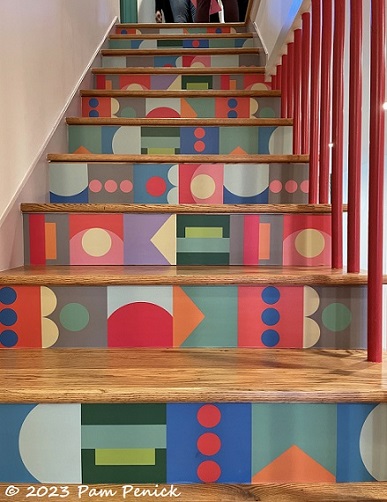 A colorful staircase papered in Sherwin Williams "Gypsy" painted on Faye Jennifer Designs peel-and-stick vinyl and spindles brought a smile to my face.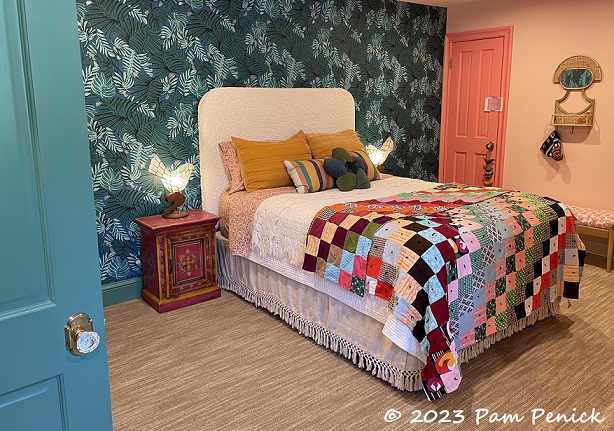 Doors throughout the house are fearlessly painted in different colors in the hallway and even in a room.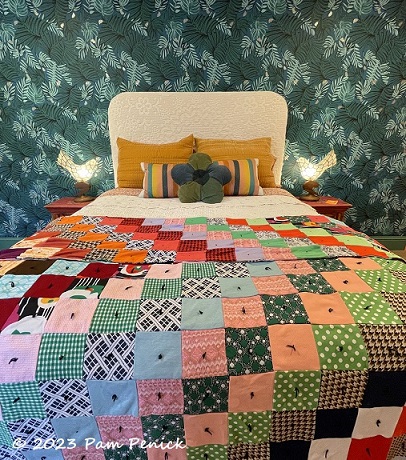 Jungalow's Aja wallpaper brings tropical patterns and colors to a guest room. A quilt layer adds more comforting colors, and a bird-shaped bedside lamp adds whimsy.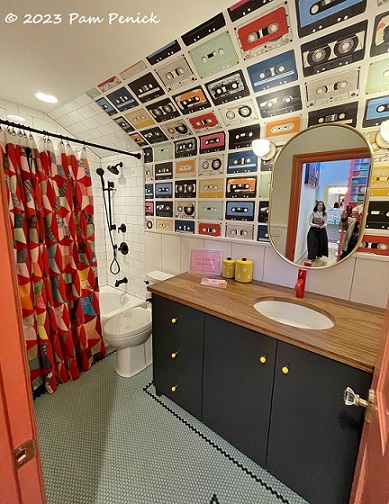 In the hall bath, cassette tape wallpaper (rebellious wall mixed tape) runs up to the slanted ceiling, and teal-and-black penny tile bears Journey's lyric "Don't Stop Believin'," which I couldn't photograph. But it's there!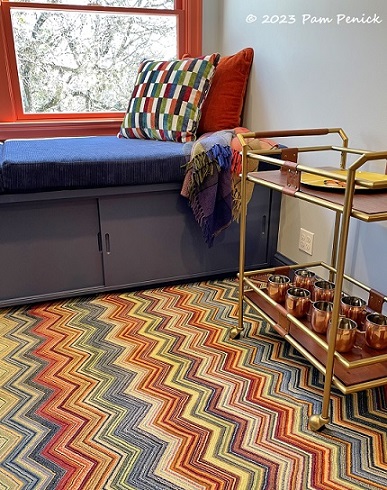 In the husband's office, a zigzagging, Missoni-inspired carpet and blue-cushioned window seat with red frames inject more fun color. A bar cart with copper mugs is ready to make Moscow Mules.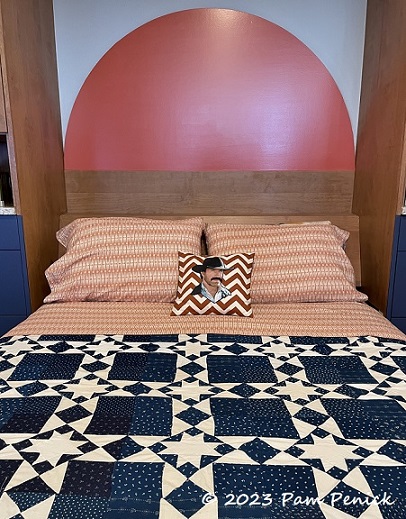 A Murphy bed with a rising-sun painted headboard, a Chuck Norris pillow adds a comically masculine touch.
To learn more about Ginny's deliciously colorful and whimsical home, read "Rollingwood Color Masterclass on Tribeza Tour" on CG&S Design-Build's website.
Brit Design Group: Home of the founders of Torchy's Tacos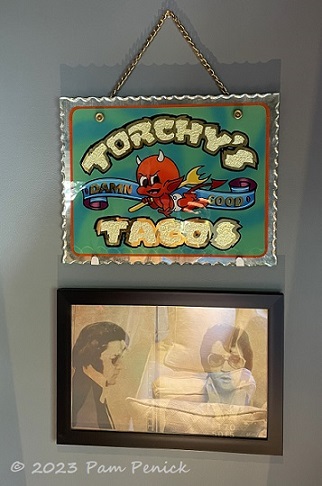 The tour features a total of 7 private homes, including a 13,000 square foot mansion (!) in Lake Austin owned by Torchy's Tacos founder Mike Rypka and designed by Britt Design Group.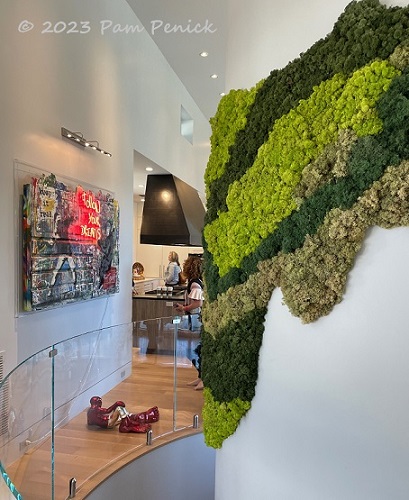 Rypka's extensive art collection fills the home, including a moss installation by Articulture and a Banksy-inspired piece with the neon message, "Follow your dreams."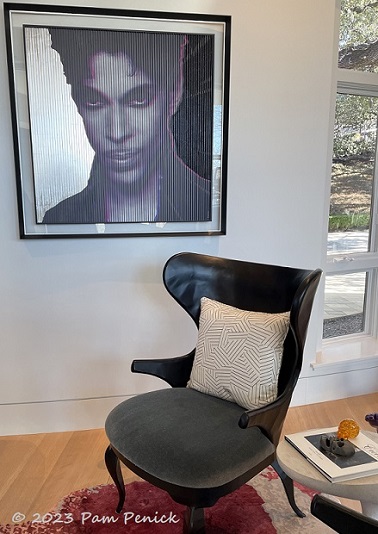 Artwork of Prince's face…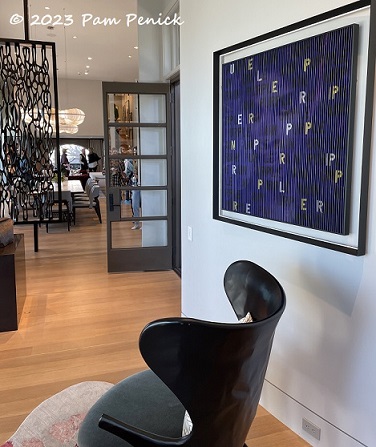 …shapes the letters that spell "purple" when viewed from one side…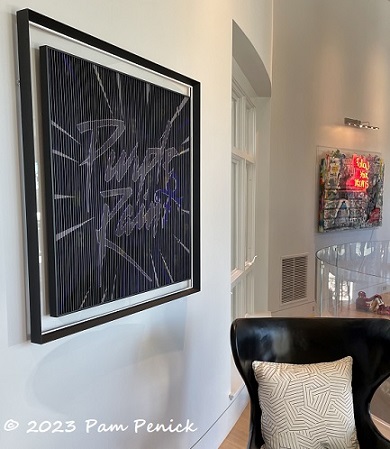 …and "Purple Rain" from another. It was one of the many rock-and-roll rocking moments on the entire tour.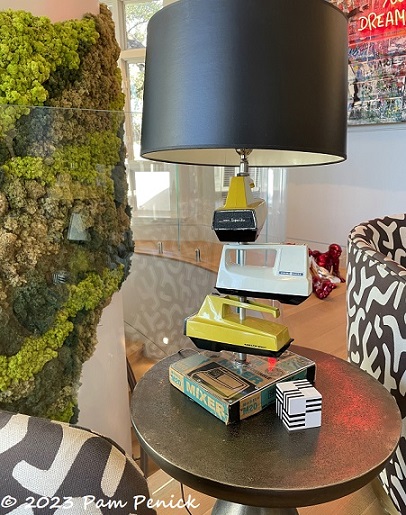 There's a bit of Betty Crocker here too, with retro mixers and vintage box-turned-table lamps. There was a lot more that I didn't photograph because it was the first stop of a rush, and that's all I was taking. To see more of this art-collector's estate, read Torchy's Tacos Founder Mike Rypka's Vibrant Home Austin Monthly.
Housemill Design: Tarrytown House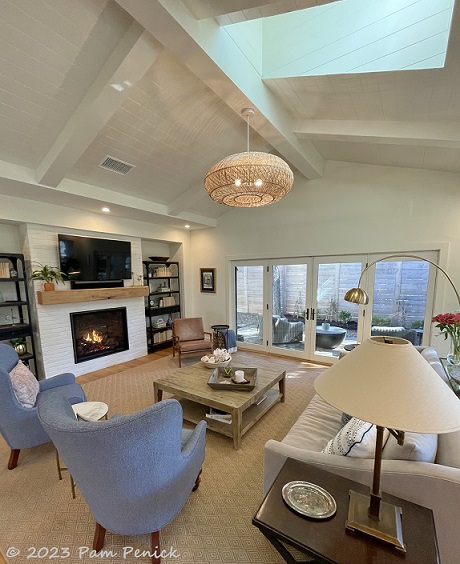 A more serene, down-to-earth interior was chosen for the Tarrytown home designed by Housemill Design.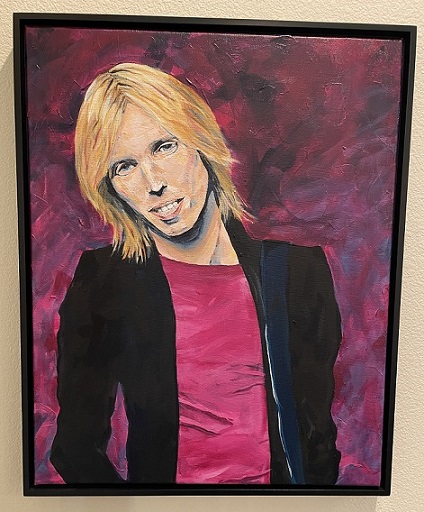 Tom Petty at the office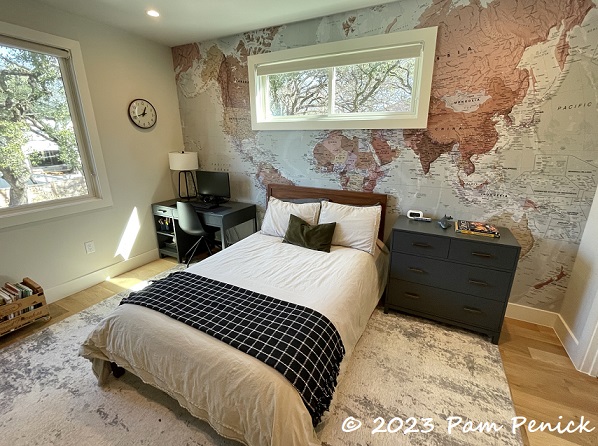 In a teenager's bedroom, world map wallpaper makes an eye-catching accent wall.
Glynis Wood Interiors: Old Enfield House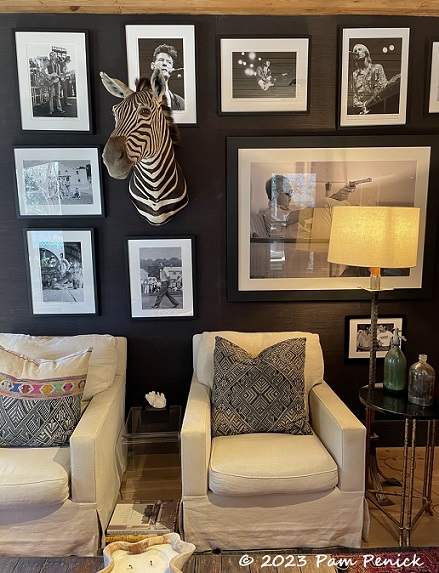 In a 1938 house in the Old Enfield neighborhood, Glynis Wood Interiors created a cocktail room with a rock-and-roll vibe through black walls and black-and-white photos of musicians and movie stars. Adds a taxidermy zebra head out of africa style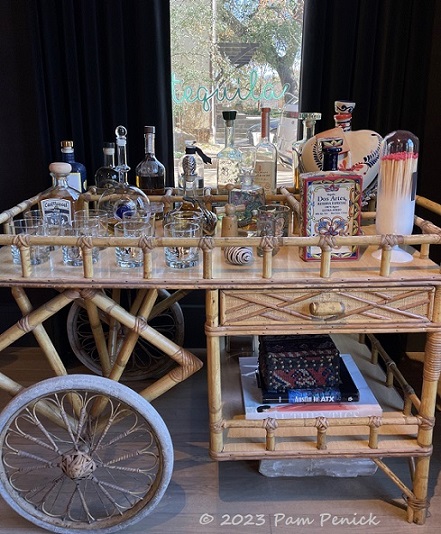 A wheeled, bamboo bar cart displays the owners' tequila collection. In the window, a neon sign – one of many neon pieces seen throughout the tour – spells out tequila in turquoise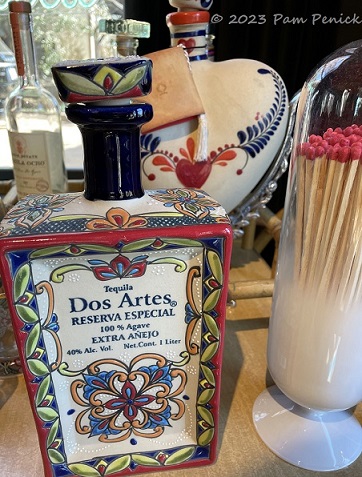 Quite a bottle of tequila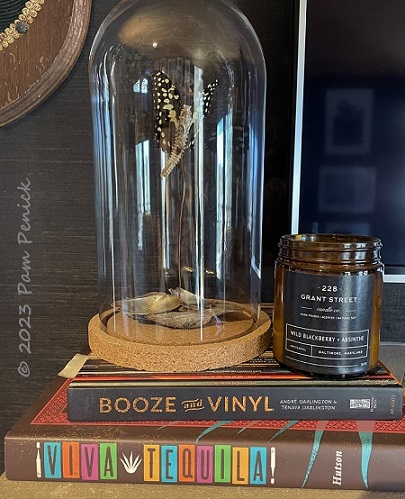 I came across my friend Lucinda Hutson's beautiful book Long live Tequila! (Out of print but available secondhand) Mantle.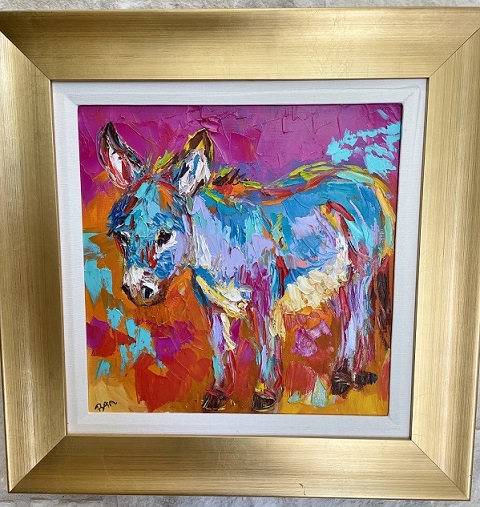 Cute donkey painting in a hall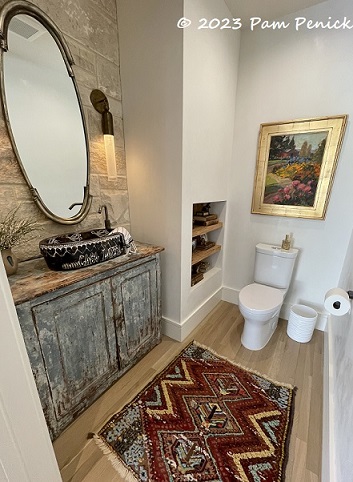 A rustic-elegant hall bath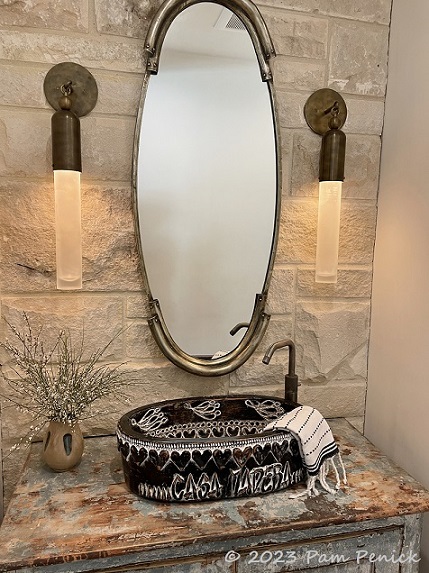 Note the handmade sink.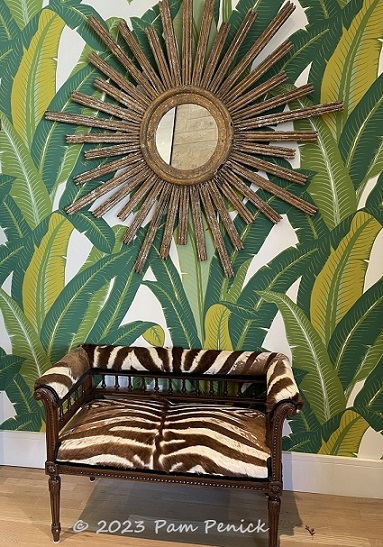 Banana leaf wallpaper, a sunburst mirror, and more zebra print add exotic style.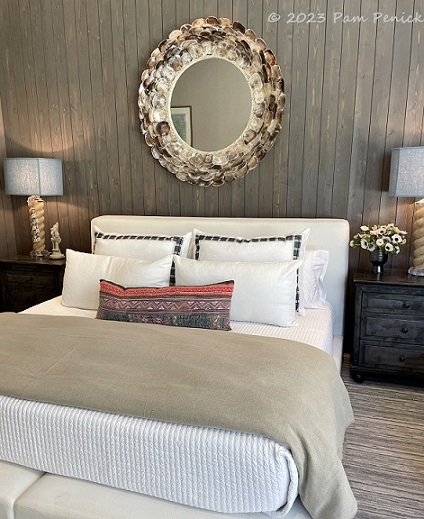 The primary bedroom is in neutral colors, with beachy textures and a shell mirror.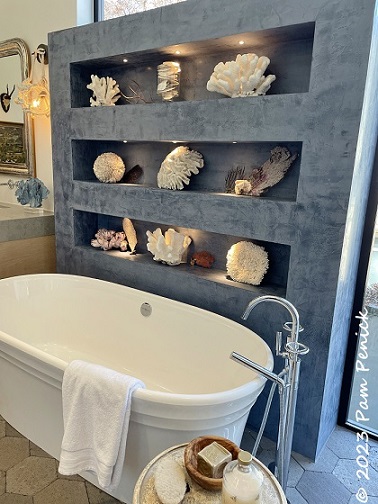 In the primary bathroom, more shells and coral are beautifully displayed on a privacy wall.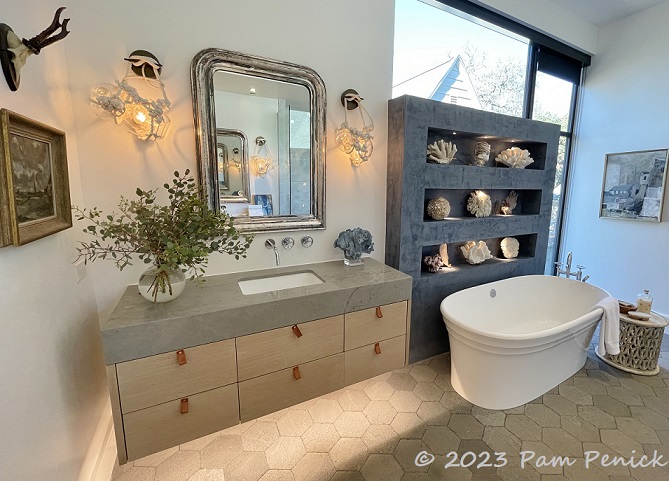 A wider view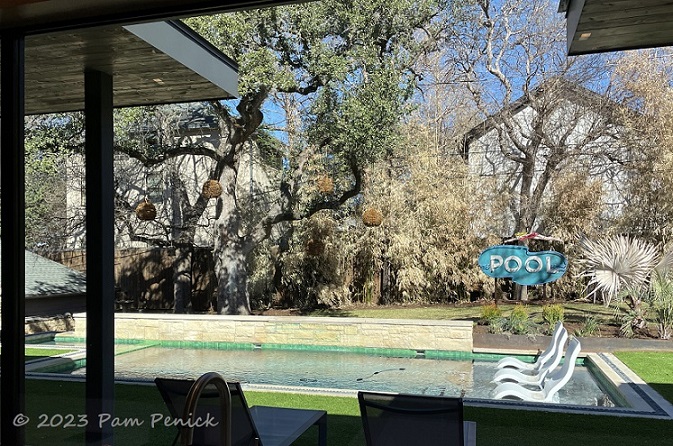 Looking outside, you see a rectangular pool with a braided-river-stone ribbon in rustic green waterline tile and stone coping — gorgeous details. A neon pool sign with a diving woman adds a fun accent to the palms and bamboo that turned into deep December snow. The Bismarck Palm is probably a goner, alas, but the rest should come back. With woven circular lights hanging from a live oak, it looks like a beautiful outdoor space to enjoy at night.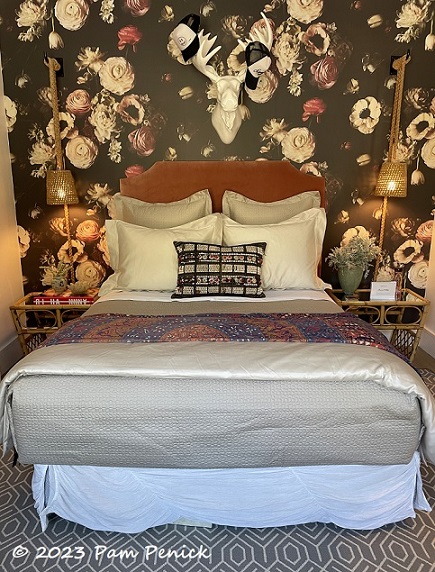 An exuberant floral wallpaper contrasted with a ceramic moose head holding a trucker cap — feminine meets masculine energy? – In a guest room.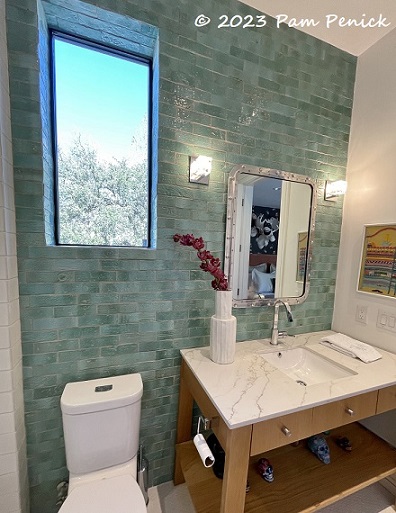 I love green tiles and deep windows on a bathroom wall.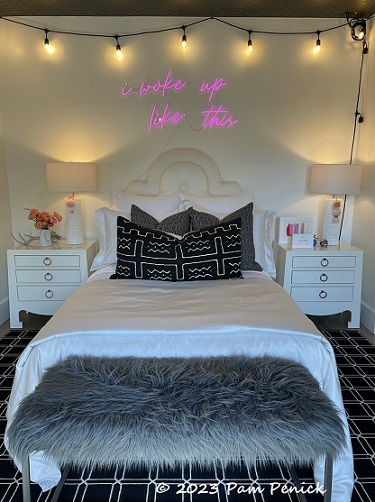 In a teenage girl's bedroom, a neon sign above the bed proclaims, "I woke up like this." Cafe-style string lights run around the ceiling, creating a soft glow.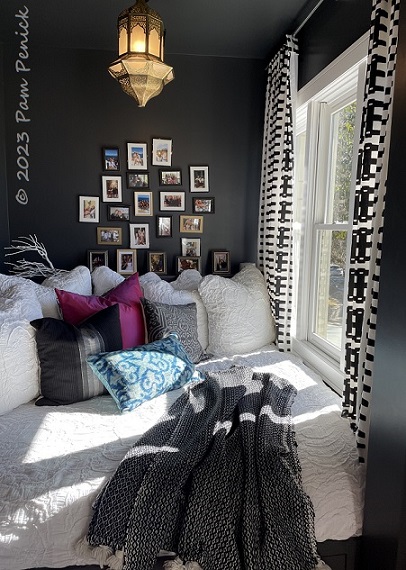 A niche by the window offers a modern-bohemian lounge space with a Moroccan pendant, black walls, graphic curtains and a textured white bed with a few colorful accent pillows.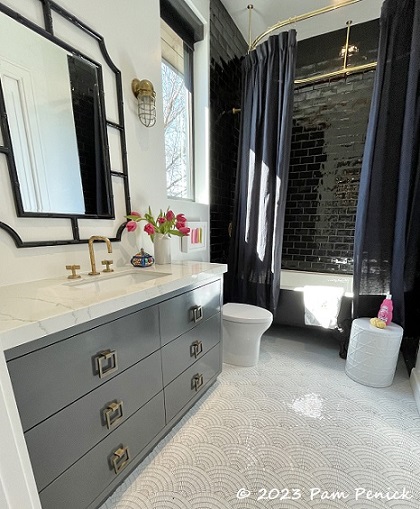 Lucky girl to enjoy this luxurious en suite bathroom with glossy black shower tiles and scalloped grey-white floor tiles.
Take a closer look at that stunning floor tile — and my booted feet!
In Part 2 I will feature some other places that caught my eye on the tour. Stay tuned!
I welcome your comments. Scroll to the end of this post to leave a. If you're reading an email, click here to go to Digging and find the comment box at the end of each post. And hey, did someone forward you this email and you want to subscribe? Click here to have Digging delivered straight to your inbox!
__________________________
dig deep
Learn about garden design from the experts here Garden Spark! I host private talks with inspiring designers, landscape architects, and writers several times a year in Austin. These are limited-attendance events that sell out quickly, so join the Garden Spark email list to be notified in advance. Just click on this link and ask to be added. You can find this year's speaker lineup here.
Plan to join Budding Plant Sale and Festival March 18 at John Fairy Gardens in Hempstead, TX. There will be rare and unique plants, as well as art, ceramics, jewelry, food, drink, music and other entertainment for the whole family. Members have early access and get free. Non-member admission is $5. Children under 12 are free.
Experience a surreal garden at the Zilkar Botanical Garden, with an enchanting neon-art display throughout the park, food and drink, music and dance, surreal performers and interactive art sculptures. Surreal costumes are encouraged! 25% of event proceeds benefit the Zilker Botanical Garden Conservancy. April 6 (VIP Night), April 7-8 and April 13-15 runs from 6:30pm to 11pm.
All material © 2023 by Pam Penick for Excavation. Unauthorized reproduction prohibited.