November 01, 2022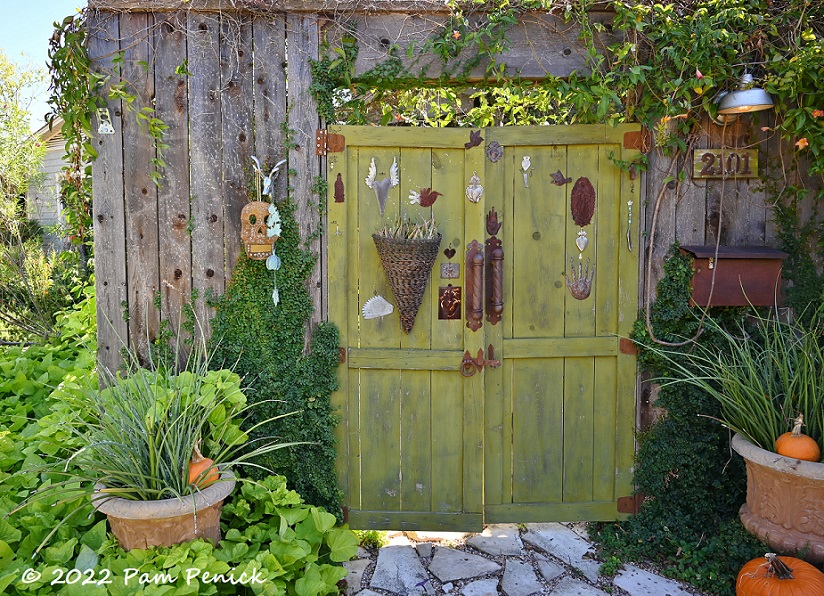 Cynthia Deegan opened the mossy green doors of the Milagro-spangled garden gate to me again a week or so ago, when she generously invited me and Garden Spark speaker Teri Speight to come. What a treat to follow our visit to Lucinda's garden with Cynthia! They're best friends and soul sisters, each with a fairy wand — and an eye for composing artistic vignettes — that turn their respective gardens into pure magic.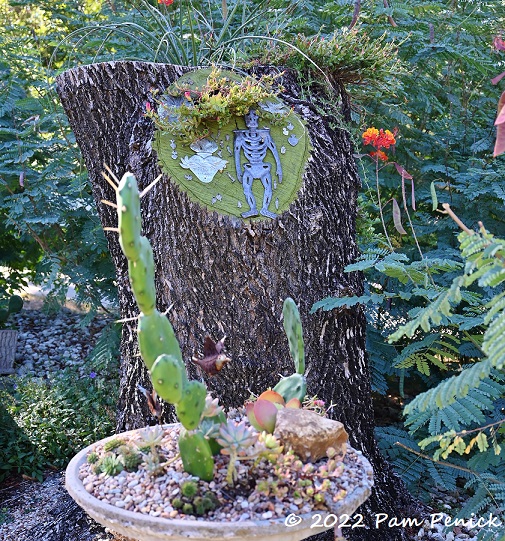 Cynthia lost a large tree out front during the snowpocalypse. Instead of cutting into the ground and grounding out the stump, he turned its trunk into one the truth-bois (ha!) A planter for hesperaloe and succulents. A green trim circle features a silver Halloween skeleton and tin Milagros.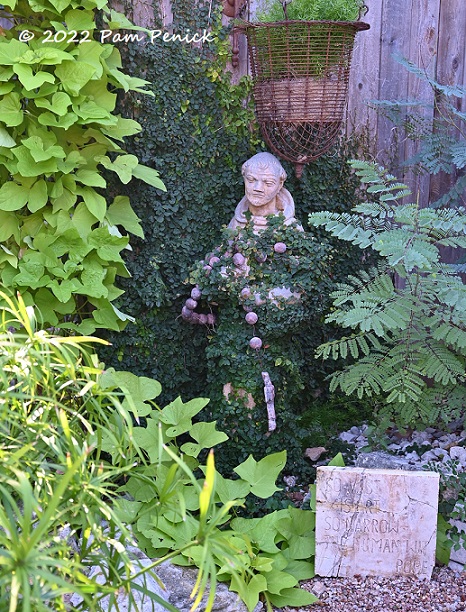 Tucked along the fence that screens the house from the busy street, a St. Francis stands wrapped in a fig-ivy mantle.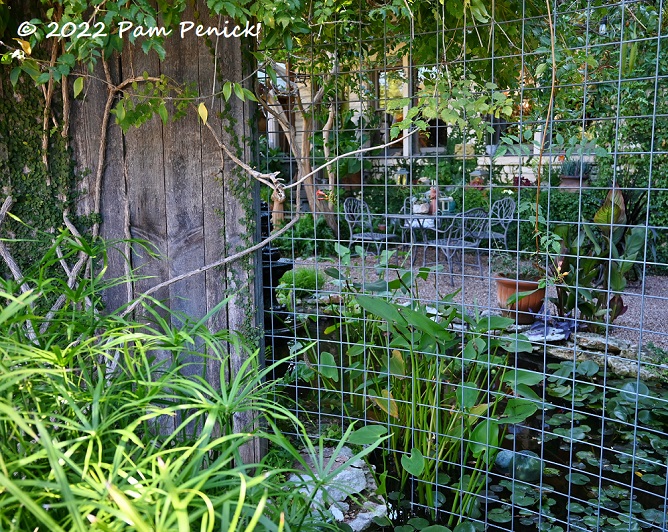 I love this detail: a section of cattle paneling in the wooden fence that gives a peek-a-boo glimpse into the courtyard garden.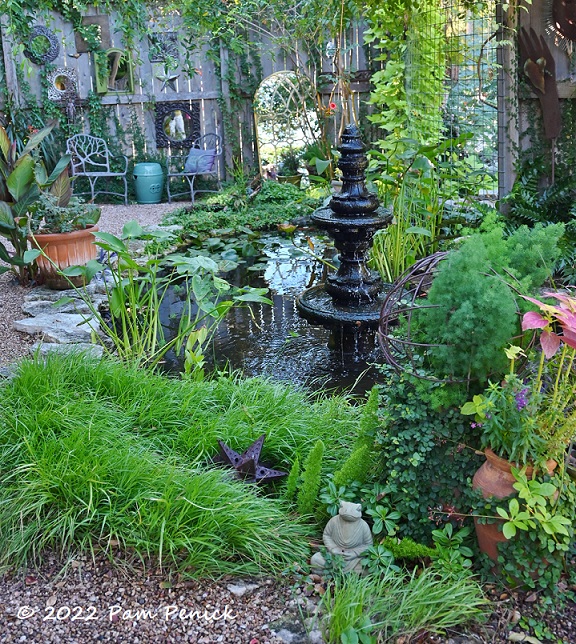 Stepping through the green door, you enter a shady courtyard garden that's half fish pond, with a tiered, splashing fountain at one end. The mirror-like surface of the far end of the pond is echoed by the framed mirrors that adorn the fence.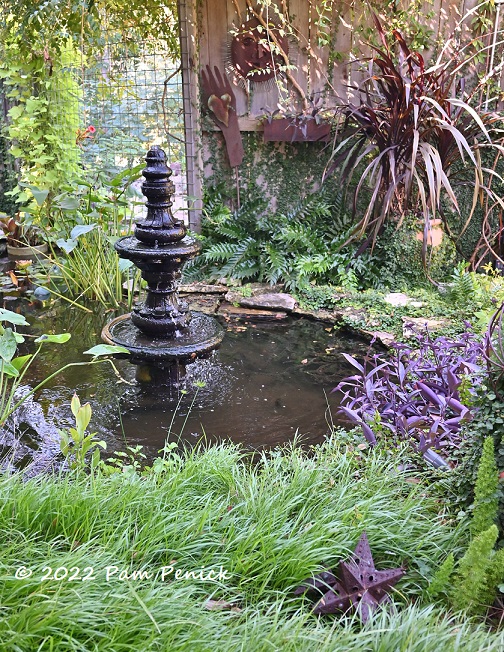 An unidentified sedge forms a thicket of grass along a curved edge of the pond, paired with other shade lovers such as foxtail fern and purple heart.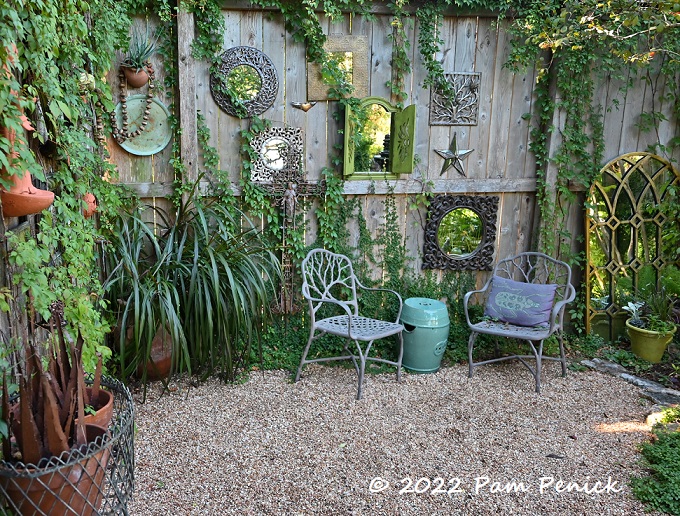 Mirror mirror on the wall…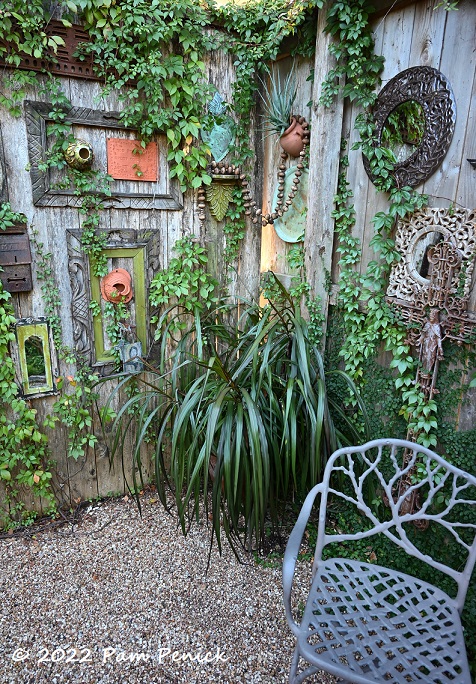 Cynthia finds most of her decorations by haunting Goodwill and other thrift stores, and then she combines the finds in creative ways.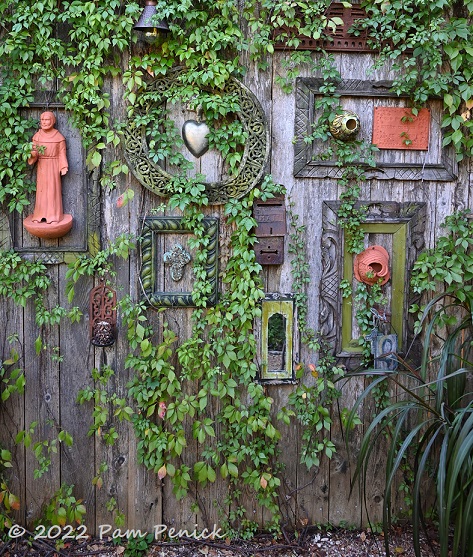 What he doesn't keep for himself, he sells at his booth (#443) at the monthly Wimberley Market Days.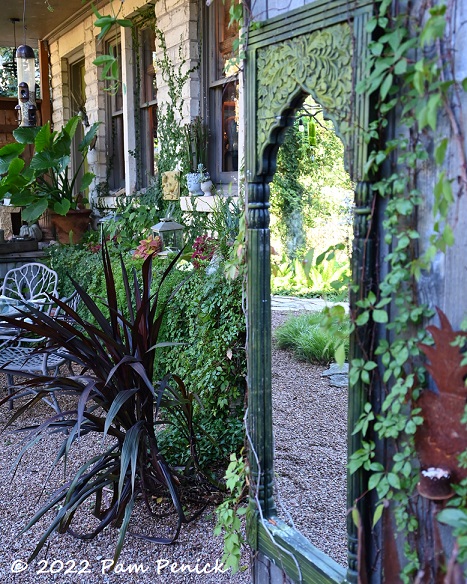 Her garden mirror is my favorite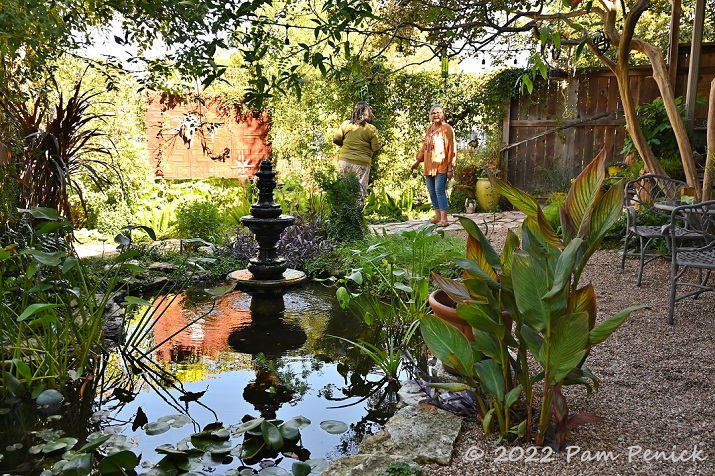 His courtyard garden is a peaceful oasis tucked off the road to MoPac in the Tarrytown neighborhood, a gem of a space so close to the city but tucked away. The garden also adds important square footage, Cynthia says, to her tiny home's living space.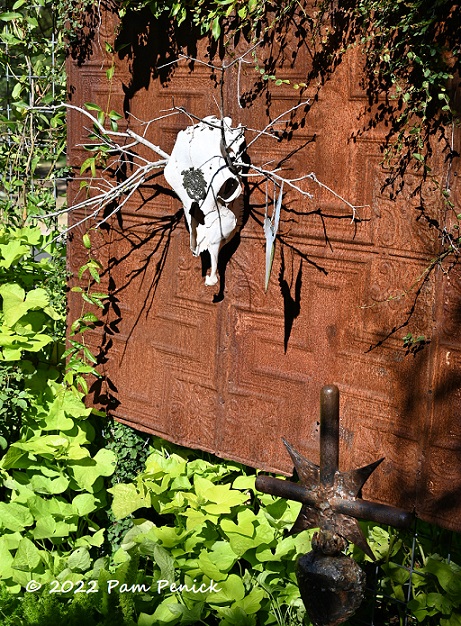 A panel of pressed tin forms a rustic frame for a cow skull that transforms into a spirit animal with stick horns and forehead ornaments.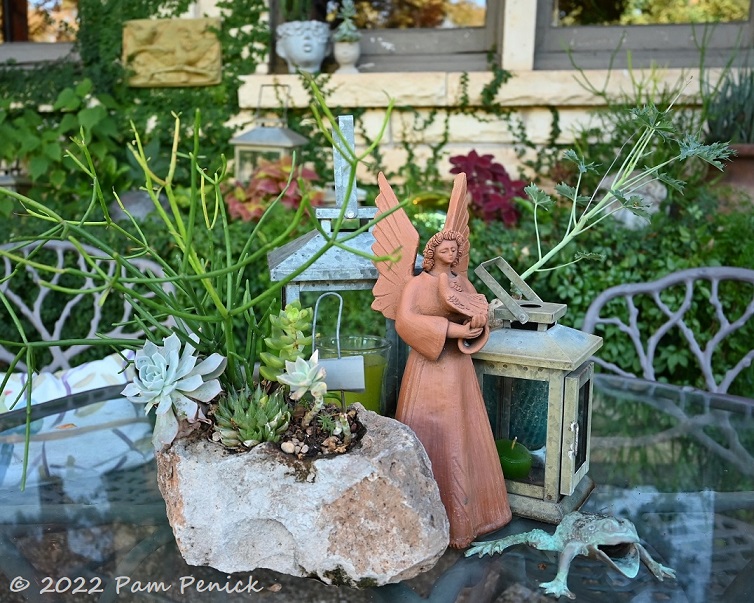 Tabletop Vignette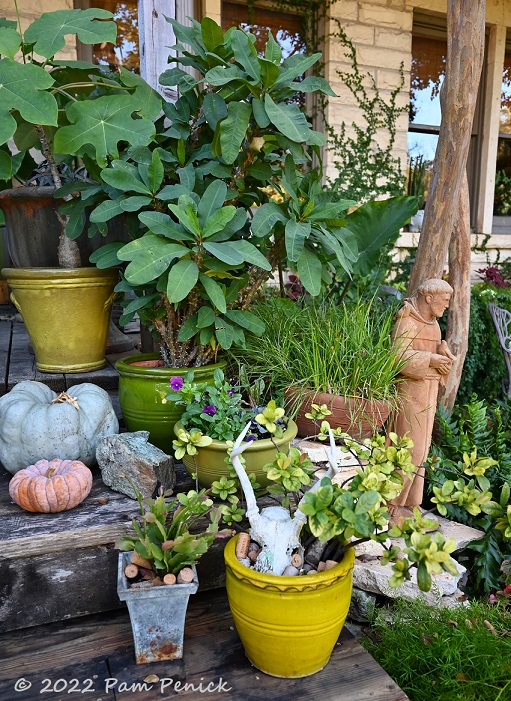 The grouping of this porch, which echoes the color of the front gate, is so striking.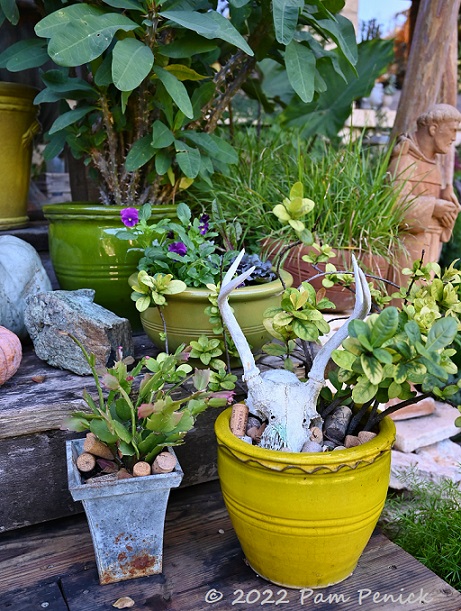 Cynthia has a thing for animal bones, which are displayed in decorative vignettes throughout her garden and home.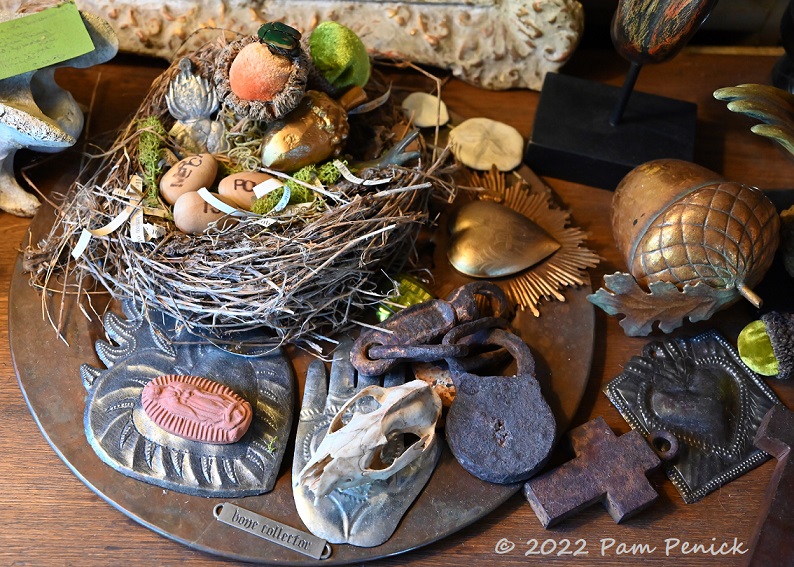 And now let's take a look inside the house, where Cynthia's magpie talent for collecting castoff treasures matches her artist's eye for turning them into meaningful displays. Notice the small engraved tag that reads "Bone Collector". He really is. And also hands, hearts, acorns, nests, and a few other motifs.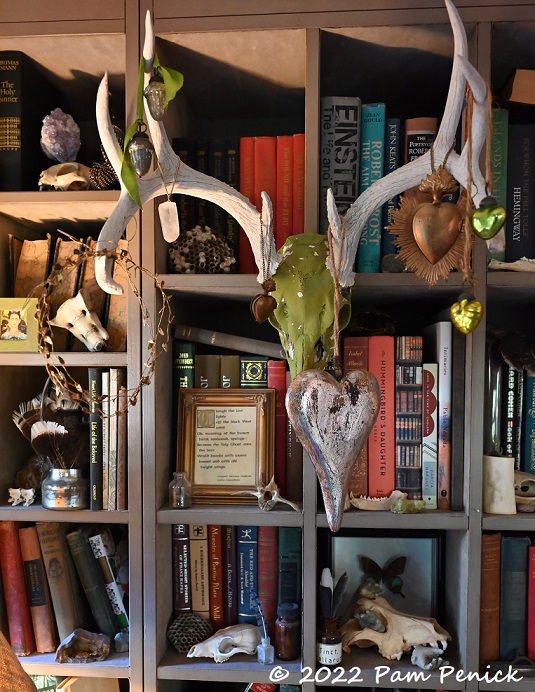 A painted deer skull provides a way to display more beautiful objects. It hangs on a bookshelf in the entry that sets the stage for the whole house: an artist-collector's assemblage of bones, books, art and poetry — hers and others. You touch and read your way through Cynthia's house.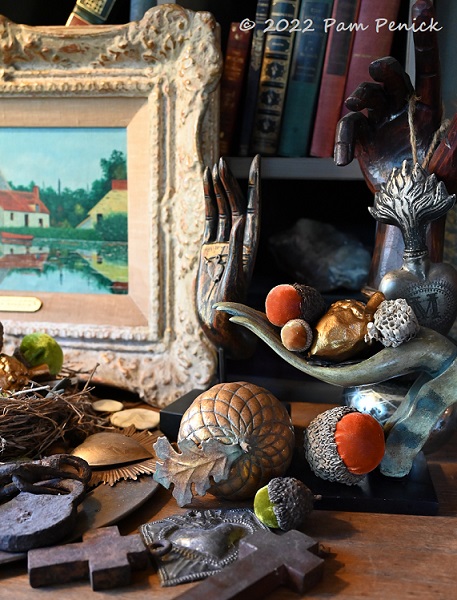 Each object contributes to the whole. Cynthia's magic moments wander from what others throw away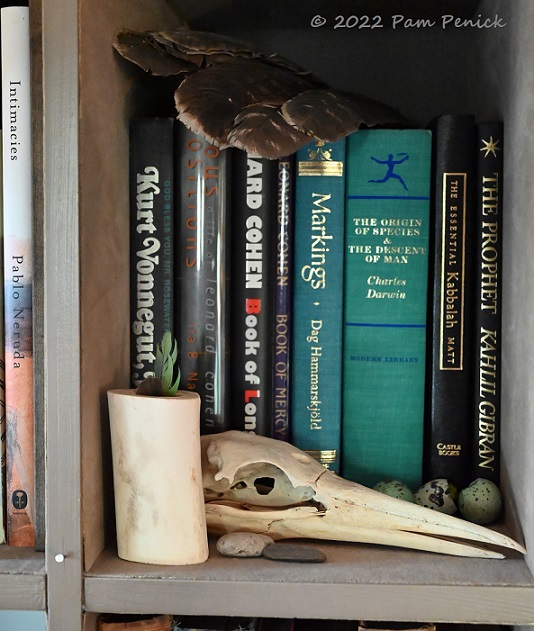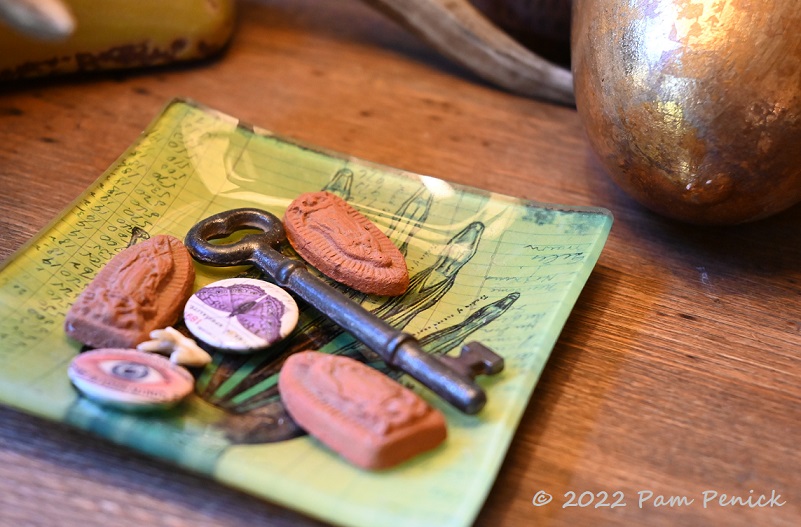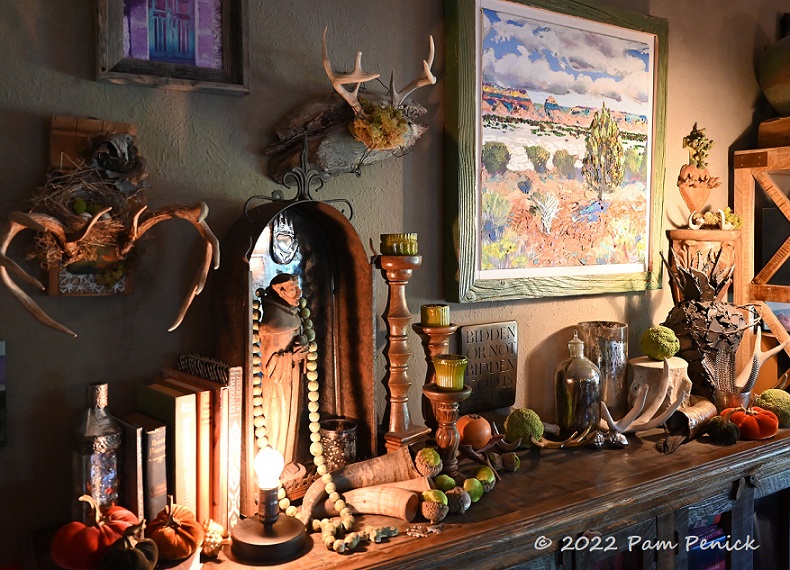 A shelf along a living room wall glows with strategically placed lights and meaningful objects, plus a painting by an artist from Abilene — the West Texas town where Cynthia and her husband raised their children, ran a garden design business and created other well-being. Garden of choice.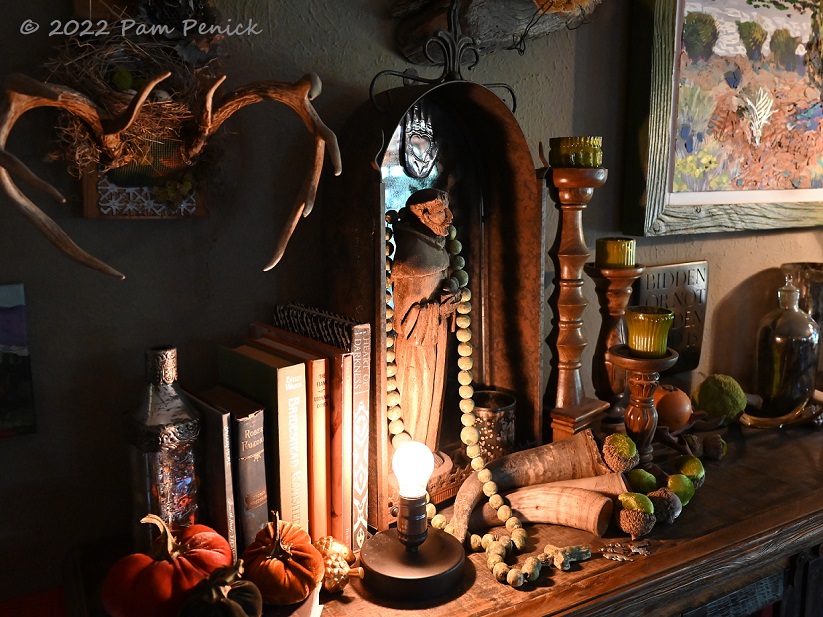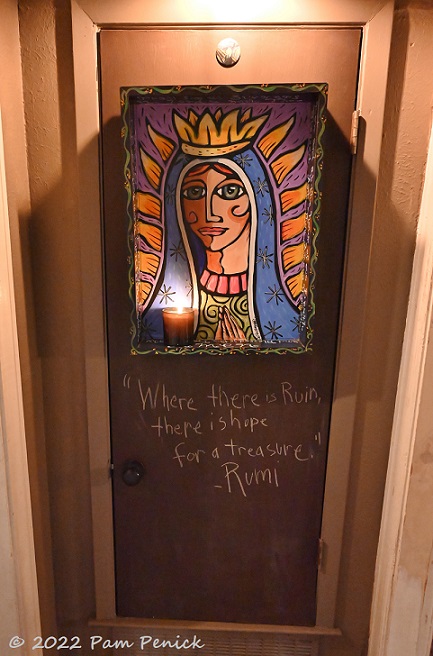 In the hall, a utility door is transformed by a Lady of Guadalupe painting, a chalked-on Rumi quote and candlelight.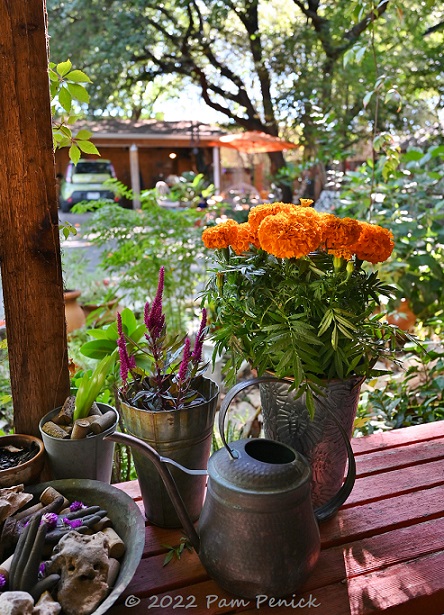 Stepping onto the back porch, I admired the bouquet of orange marigolds…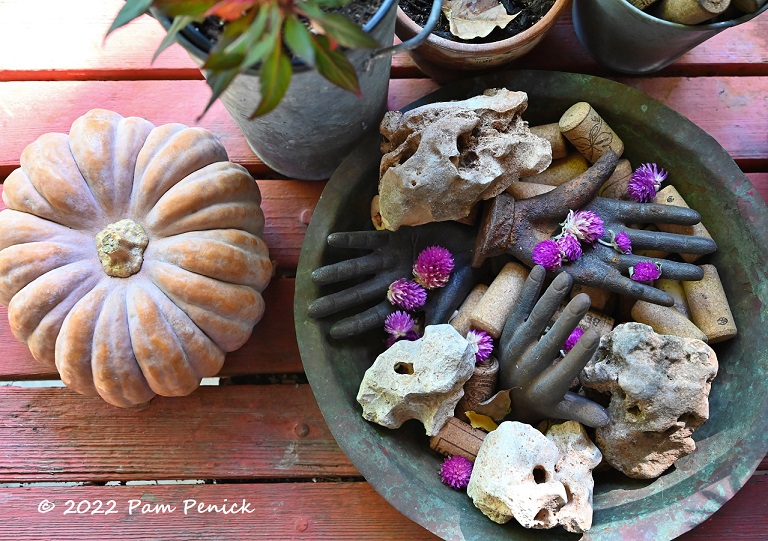 …and this scene stealer: a verdigris bowl with metal handles, holly rock, corks and gomphrena flowers.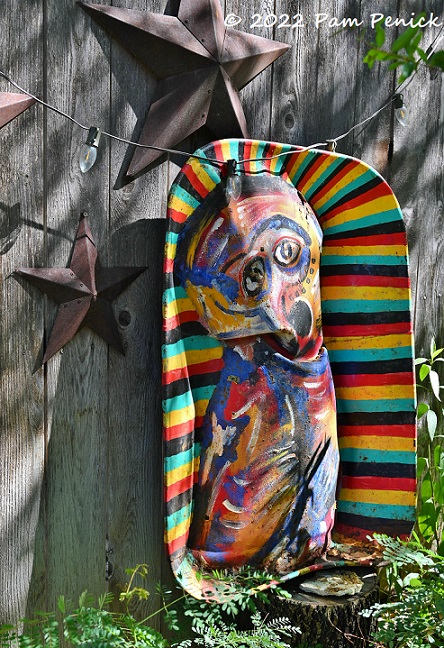 A new addition hangs on Cynthia's fence — a painted wheelbarrow trough that she and a friend laughingly dubbed Shout out to Jesus. The friend scored it for her place, but she recently moved out of state and Cynthia inherited SJ.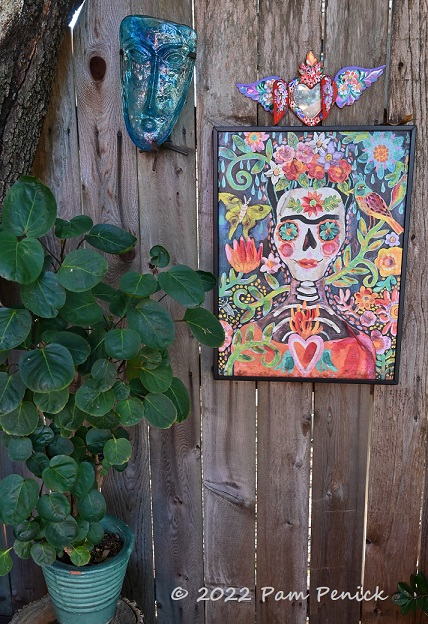 Her fences are blank canvases that she fills with color and a playful spirit.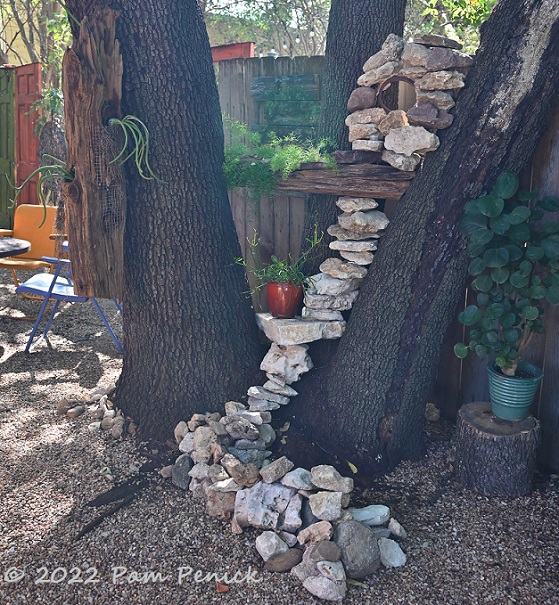 Cynthia's husband, Bobby, added interesting stacked-rock sculptures. This is his latest: a snaking pile of limestone boulders and flat slabs leaning against a tree.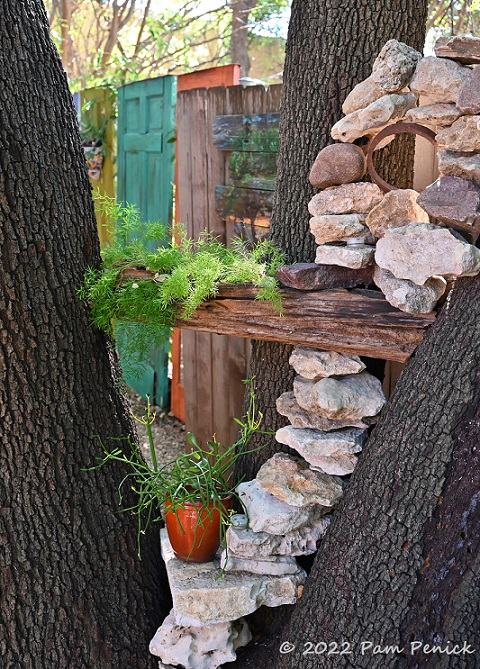 At the top, the rocks surround a metal ring, forming an eye.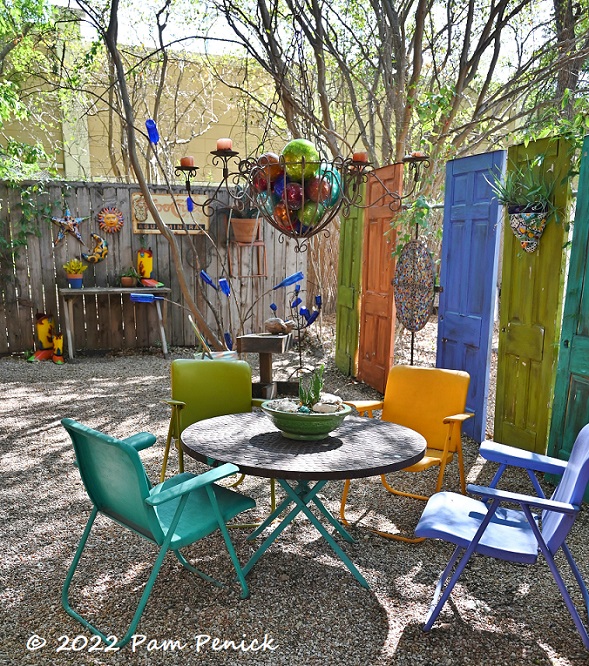 It's the backyard beer garden, with colorful seating and painted doors to match. They lean against a chain-link fence to create privacy from the neighbor's yard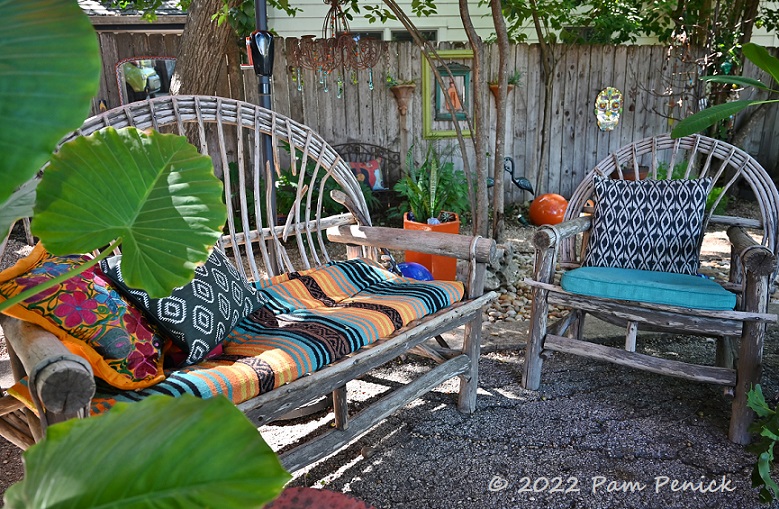 Backyard seating is inviting with patterned pillows and Mexican blankets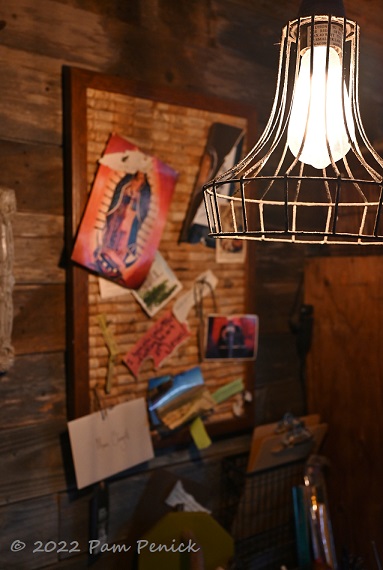 Inside a rustic workshop, a light softly illuminates Cynthia's inspiration board.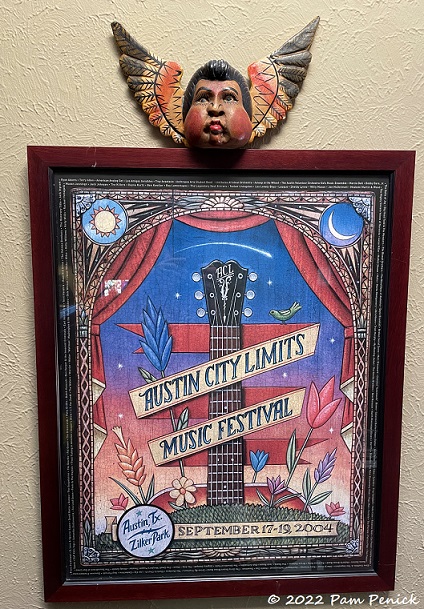 Cynthia invited us to visit her Airbnb rental unit, located on the 2nd floor of her home with a private backyard entrance — a place that is absolutely charming and overlooks all of Austin's attractions, including Zilker Park, where the Austin City Limits Music Festival is held every year. Held in the fall.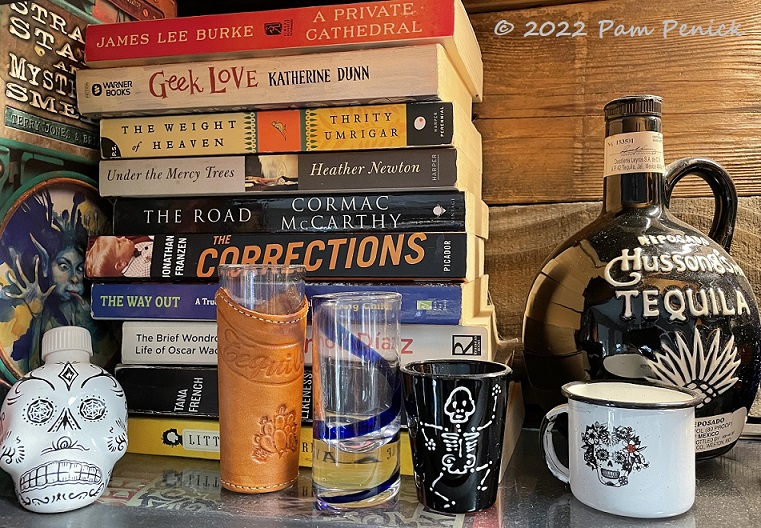 Bookshelves display a tempting assortment of books along with fun tequila glasses and bottles.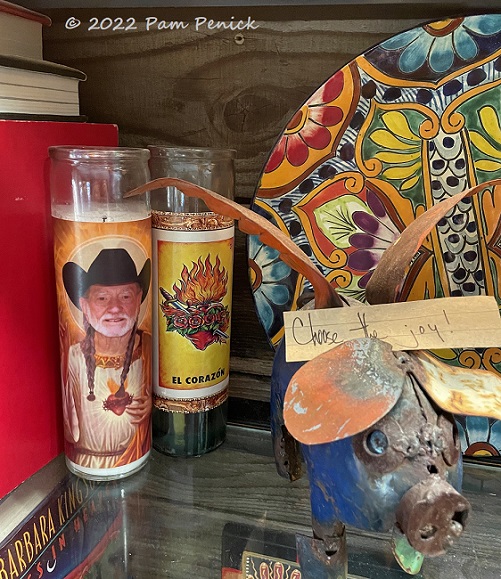 Another shelf holds a Willie Nelson votive and a metal pig that reads, "Choose Joy!"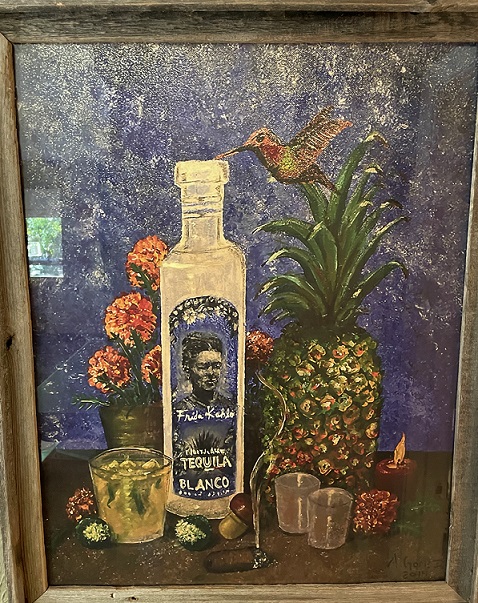 The art of tequila!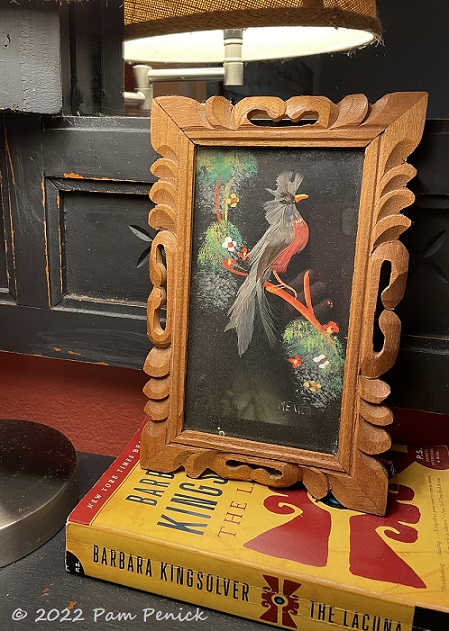 For anyone looking for a place to stay in Austin for a weekend or a month, I highly recommend Cynthia and Bobby's place.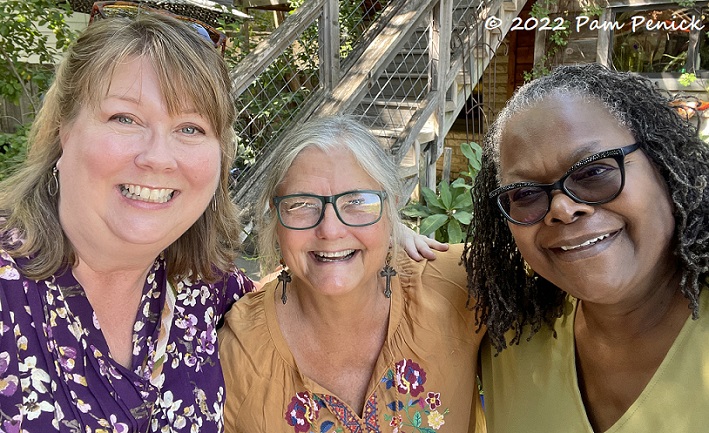 You won't get any bigger than this joy of living Than Cynthia, pictured here (center) with me and Teri (right).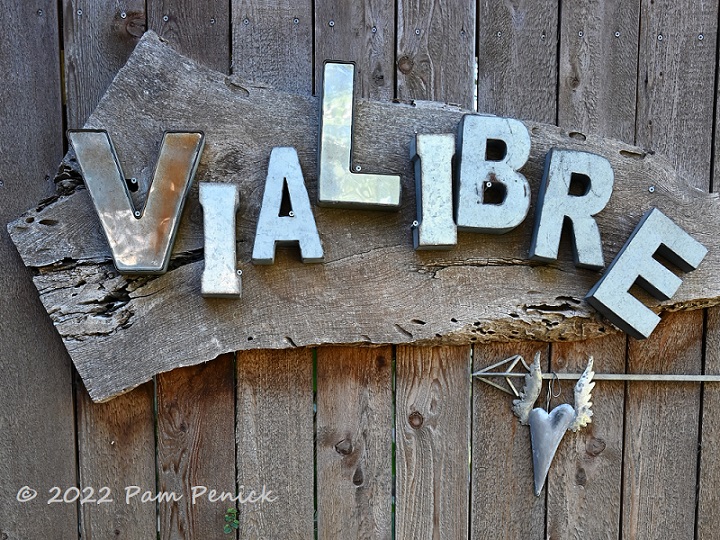 Cynthia's Via Libre Garden, which translates to punny Freeway Garden (it's located along MoPac Highway), is a home and garden where artistic expression infuses every space. Thank you for the delightful visit, Cynthia!
If you want to see more, here are two previous visits to Via Libre:
I welcome your comments. Scroll to the end of this post to leave a. If you're reading an email, click here to go to Digging and find the comment box at the end of each post. And hey, did someone forward you this email and you want to subscribe? Click here to have Digging delivered straight to your inbox!
__________________________
dig deep
Learn about garden design from the experts here Garden Spark! I host private talks with inspiring designers, landscape architects, and writers several times a year in Austin. These are limited-attendance events that sell out quickly, so join the Garden Spark email list to be notified in advance. Just click on this link and ask to be added. You can find this year's speaker lineup here.
All material © 2022 by Pam Penick for Excavation. Unauthorized reproduction prohibited.