August 23, 2022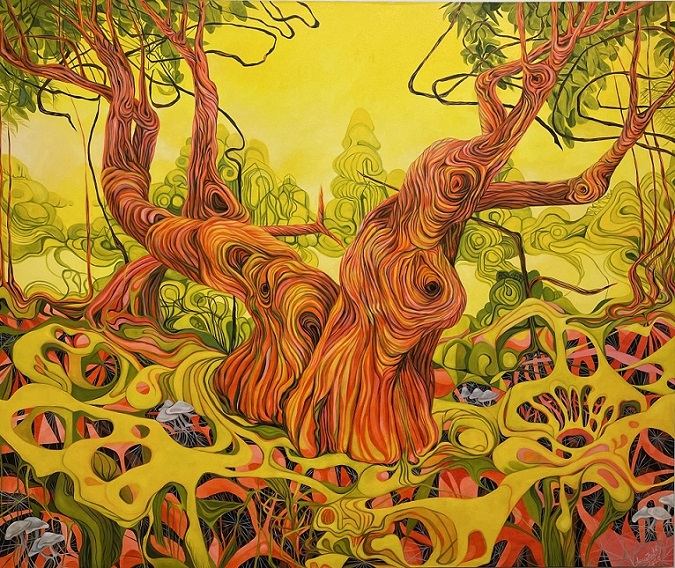 I want to share the interesting art I find in my wanderings around Austin. This art trip happened in March, when I toured a few East Austin galleries and public art pieces. Here's an exhibit I really enjoyed at Cloud Tree Studio and Gallery: Austin artist Valerie Fowler's swirling, vibrant, almost trippy paintings of the natural world.
Landscapes by Valerie Fowler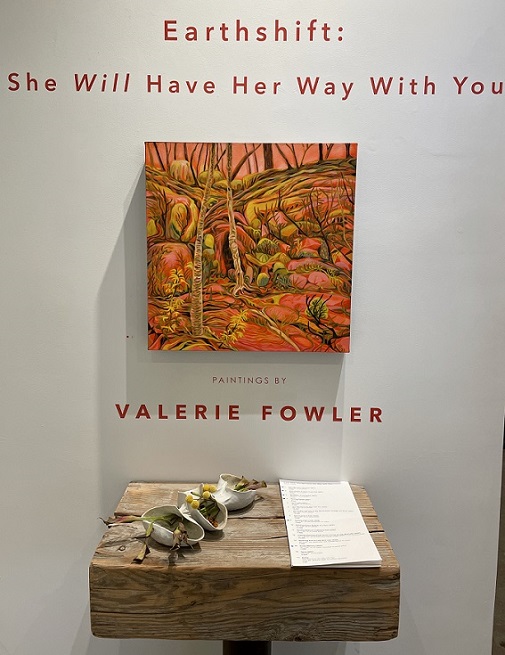 An exhibition of his Covid-time paintings was called Earthshift: He will have his way with you.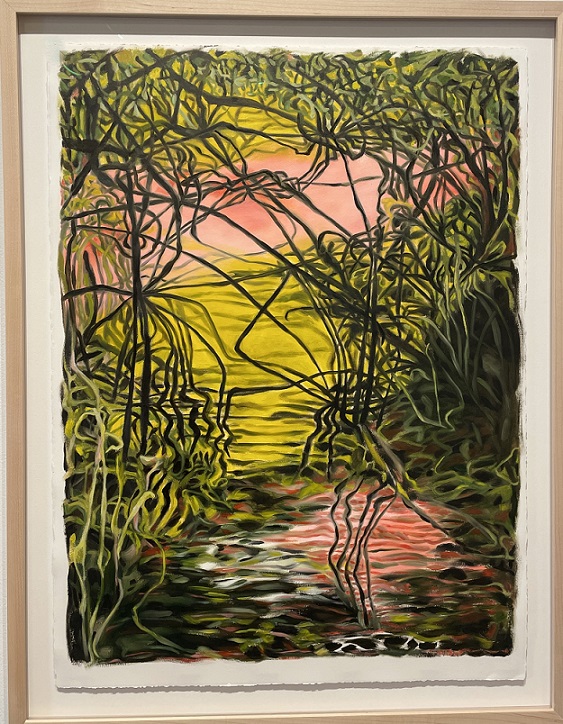 This one might be my favorite.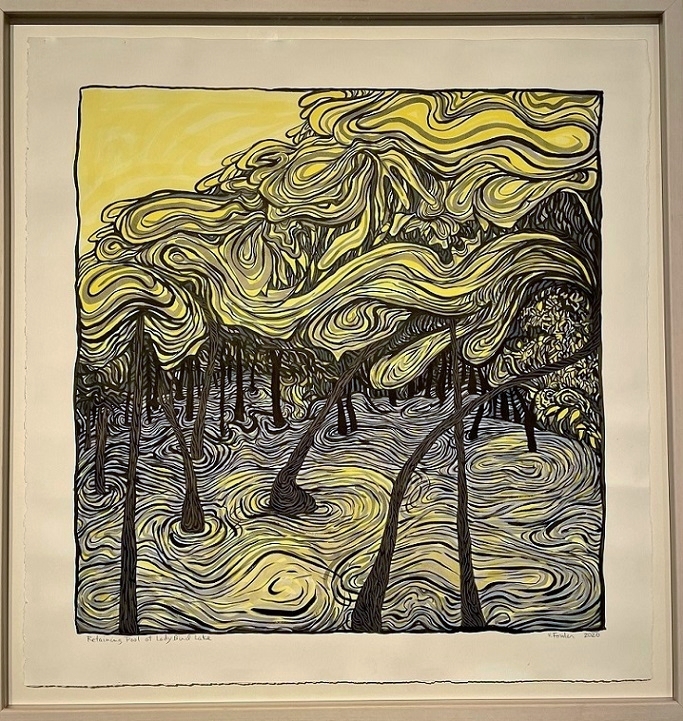 I love it too.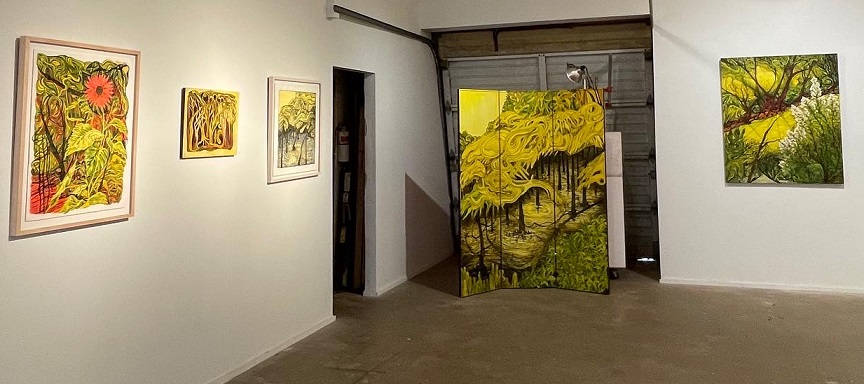 And check out the large folding panel. Check out Valerie's interview Central Texas Gardener For more information about him.
hello friend Mural by Will Hatch Crosby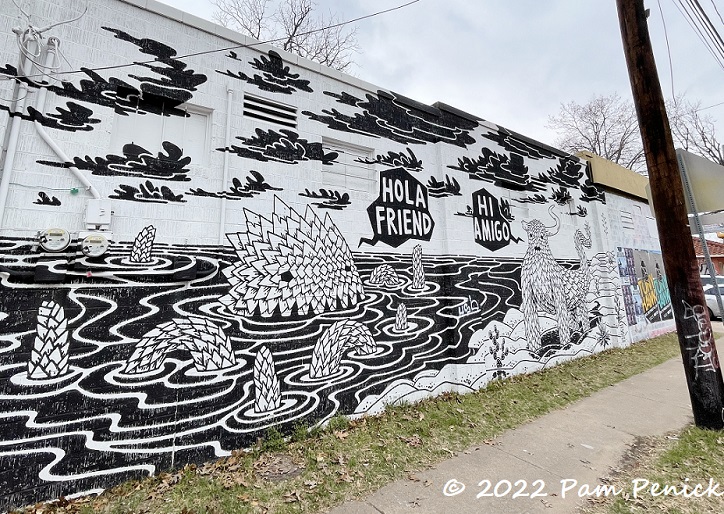 Later, driving around East Austin, I saw this animal-featured, ode-to-friendship mural on the southwest corner of Cesar Chavez and Robert T. Martinez Jr. Streets. Painted by Will Hatch Crosby hello friendHe says, "To celebrate East Austin's cultural diversity, and [it's] Also a tribute to Daniel Johnston's iconic 'Hi, How Are You' mural.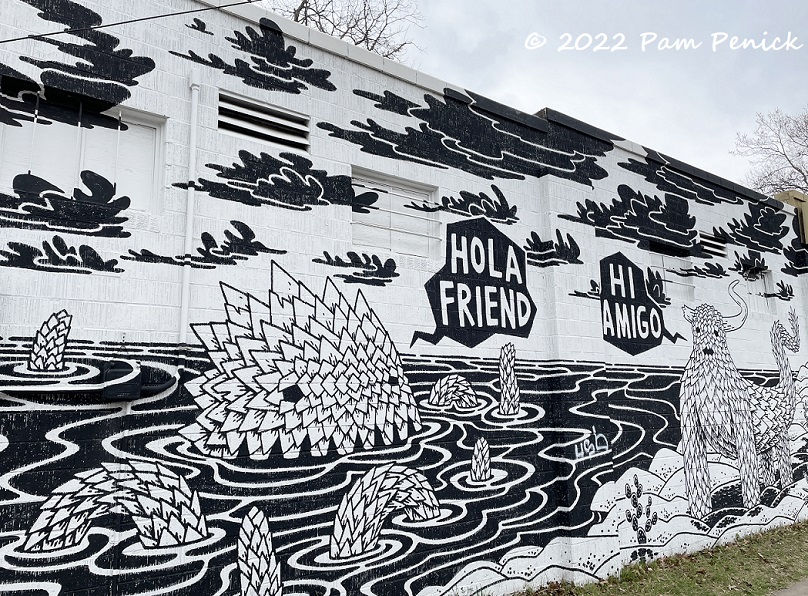 It's irresistible, a scaly, octopus-like creature pops up to say hello to a broken-horned, scaly, long-tailed bull.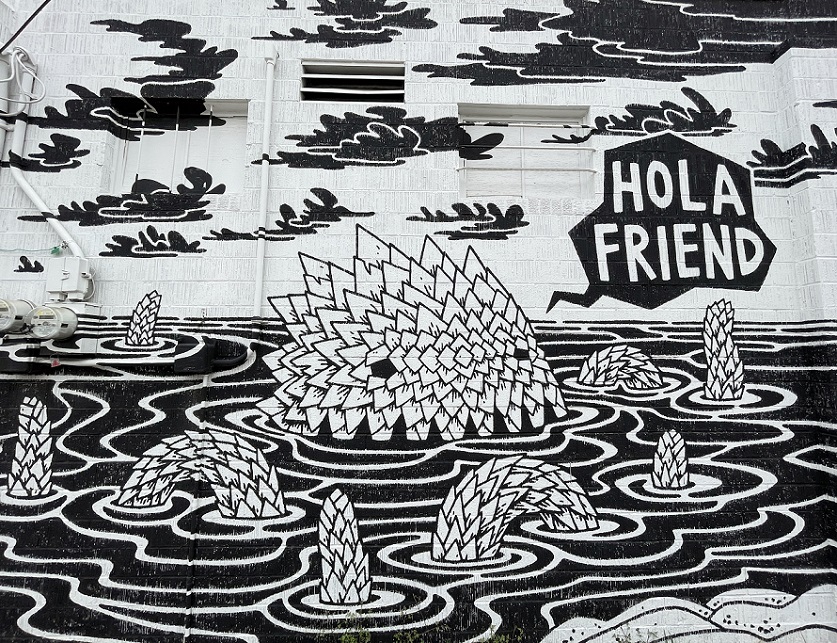 This is all of us, re-emerging after the challenging past few years.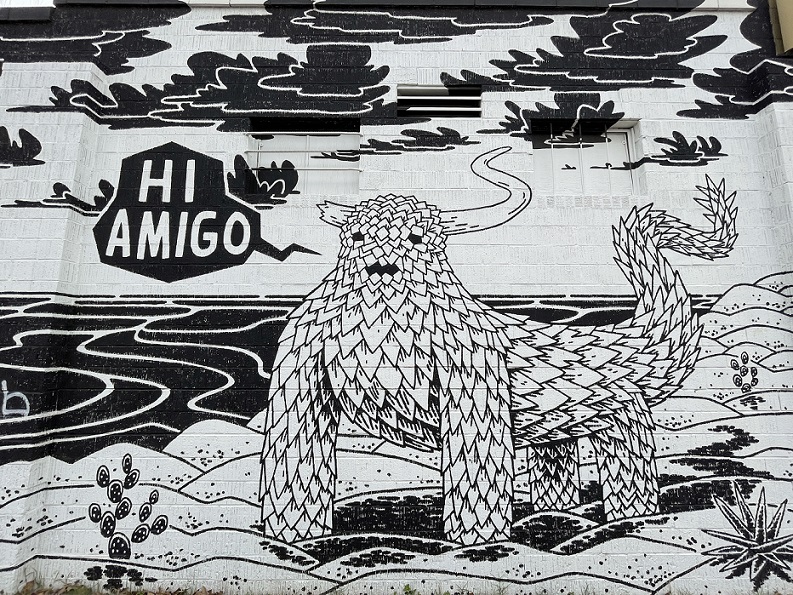 Friends!
Bison heart By Chris Levack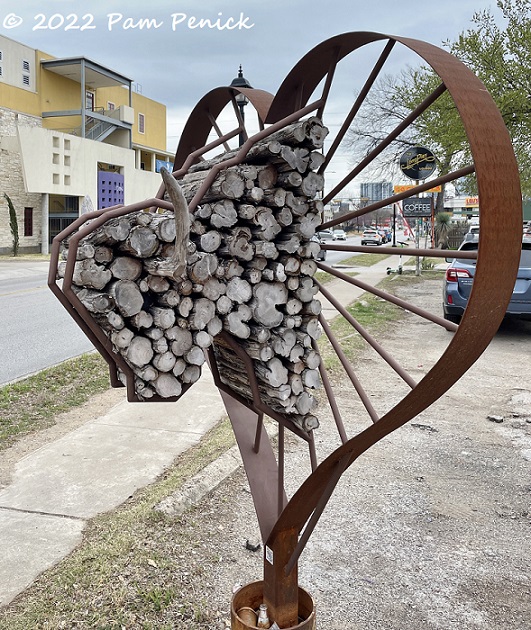 E. Turning towards Cesar Chavez Street, I saw a large metal heart with a buffalo framed in metal and filled with cedar logs. Well, have to stop and take a closer look. Turns out it's a piece by artist and maker Chris Levack, whose bio-inspired work I've photographed in various gardens.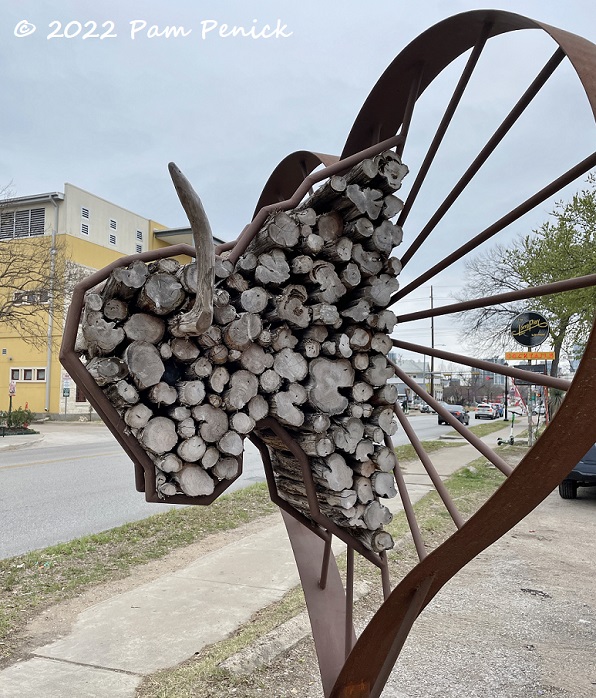 Chris wrote:
"This is one of the 11 Hearts of East Cesar Chavez. [Eleven] Our artists took the large, metallic hearts created by @magicalt73 and created our own take on them. My idea was based on the transitory nature of this road. Before 1st Street it was the town's main horse trail. Before it was a bluff overlooking the Colorado River where thousands of bison would cross the river between the Blackland Prairies and the hill country. Juniper branches were cut just upstream."

@Levack_Outdoors
In other words, it's a ghost bison, evocative of Austin's natural history.
Lou's tire planter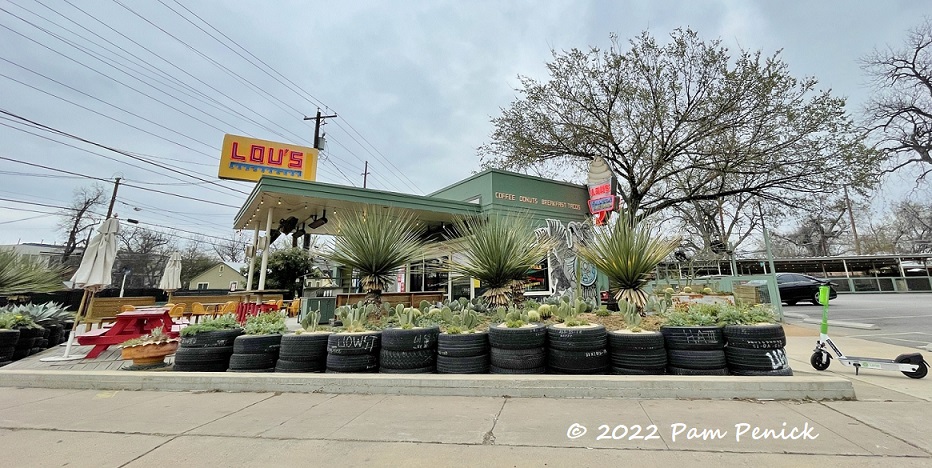 It wouldn't be an art crawl without some fun Austin tree drive-bys. At a stoplight I saw this stacked tire planter of cactus and yuccas at Lou's, a restaurant that used to be a tire store.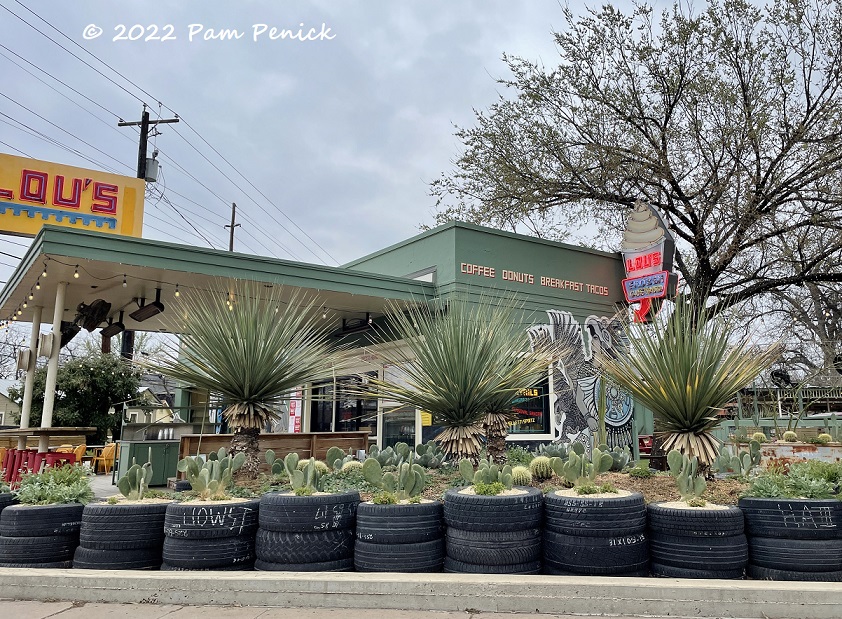 These plants match the road warriors, planters.
I welcome your comments. Scroll to the end of this post to leave a. If you're reading an email, click here to go to Digging and find the comment box at the end of each post. And hey, did someone forward you this email and you want to subscribe? Click here to have Digging delivered straight to your inbox!
__________________________
dig deep
It's juicy time Austin Cactus and Succulent Society's Fall Show and Sale Sept. 3 and 4 at the Austin Area Garden Center at Zilker Botanical Garden. Includes a plant exhibit, plant and pottery sale, silent auction, and plant raffles. Open from 10 am to 5 pm. Entry to the garden is free with payment.
Learn about garden design from the experts here Garden Spark! I host private talks with inspiring designers, landscape architects, and writers several times a year in Austin. These are limited-attendance events that sell out quickly, so join the Garden Spark email list to be notified in advance. Just click on this link and ask to be added. You can find this year's speaker lineup here.
All material © 2022 by Pam Penick for Excavation. Unauthorized reproduction prohibited.