August 25, 2022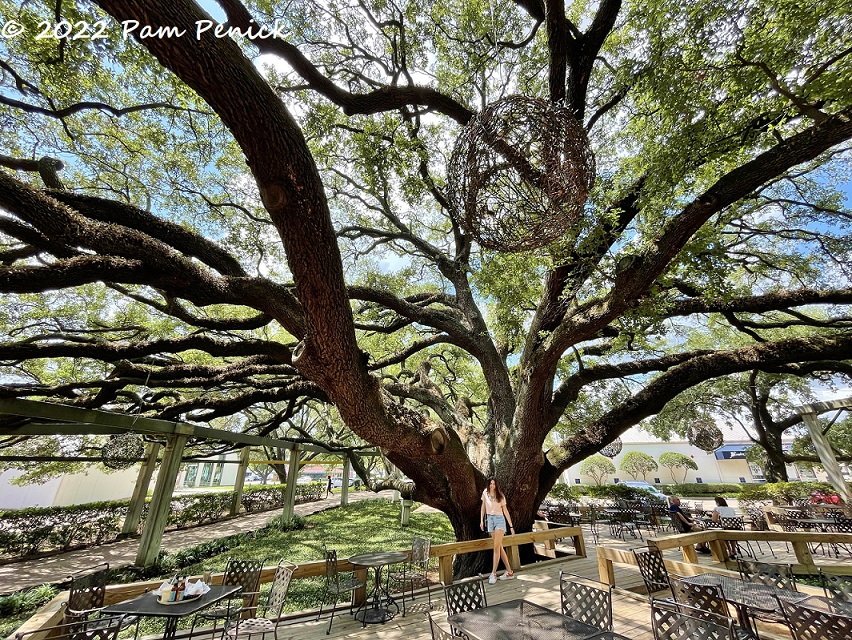 If you need a moment of zen, or gratitude and joy to lift your spirits, get yourself to Houston… a hamburger place. Not just any hamburger place. At Beck's Prime at 2615 Augusta Drive, near the intersection of Westheimer Road, you'll find two absolutely massive, tentacled live oaks in the back of the restaurant. Even if you know they're back there, it's a shock to see them in their long-armed, horizontal glory. And if you find them in awe, as I did, you can walk around this stunning tree screaming. How great! And other diners noshing on hamburgers and fries and smiling at you while snapping dozens of photos.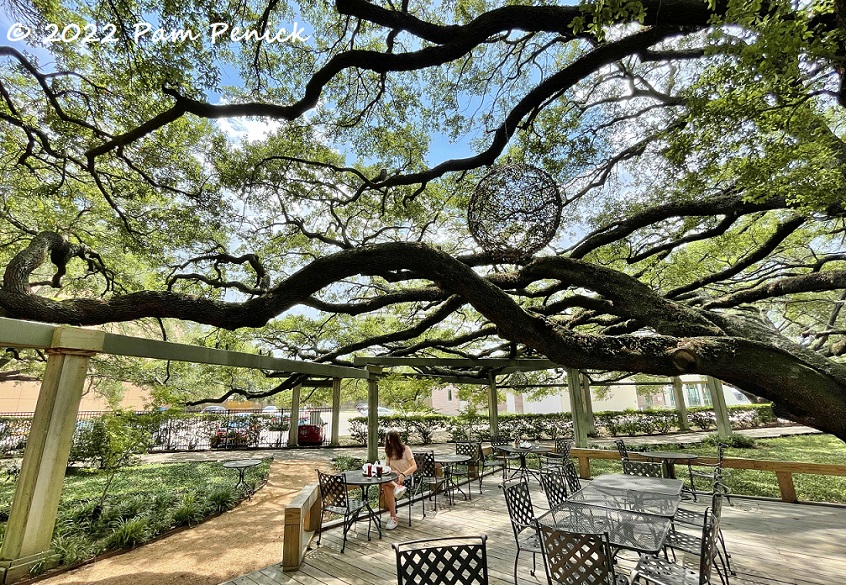 Bakes boasts these trees serve one of the best hamburgers I've ever eaten, cooked to order and grilled over mesquite charcoal. Get fried too. Then settle down under the tree to enjoy them. No matter how hot or cold it is outside (haha, it's Houston), you have zero excuse to miss interacting with these plants indoors.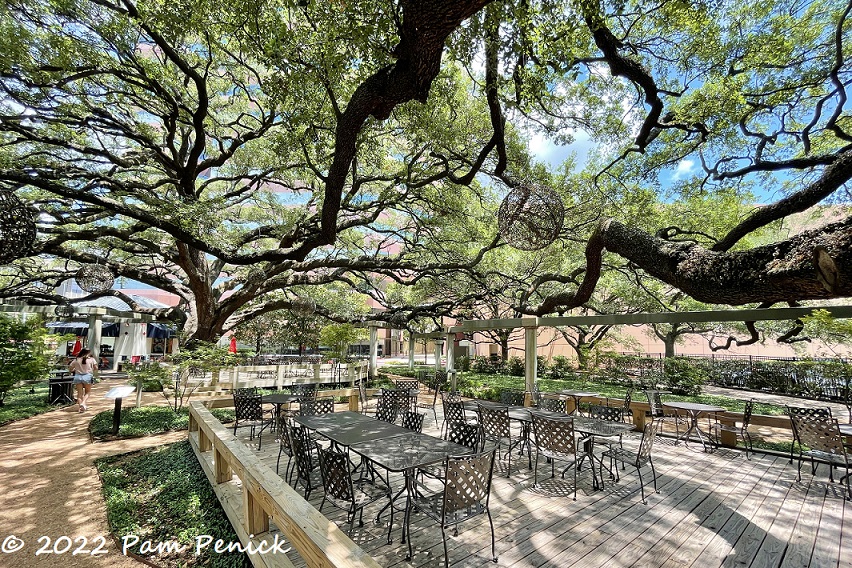 Becks protected the trees — and obliged tree worshipers and outdoor lovers — with three large decks that float over the root zone of live oaks. Instead of water-permeable gravel paths and lawns, a low-maintenance Asian jasmine expanse (or patio!) means no need for thorning, weeding, chemicals, and giant live oaks.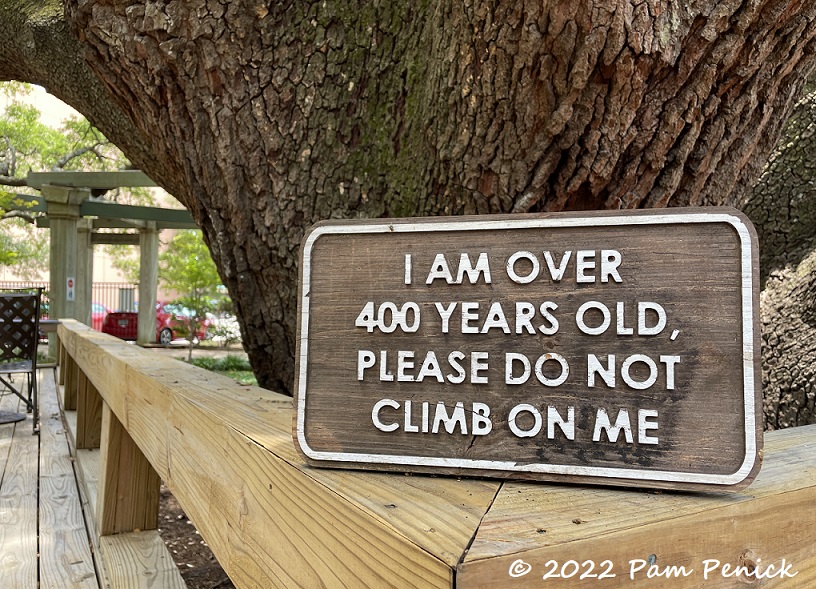 Becks claims the trees are over 400 years old, and I believe them. This means the seedling was growing in the early 1600s, when the Pilgrims landed at Plymouth Rock. When Shakespeare wrote Hamlet. When the Taj Mahal was built.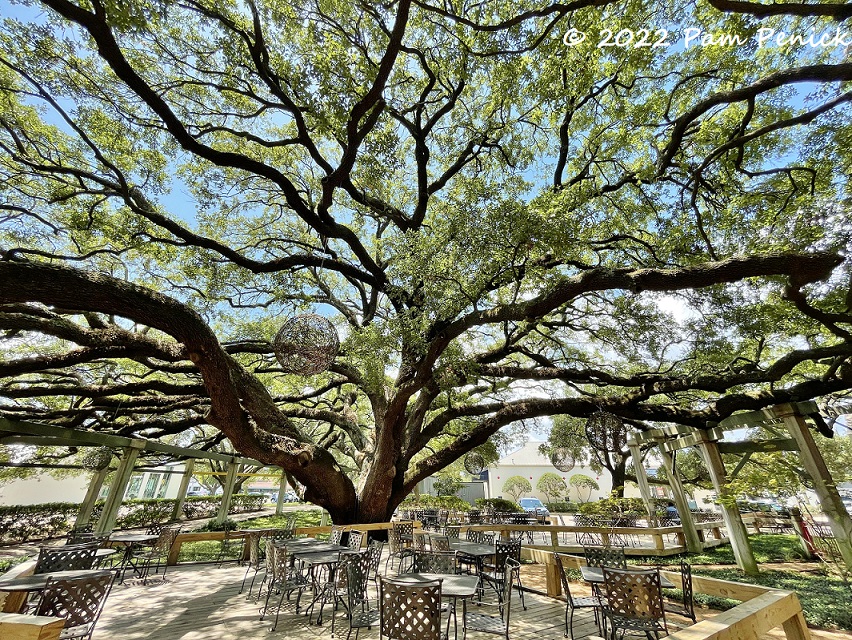 By the time Houston was founded in 1837, these trees had grown to 200-year-old specimens. Houston erupted many times over the next 200 years and the trees continued to grow, eventually snaking their giant limbs across the ground like really big live oaks. Meanwhile the city grew up around them – a city that famously avoided zoning laws for development. Hurricanes and floods have wreaked havoc on the city many times. Droughts have come and gone. Somehow the trees dodged all those bullets.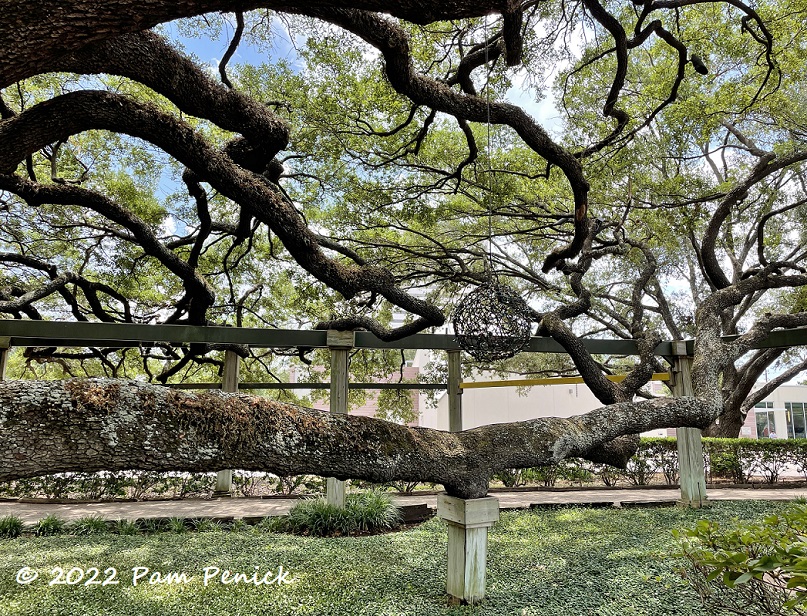 When Becks Prime bought the property in 1988, according to Buzz magazine"The tree limbs were resting on the ground. [Becks] A 210-ton crane arrived and moved the limbs onto the wooden stilts you see today. It was quite a delicate process. 'They had a stethoscope, like one from a doctor's office,' said Alice [Sarmiento, Becks Prime marketing manager]. 'Someone was listening to the tree [with the stethoscope]….If they heard a crack they said, Stop!'"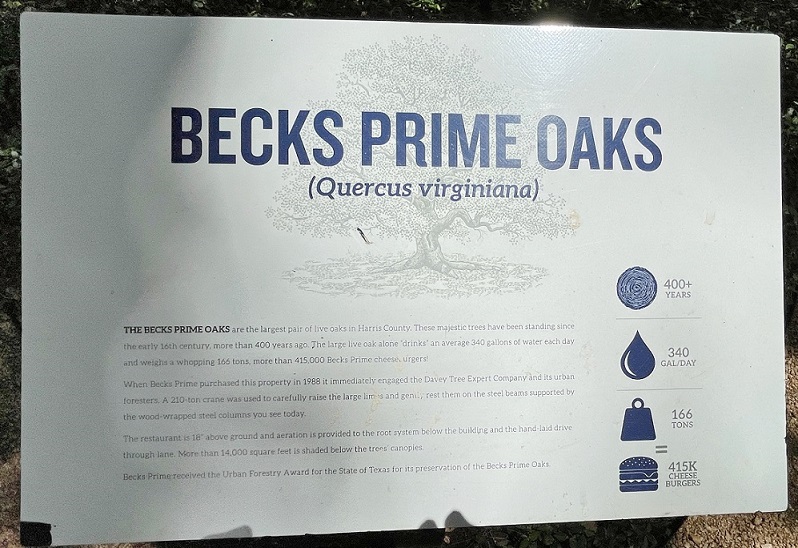 According to an informational sign, the restaurant itself was designed to float 18 inches above the ground, so as not to disturb the tree roots. A drive-through lane, which runs under a canopy of sprawling trees, is paved with hand-found pavers rather than concrete or asphalt.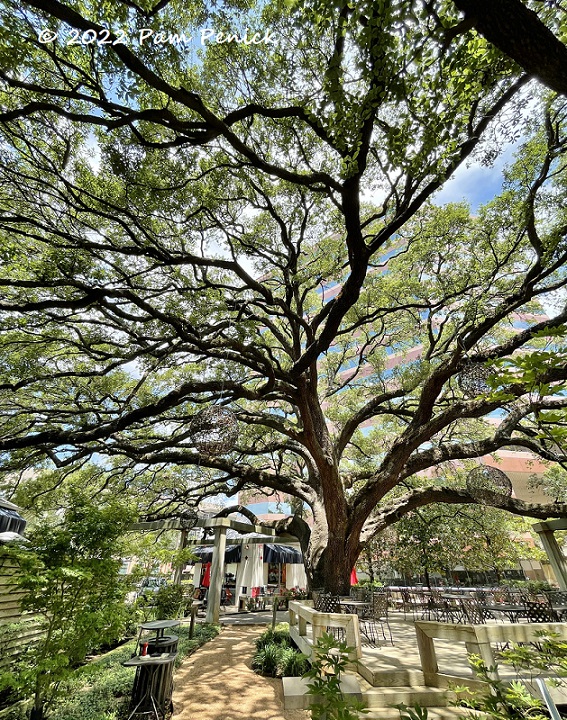 The trees are amazing, and it's even more amazing that they thrive in the middle of a bustling city, surrounded by tall buildings and busy streets.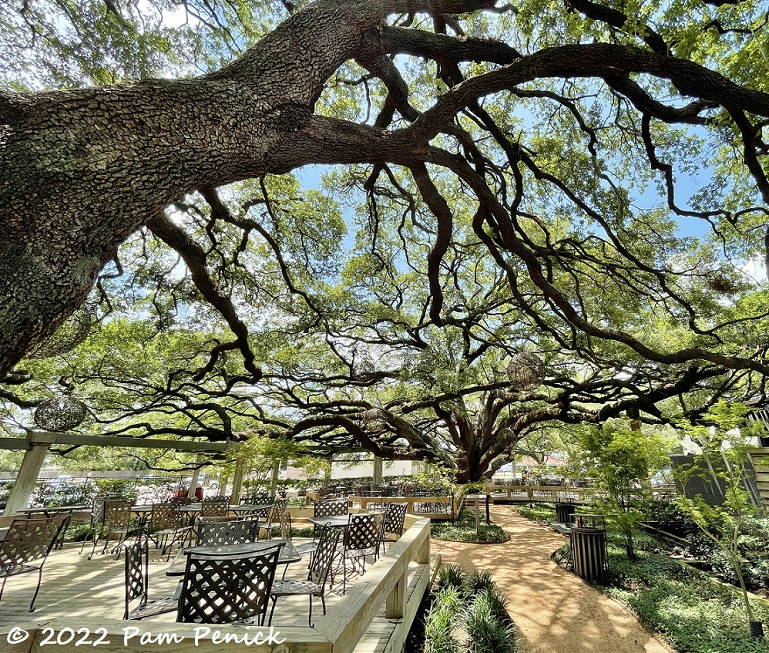 Becks has made it easy and accessible to enjoy them, and should be commended for being such good stewards of the trees.
My daughter recently moved to Houston for an internship, so I'll have more reason to go back soon and contact the Bakes Tree.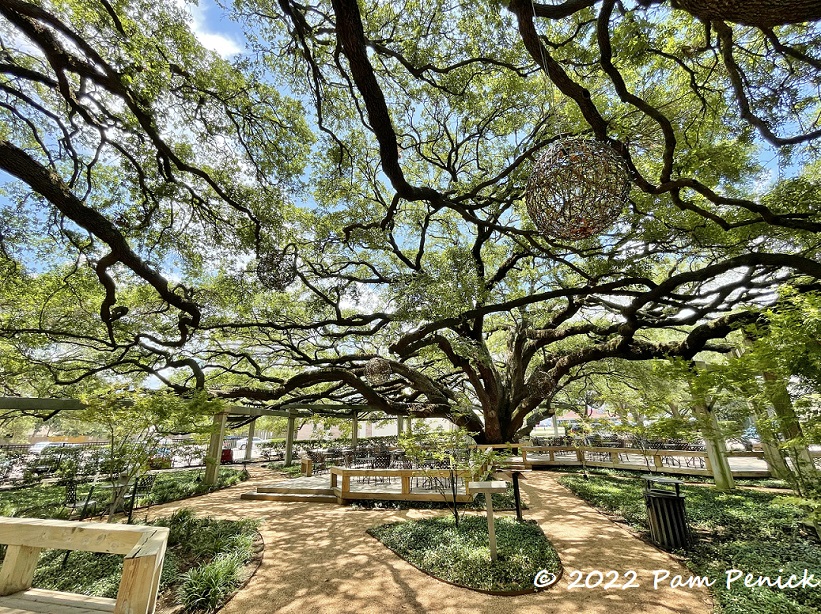 Next time maybe I'll go in the evening, to see the lightly-wrapped grape balls hanging from the branches.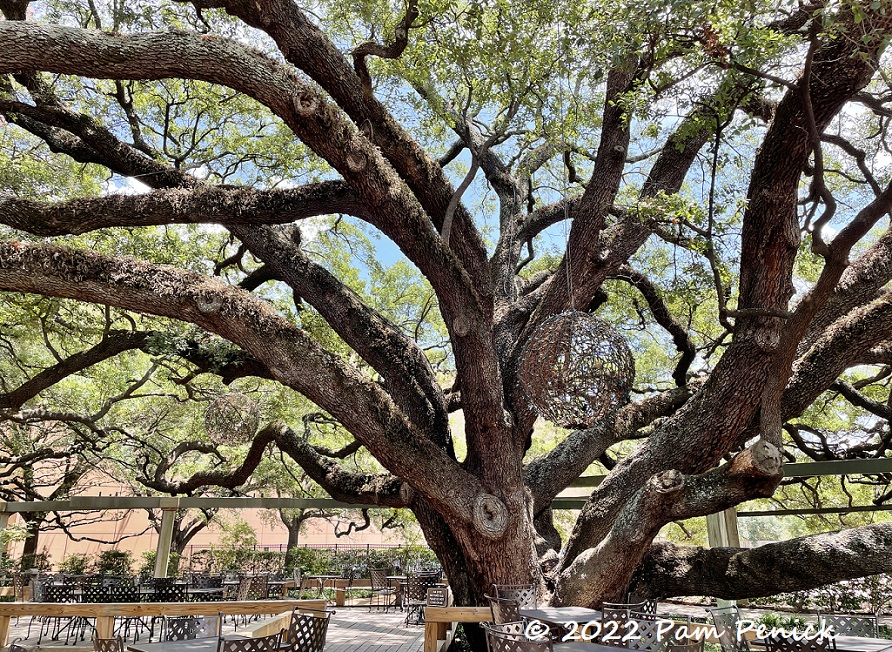 But a day trip is great, when you can relax under the light-filtering canopy of trees.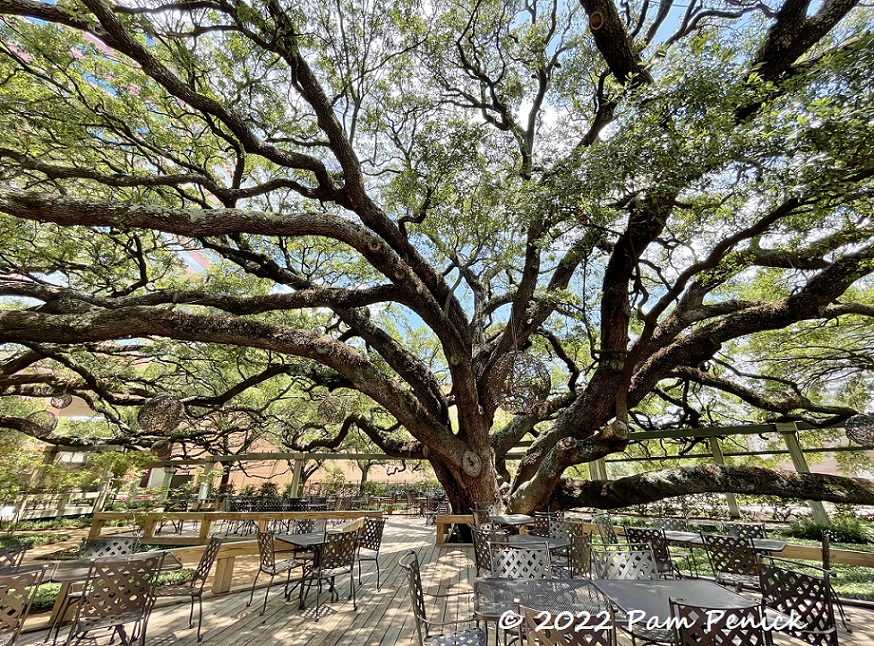 Good food. A vibrant city. And great trees. Now it's time to go to Houston again.
I welcome your comments. Scroll to the end of this post to leave a. If you're reading an email, click here to go to Digging and find the comment box at the end of each post. And hey, did someone forward you this email and you want to subscribe? Click here to have Digging delivered straight to your inbox!
__________________________
dig deep
It's juicy time Austin Cactus and Succulent Society's Fall Show and Sale Sept. 3 and 4 at the Austin Area Garden Center at Zilker Botanical Garden. Includes a plant exhibit, plant and pottery sale, silent auction, and plant raffles. Open from 10 am to 5 pm. Entry to the garden is free with payment.
Learn about garden design from the experts here Garden Spark! I host private talks with inspiring designers, landscape architects, and writers several times a year in Austin. These are limited-attendance events that sell out quickly, so join the Garden Spark email list to be notified in advance. Just click on this link and ask to be added. You can find this year's speaker lineup here.
All material © 2022 by Pam Penick for Excavation. Unauthorized reproduction prohibited.