November 15, 2022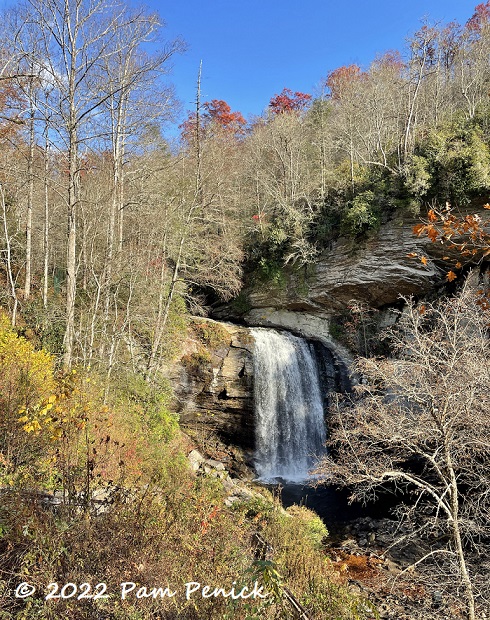 I love reading and watching the trees change color. Since fall color in Texas rarely offers more than a pale blush or yellow, I will travel far to see a good show. But it is difficult when you are making reservations 6 or 8 months in advance. Plants keep their own schedule and you can arrive too early or too late.
Looking Glass Falls
And that's how I found myself in Asheville, North Carolina, in late October to early November, two weeks after the initial peak of what has been described as one of the best years in memory for fall color. Gah! I knew I'd be pushing my luck by booking our stay in late October rather than a week in advance or the week before. But with many places experiencing warm summers that fall into fall, I hoped my gamble would pay off. Throughout October, I anxiously read color reports, and before we arrived I knew I'd miss the big show. But I hoped we'd still see something.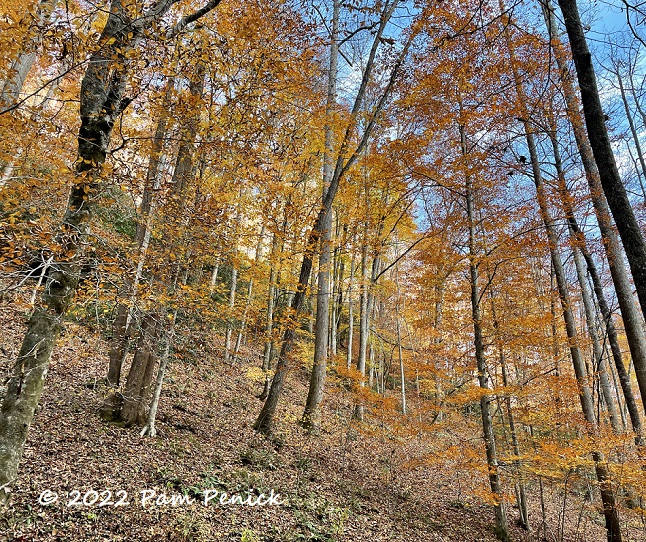 And we sure do. It's western North Carolina, after all, rumpled blue hills and tall hardwood forests that don't bend at the same time. Even the past-peak is pretty good, and much better than anything I'll see when Austin's fall color finally kicks in around Thanksgiving. We kept each day busy with hikes along the Great Smoky Mountains and Blue Ridge Parkway, Chimney Rock and Pisgah National Forest, and – of course – a few garden visits to the Biltmore House and the North Carolina Arboretum. .
Will share them soon. But today come for a quiet, late-afternoon hike to see a waterfall and a few sights around town.
Moore Cove Falls Trail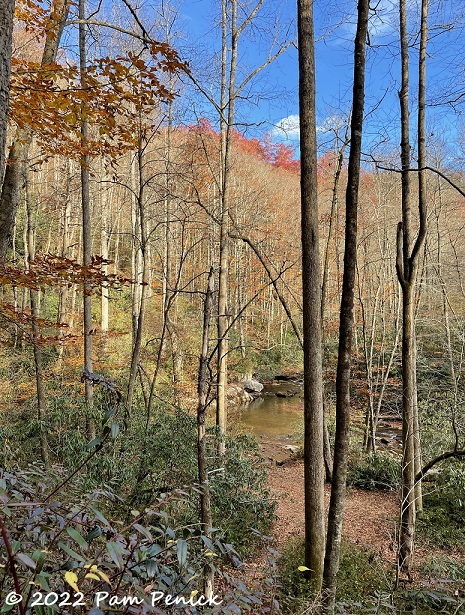 There are waterfalls in the mountains around Asheville. One day we drove into Pisgah National Forest to see the mighty and beautiful looking Glass Falls, pictured above. We enjoyed a peaceful afternoon hiking to Moore Cove Falls and saw only 3 or 4 people along the trail.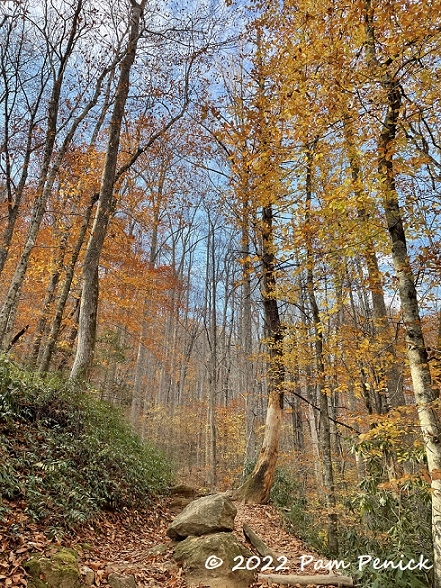 Blue sky and hanging yellow-orange trees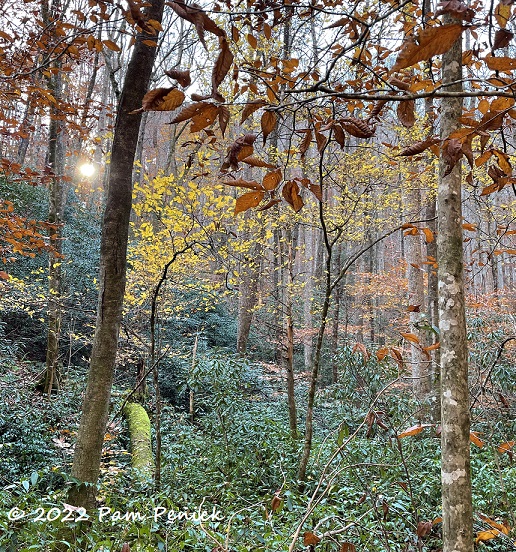 As the sun slowly slipped through the trees, we had the forest trail almost to ourselves.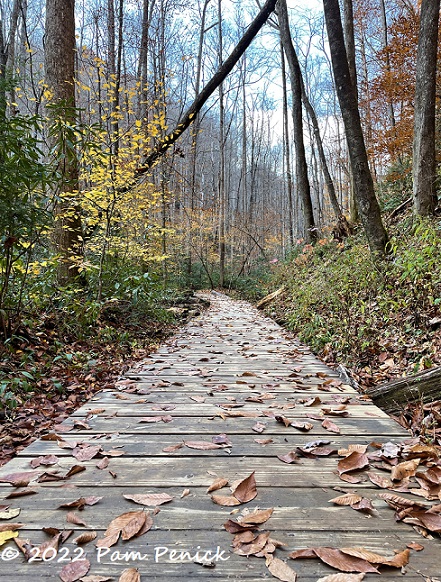 A boardwalk path collects fallen leaves in a wet area.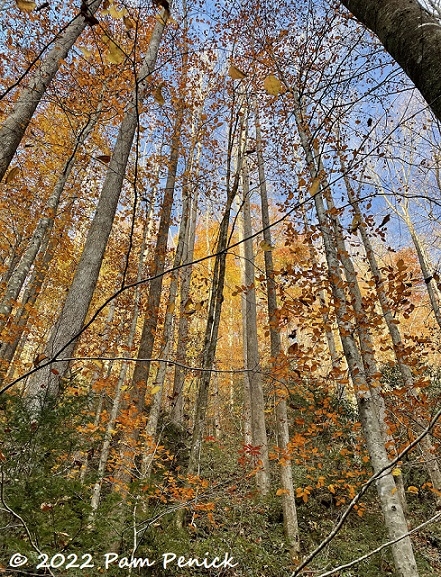 Trees don't grow straight and tall like that in my part of the world. They are running for sunlight – and make some "sunlight" of their own in the fall.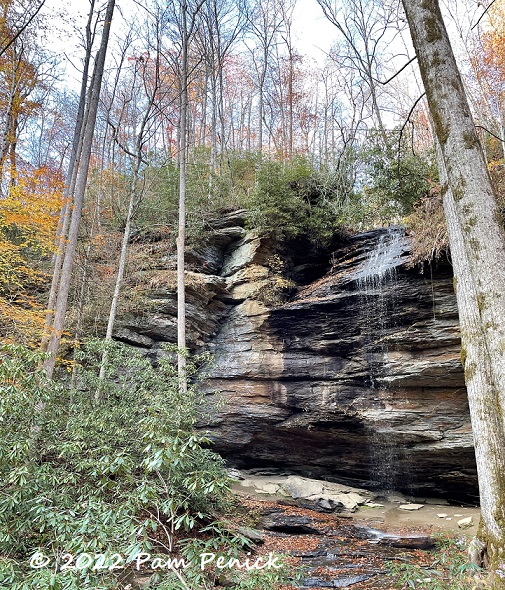 Moore Cove Falls were little more than a lacy trickle due to the drought, but they cascaded over layered rock cliffs.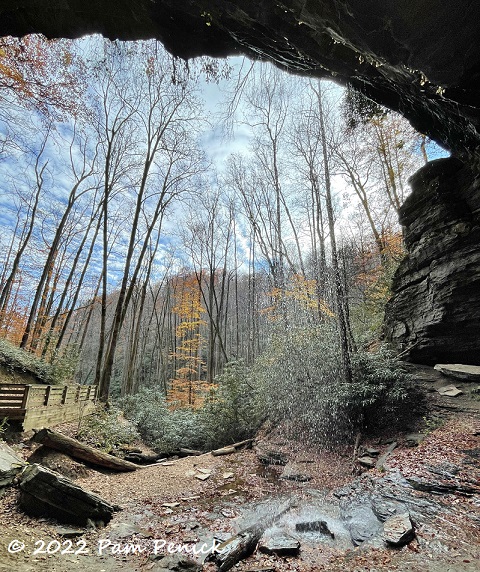 You can walk behind the waterfall here.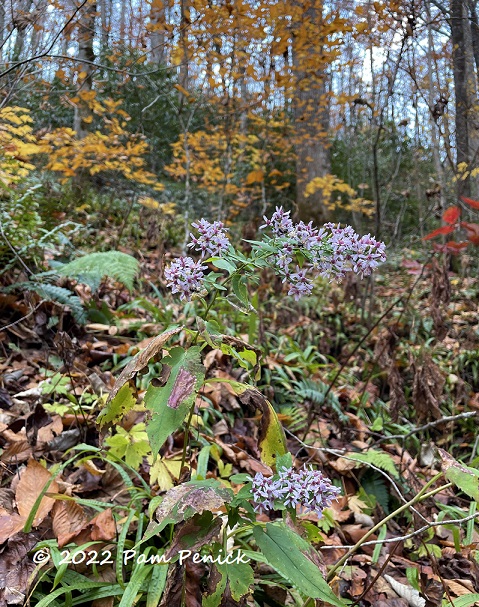 Asters were blooming among the fallen leaves…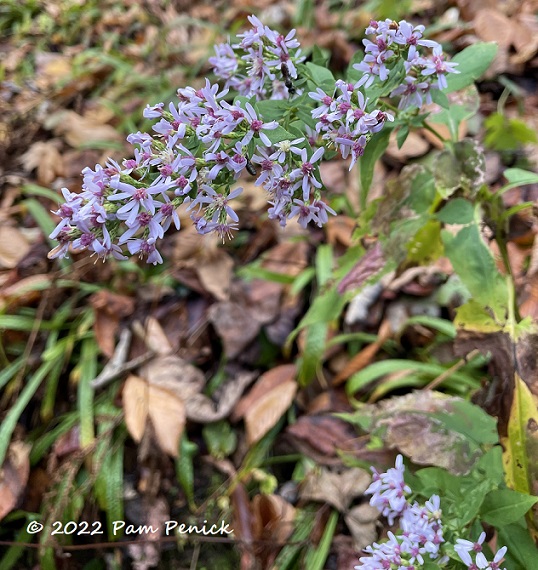 …and the pollinators were enjoying them.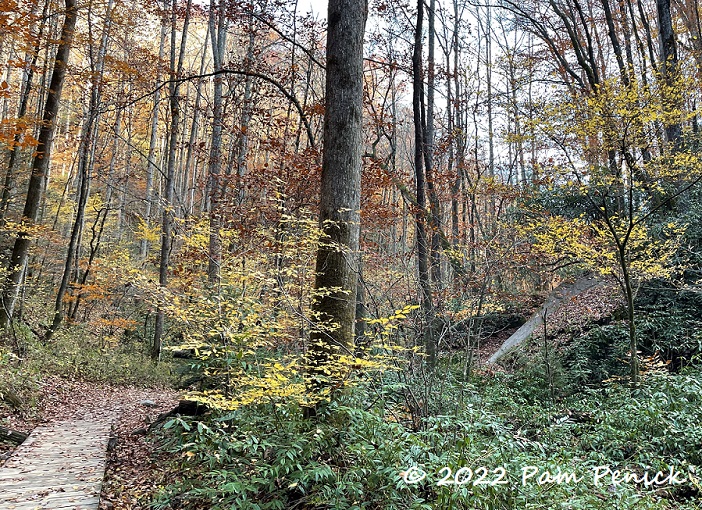 A beautiful place to explore
Downtown Asheville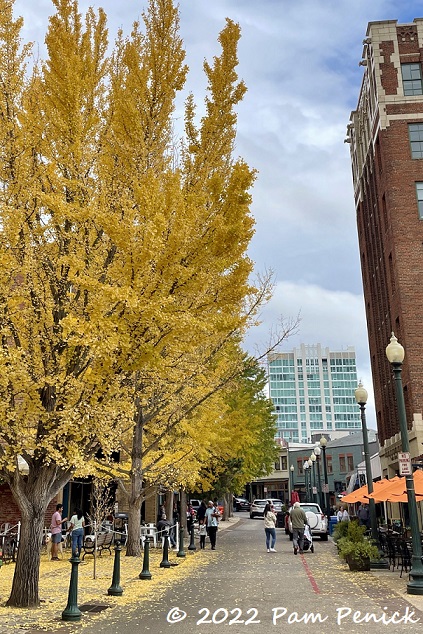 Downtown Asheville was aglow with ginkgo trees in peak color. Everyone was stopping here to take pictures.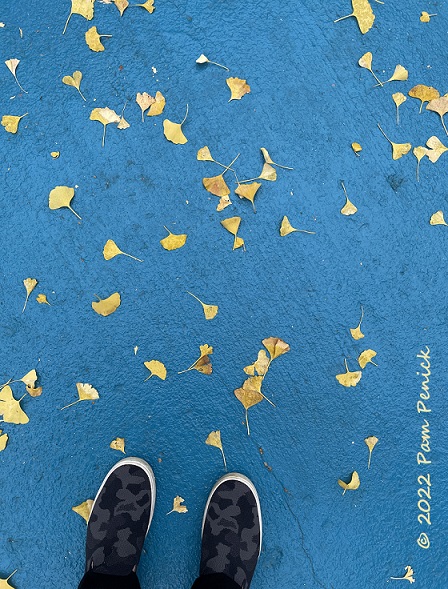 Looks good on the bottom too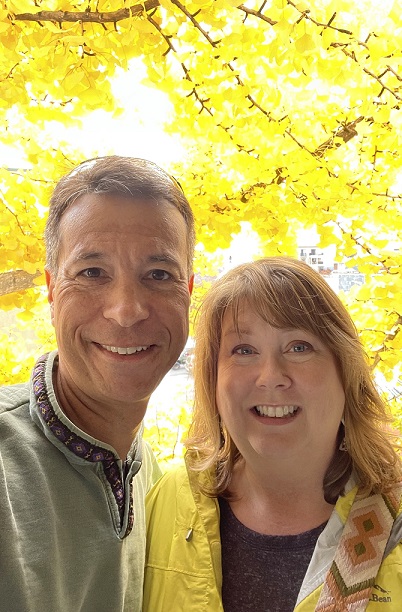 We took our selfie in a parking garage, where golden leaves illuminated the window openings and matched my rain jacket.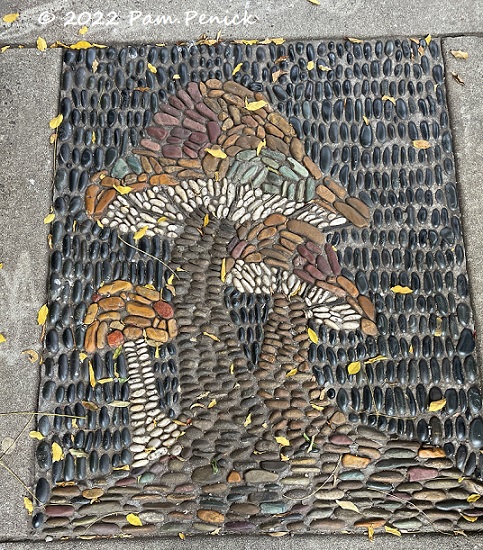 More scattered gold on the pavement mosaic at Mellow Mushroom Pizzeria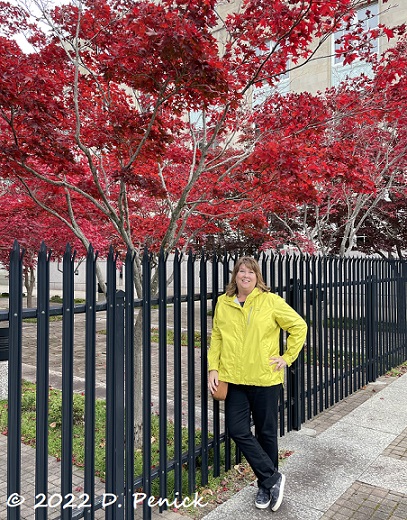 We also got some bright reds.
West Asheville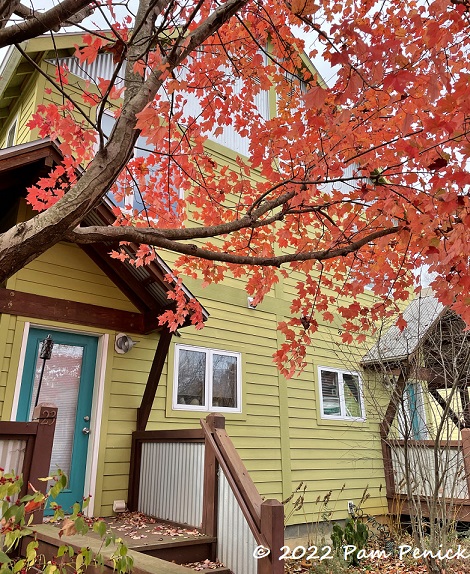 More color in the charming neighborhoods around West Asheville…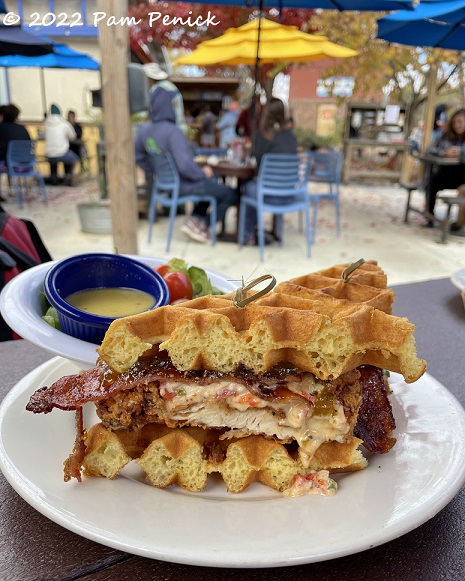 …where of course we ate at the Sunny Point Cafe. I had the chicken and waffle sandwich: a freshly made waffle topped with fried chicken breast, pimento cheese, jalapeño jam and bacon. Delicious!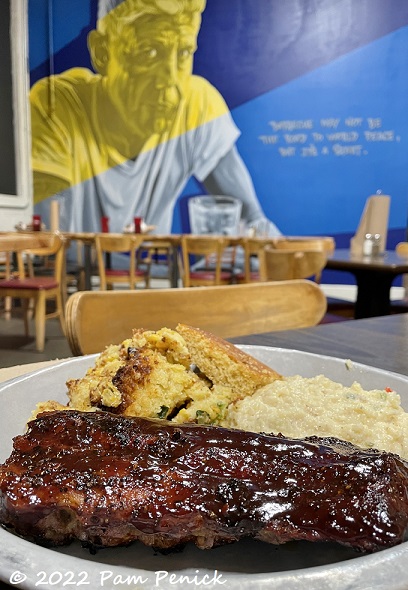 Another day I had to compare North Carolina BBQ to Texas BBQ, so we stopped at 12 Sisters Smokehouse for dinner. They recommended the brisket, which surprised me (it's a Texas thing, I thought), but it was sold out. So I had baby back ribs with a blueberry chipotle glaze, corn puddin' and a side of jalapeño cheese grits. Verdict? mmmm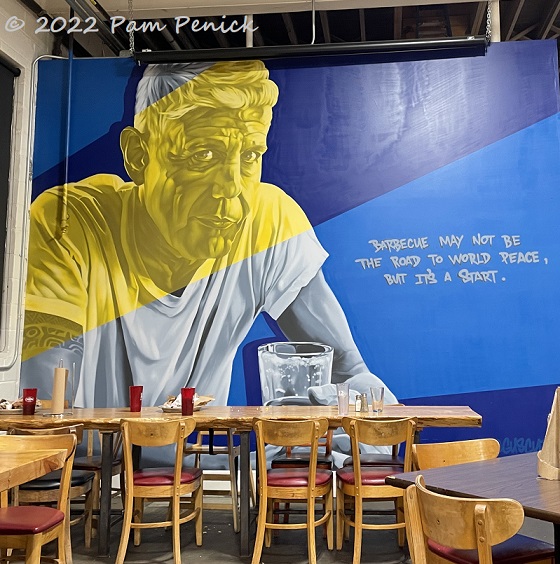 "Barbecue may not be the road to world peace," reads an Anthony Bourdain quote on the wall, "but it's a start."
Up next: Fall colors in the gardens of Biltmore House.
I welcome your comments. Scroll to the end of this post to leave a. If you're reading an email, click here to go to Digging and find the comment box at the end of each post. And hey, did someone forward you this email and you want to subscribe? Click here to have Digging delivered straight to your inbox!
__________________________
dig deep
Learn about garden design from the experts here Garden Spark! I host private talks with inspiring designers, landscape architects, and writers several times a year in Austin. These are limited-attendance events that sell out quickly, so join the Garden Spark email list to be notified in advance. Just click on this link and ask to be added. You can find this year's speaker lineup here.
All material © 2022 by Pam Penick for Excavation. Unauthorized reproduction prohibited.