October 03, 2022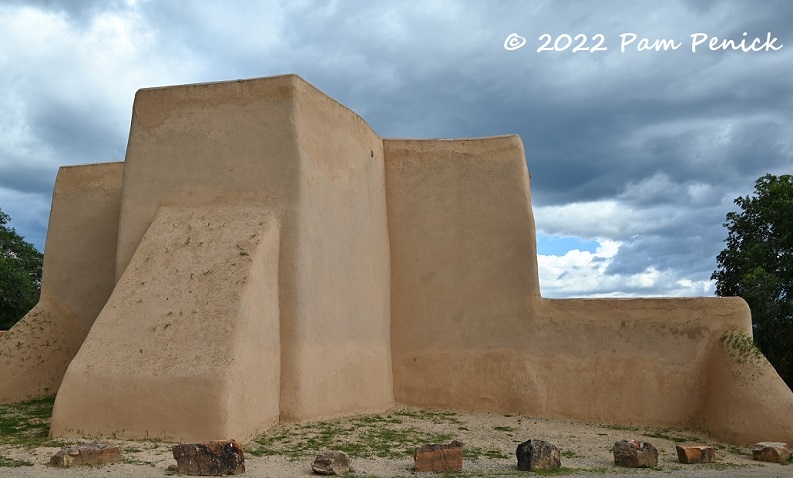 Even if you've never visited the old adobe mission in Ranchos de Taos, New Mexico, you probably recognize it. Ansel Adams photographed the church in 1929 and Georgia O'Keeffe painted it in 1930, making it famous to this day.
Church of San Francisco de Asis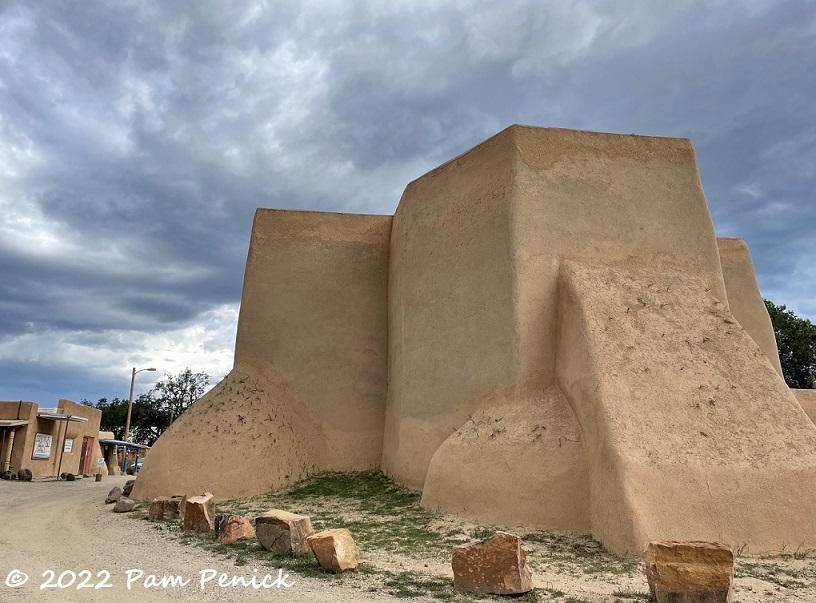 San Francisco de Asis was built in the early 1800s. "Built of mud and straw sun-dried adobe bricks, this church still stands as one of the few original buildings in Taos," according to its website, and it continues to hold services.
O'Keeffe rendered the back of the church with its blocky form geometric. When I visited in late August, rain-soaked grasses shook the topsoil of its buttresses.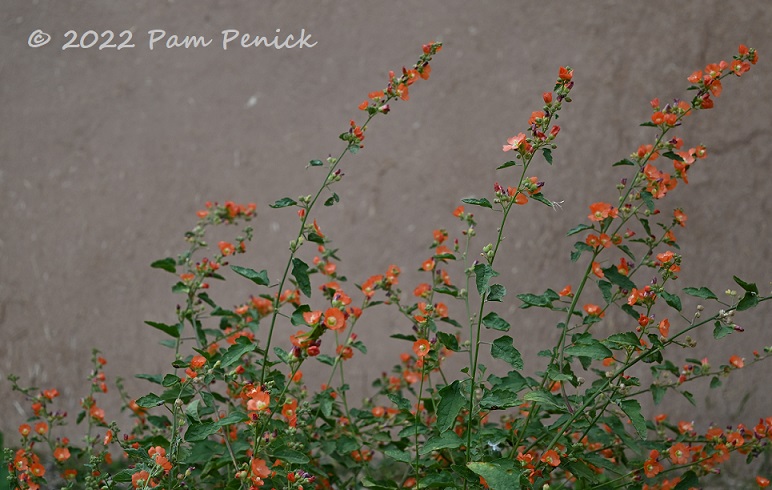 On the side wall, orange globe mallow flowers were blooming.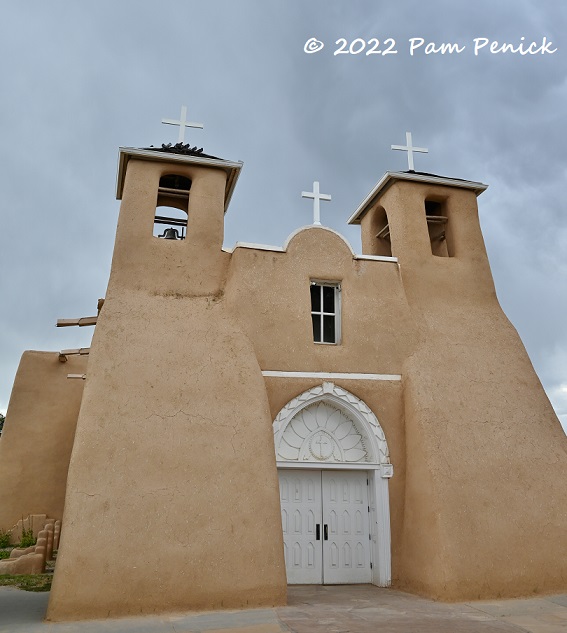 The front of the church is also softly moulded, with two bell towers above a central arched doorway.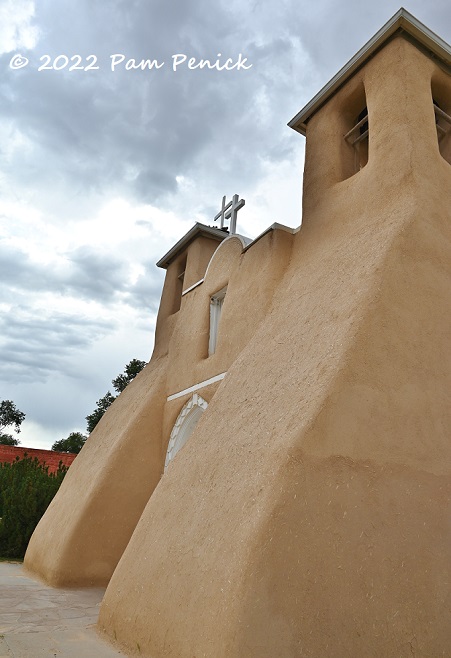 Sloping buttresses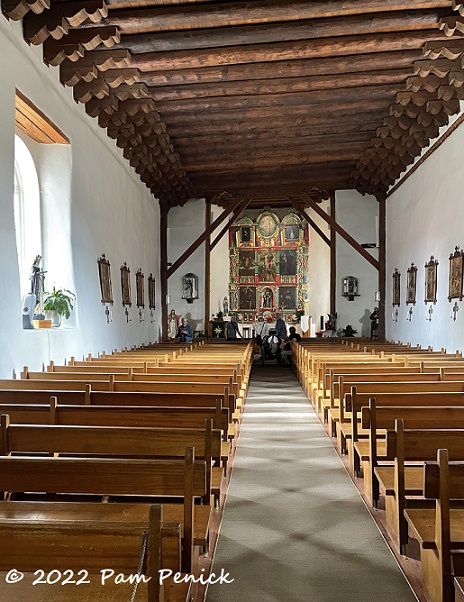 Inside, the church feels surprisingly airy, even with the old vigas — hand-carved beams — stretching overhead.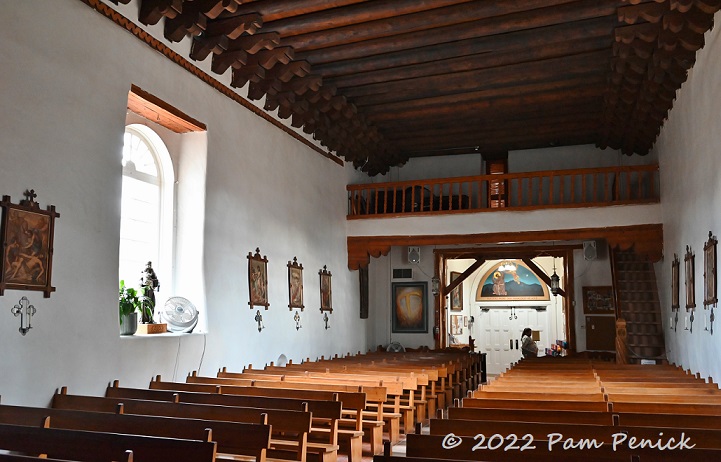 Looking back at the entrance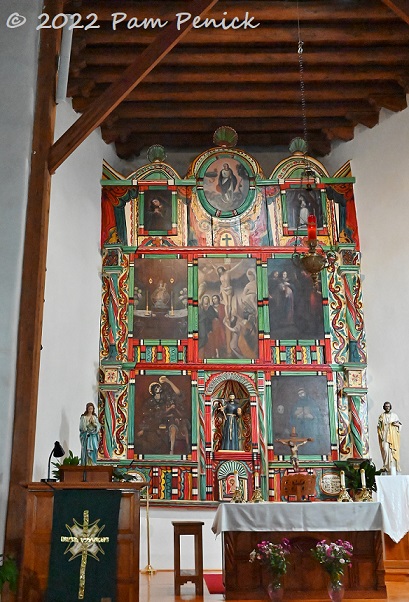 Behind the altar hangs a colorful painting i will get backor the altar screen.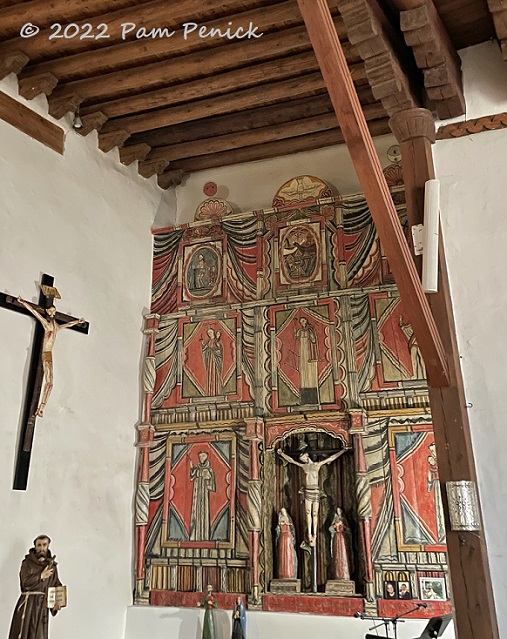 Another curtain hangs on the side wall.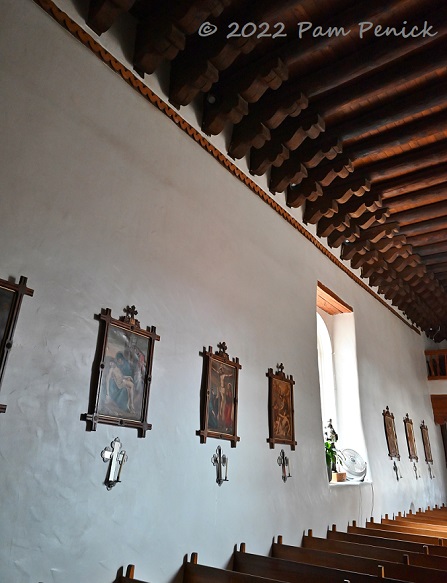 afternoon light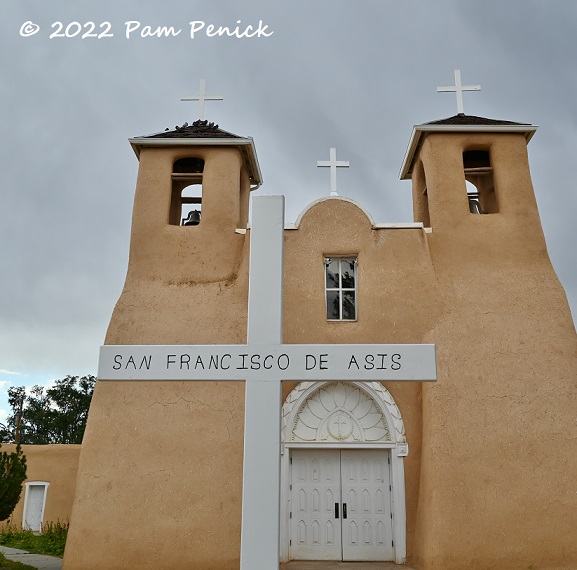 The plaza in front of the church…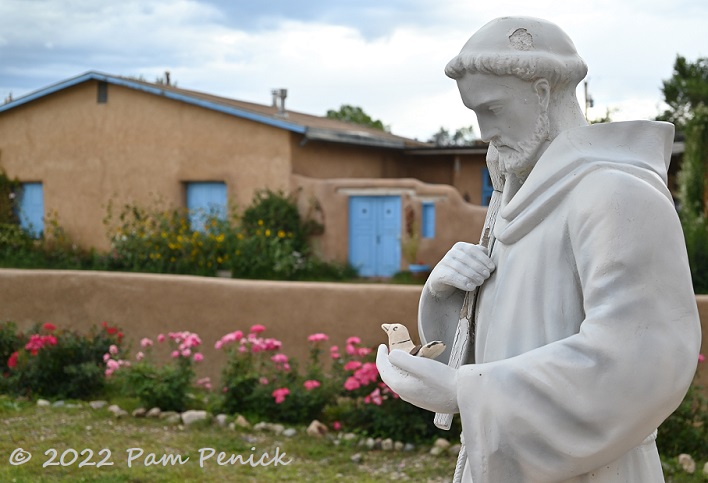 …It has a statue named after it, St. Francis of Assisi. Beyond the rose-lined walls…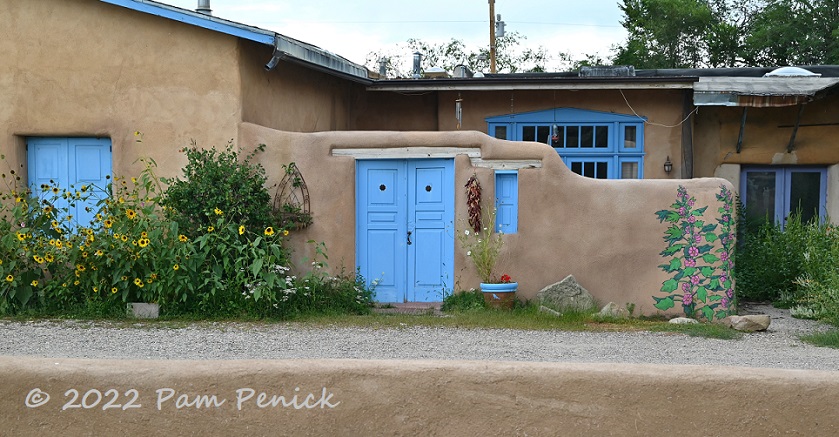 …sits in an adobe home or shop with sky blue doors and windows. Sunflowers and painted hollyhocks add something to the garden.
Rio Grande Gorge Bridge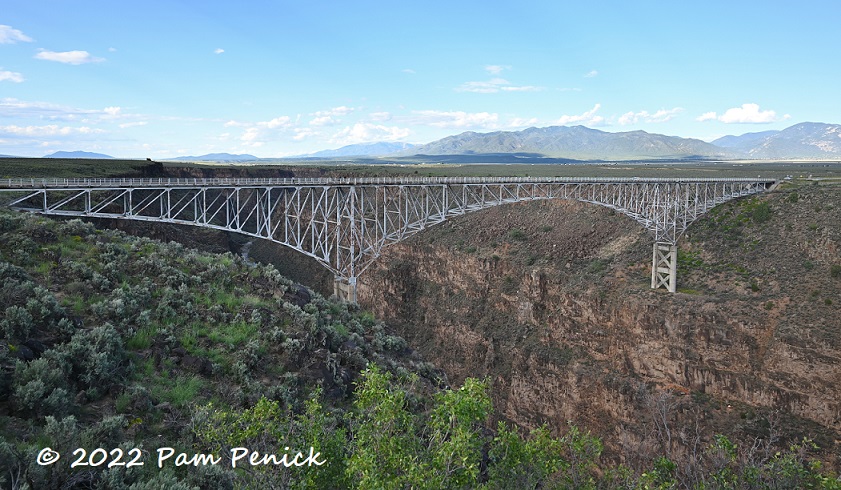 About 10 miles northwest of Taos, a spiderwebby steel bridge spans a deep canyon carved into the Taos Plateau. At its deepest, the canyon plunges 800 feet into the Rio Grande River below. But here the bridge rises about 600 feet above the river. Surprisingly, the height of the bridge is not agreed upon. It is the 5th, 7th, or 10th tallest bridge in the United States, depending on the source. No matter. It is high.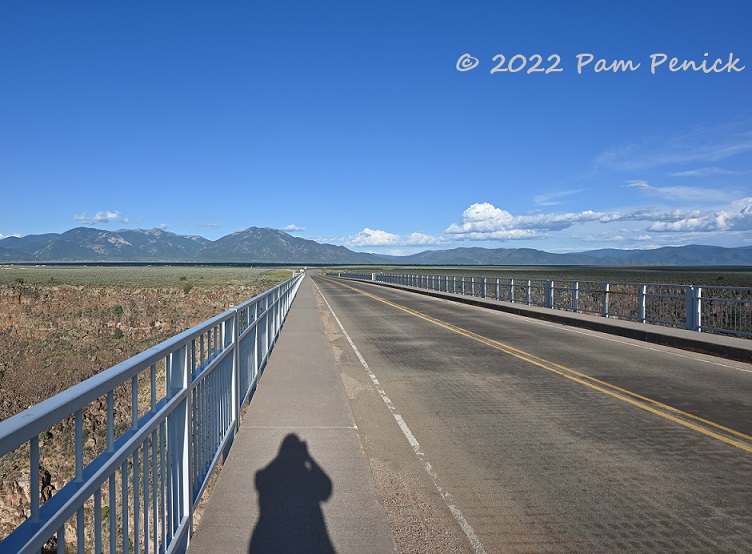 As you cruise across the plain, the bridge collapses on you. Suddenly you're flying over a stomach-turning abyss, with nothing but empty air around you.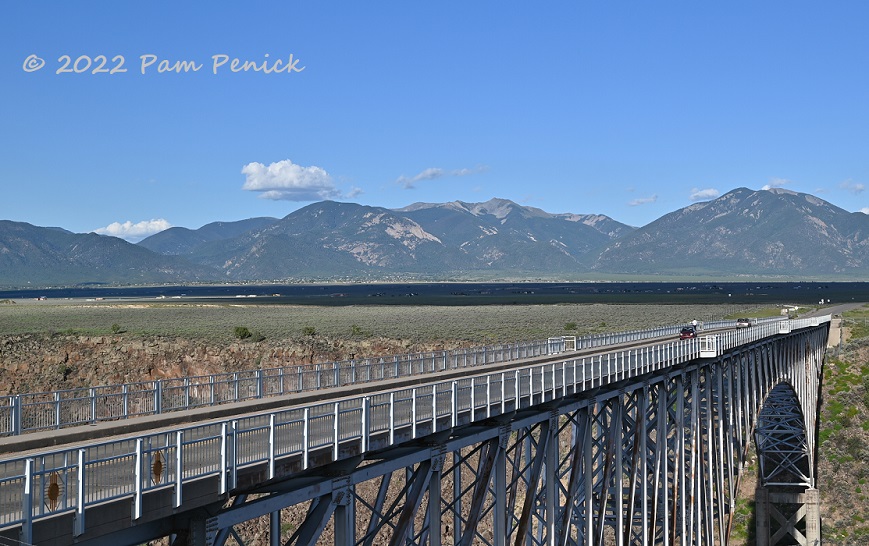 We parked in a visitor lot with picnic tables and restrooms on the west side of the pier and approached the bridge. Cars and trucks zipped across the narrow, two-lane span. Note the cantilevered viewing platforms protruding from the bridge rails. I only made it first.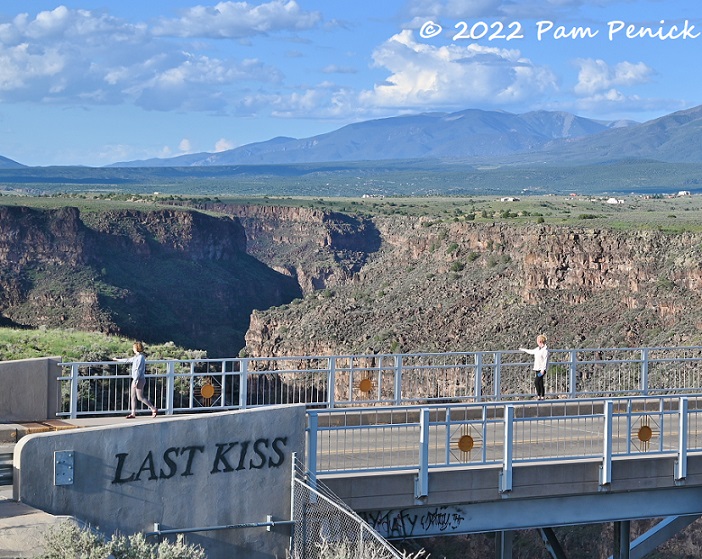 An elevated footpath runs along either side of the bridge, and we join the other scattered onlookers for the epic view.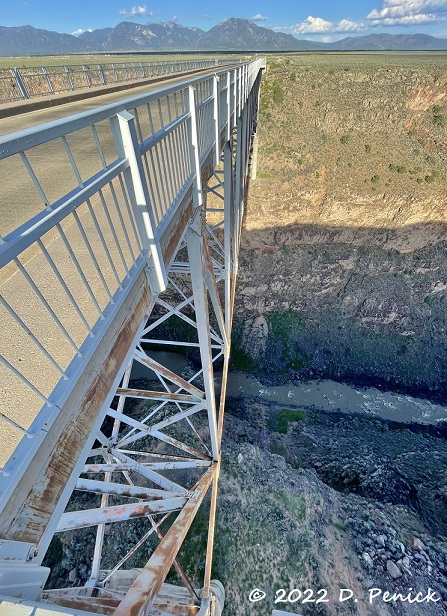 Pictures don't convey how semi-terrifying it was to lean over the railing and peer into the tiny river below.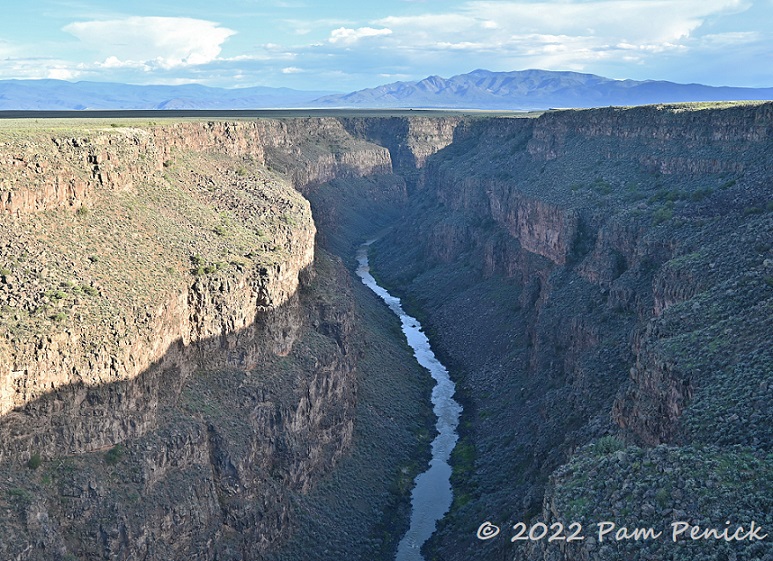 That scene though. I took it all to one side of the bridge, my knees shaking as the cars whizzed by behind me.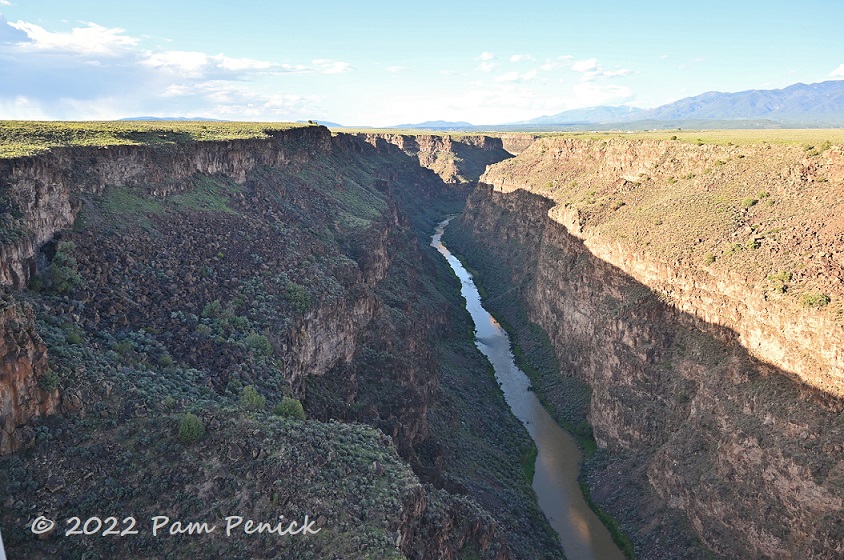 A quiet moment, I crossed to admire the ghat and crossed it to catch the afternoon light. And then I hightail it back to the hard world.
If you enjoy a thrill, or a glimpse into geologic time, this is the attraction for you.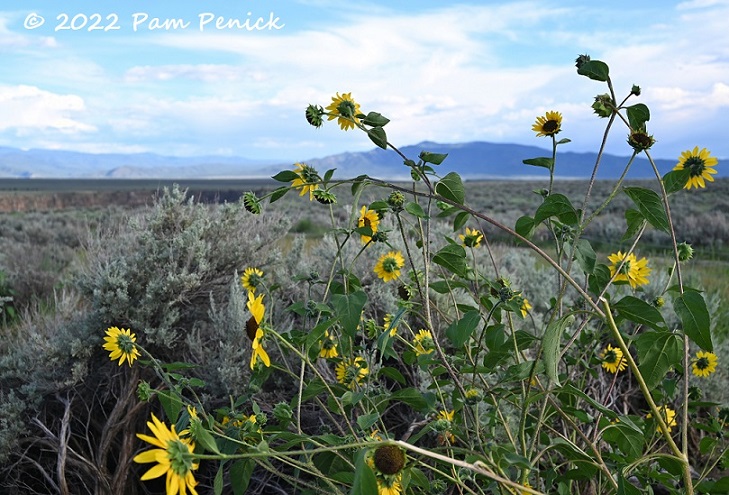 Sunflowers and mountains near Gorge Bridge.
Next: Santa Fe's Railyard Park, built on old train tracks and colorful farmers markets. To look back at my visit to Georgia O'Keeffe's Abiquiú home, click here.
I welcome your comments. Scroll to the end of this post to leave a. If you're reading an email, click here to go to Digging and find the comment box at the end of each post. And hey, did someone forward you this email and you want to subscribe? Click here to have Digging delivered straight to your inbox!
__________________________
dig deep
October 20th Garden Spark Talk "Black Flora" author Teresa Speight is on sale now, and you're invited! Teri will share the stories of pioneering Black florists, flower activists and florists doing incredible work across the United States in her profile of these incredible creatives. black flora is uplifting and inspiring; See my book review for more information. Join us and meet Terry during his lecture and book signing. Seating is limited, and tickets must be purchased in advance.
Learn about garden design from the experts here Garden Spark! I host private talks with inspiring designers, landscape architects, and writers several times a year in Austin. These are limited-attendance events that sell out quickly, so join the Garden Spark email list to be notified in advance. Just click on this link and ask to be added. You can find this year's speaker lineup here.
All material © 2022 by Pam Penick for Excavation. Unauthorized reproduction prohibited.