September 09, 2022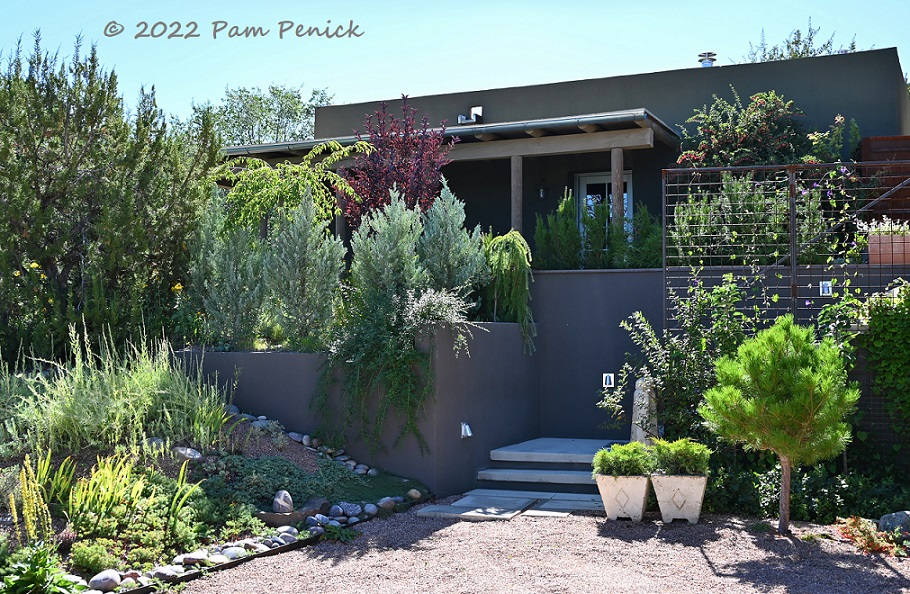 Landscape architects James David and Gary Pease left Austin about 5 years ago, leaving behind a 36-year-old, painful garden that regularly starred on Open Days tours and was covered by Martha Stewart. Architectural Digest, and, ahem, yours truly (click to see my ending). Seeking cooler weather, a small garden, and new adventures, the couple moved west to Santa Fe, New Mexico, bought a fixer-upper adobe house, and then expanded next door as it became available to preserve their vision.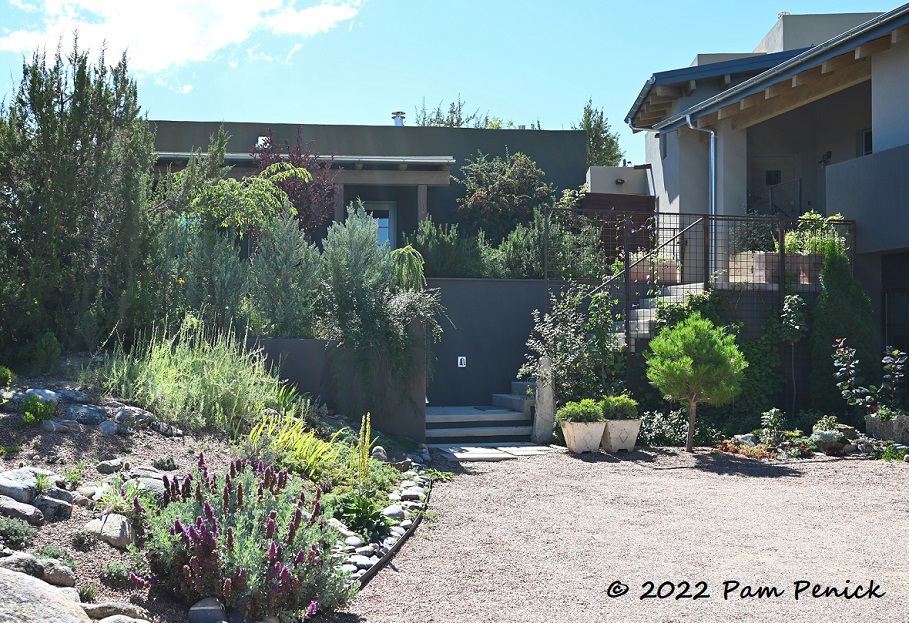 While vacationing in Santa Fe last week, I reached out to James, who generously invited my husband and I to tour his new garden one sunny mid-morning. Knowing what a leaf-focused botanist James is, coupled with Gary's enthusiasm for growing fruits, vegetables, and flowers, I expected their garden to flourish with high-desert quality. And it is done. Slender conifers and other trees are strategically positioned toward Santa Fe's famous blue sky for privacy, with clumps of grasses, perennials and curated trees below.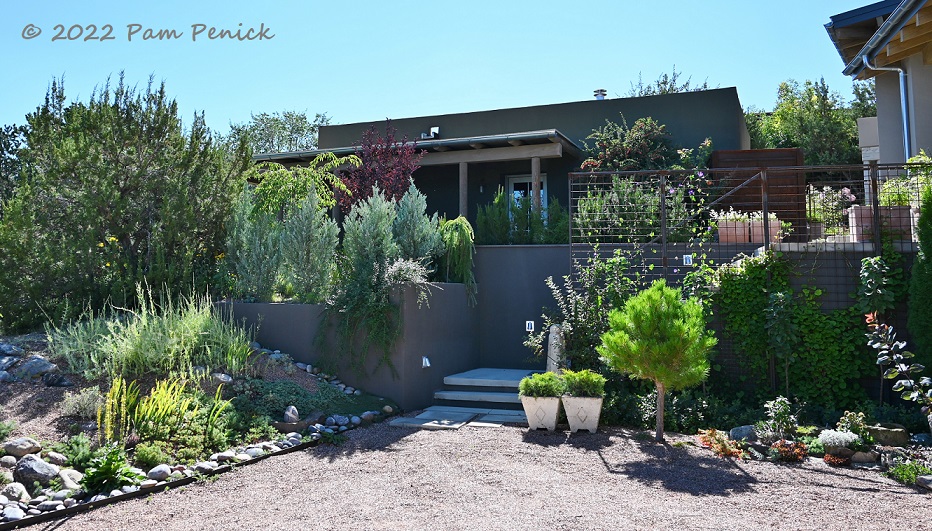 Let's start with the gravel driveway, which sits below the house (right) and the guest-house casita (center). An angled wall and plant-wrapped staircase lead up to the house level.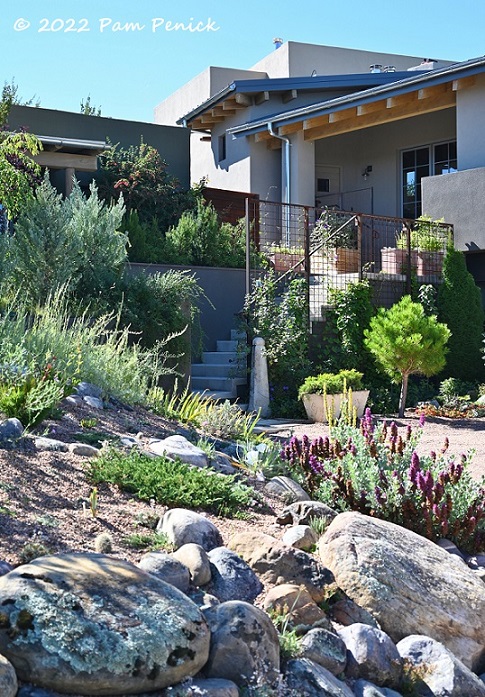 Next to the driveway, a large gravel berm with rounded boulders is James and Gary's latest garden — a crack/rock garden with bulbs, irises and flowering Mojave sage (Salvia pachyphylla)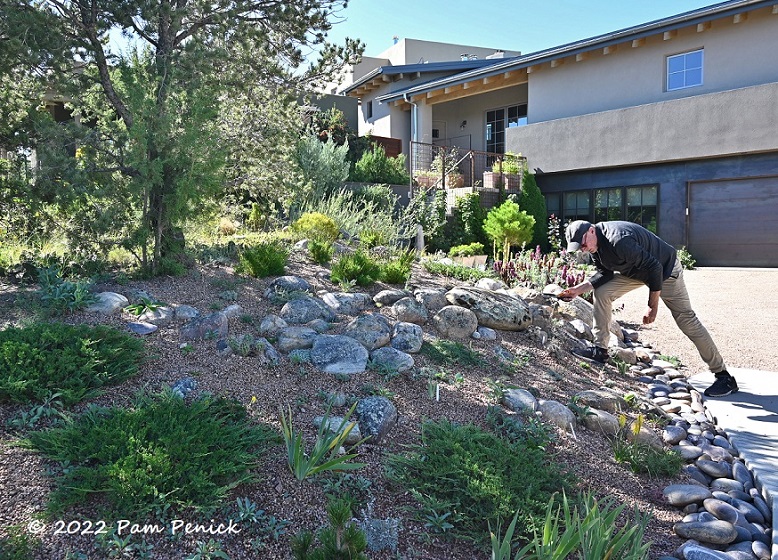 Here is James pulling saplings from a neighboring nemesis tree (I forget which one). We all have a nemesis plant, right?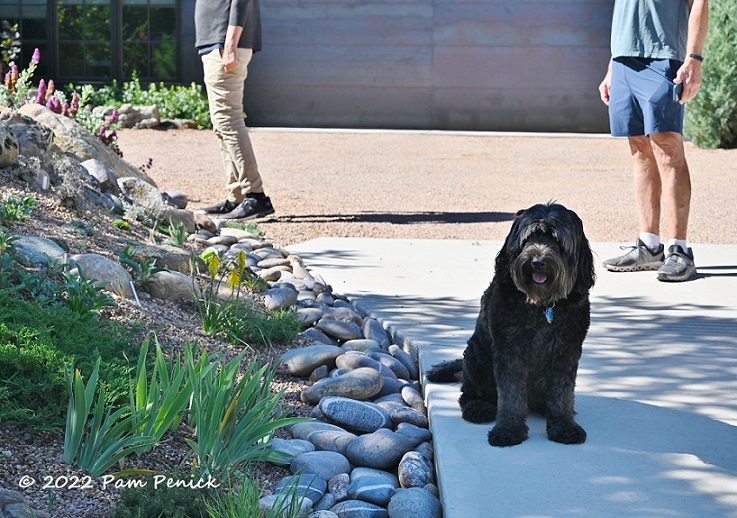 And here's Betty, Gary and James' beloved labradoodles, who accompanied us throughout the garden visit.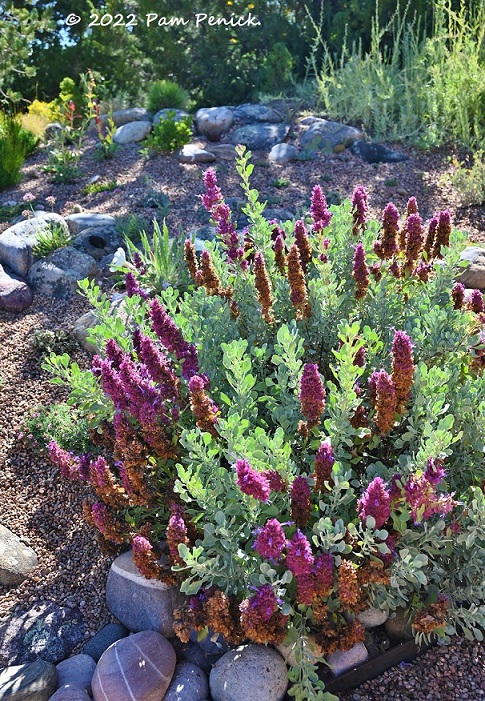 Mojave sage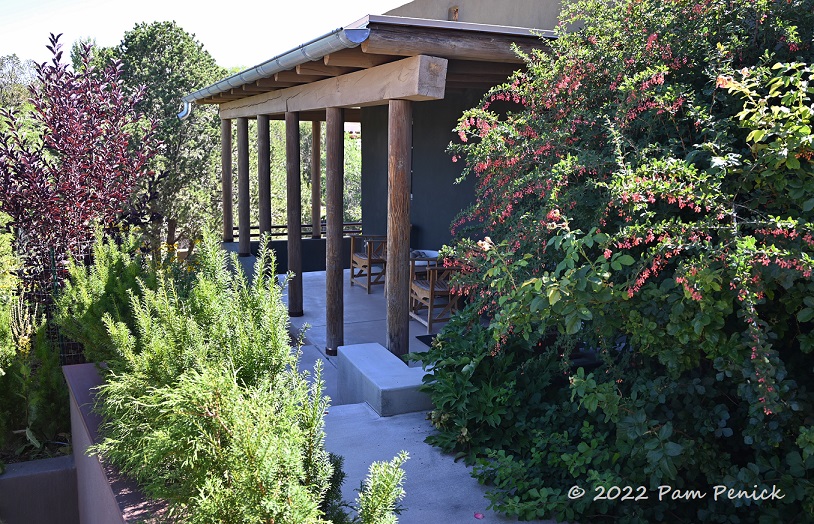 James led us up the stairs to the casita and looked us inside. If you know James and Gary's style, you know how cool it is: warm contemporary style with clean lines and simple, honest materials like steel and wood. Their house and home are actually featured in a recent book Santa Fe Modern by Helen Thompson (another Austin expat in Santa Fe), which I recommend if you like architecture and design.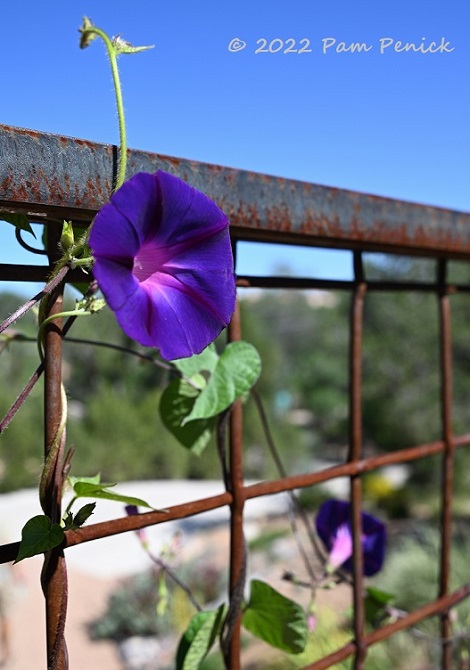 Morning glory climbing a steel-mesh railing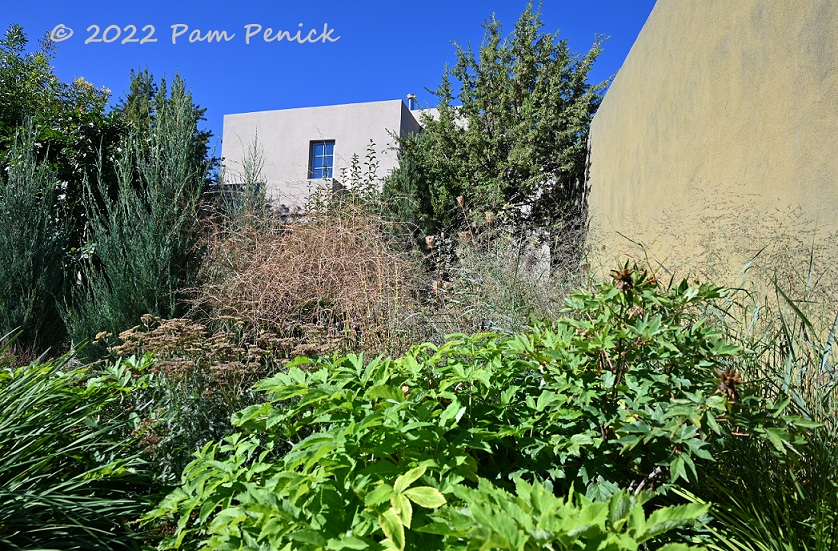 Behind the casita James lets loose with lots of plants, including a surprising number of trees, which visually expand the space and make the main house seem further away. They provide privacy from the street below.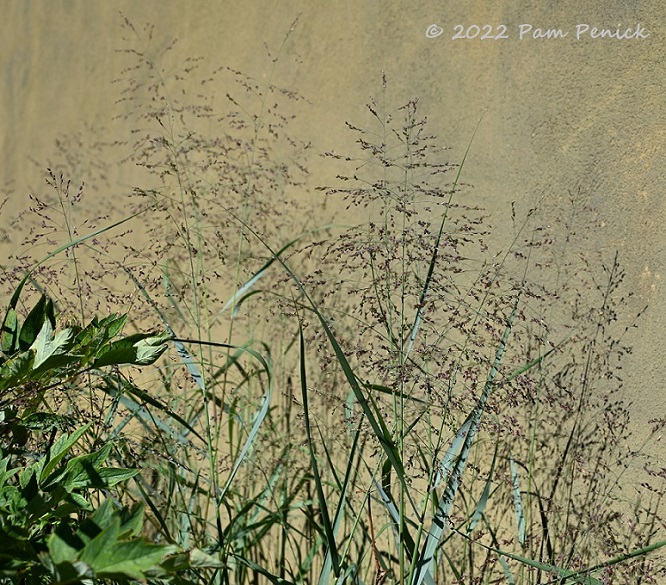 Everything looks great against a colorful wall with maroon flowers and blue-green stems of an ornamental grass.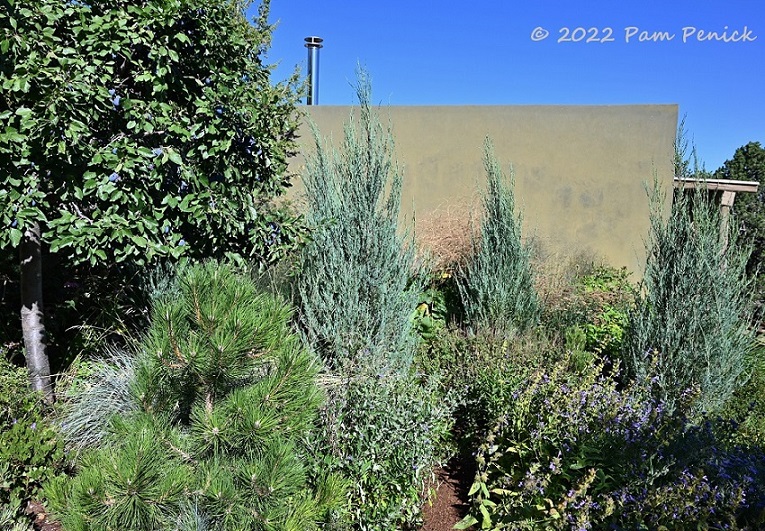 More blue-green is seen in the upright conifers and a fruiting tree on the left.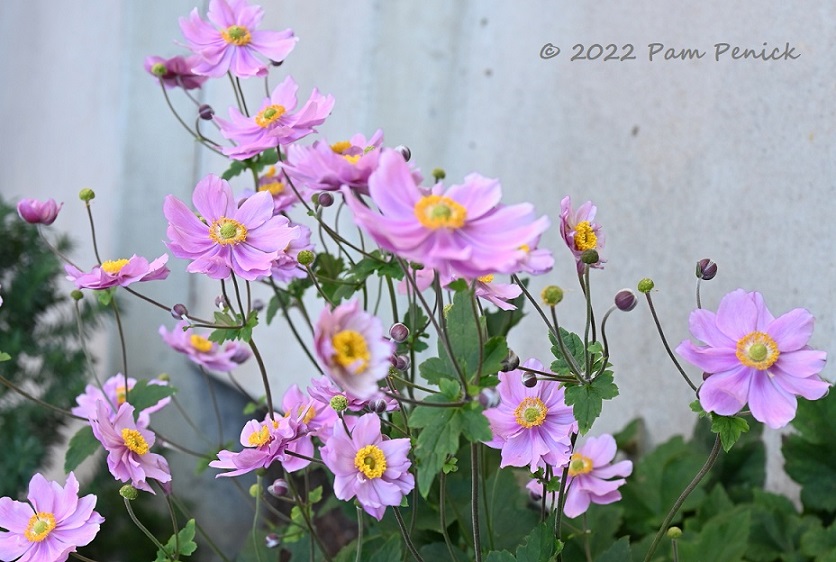 Pink Japanese anemones grow near the house, reminding me of Jenny Stocker's former garden in Austin.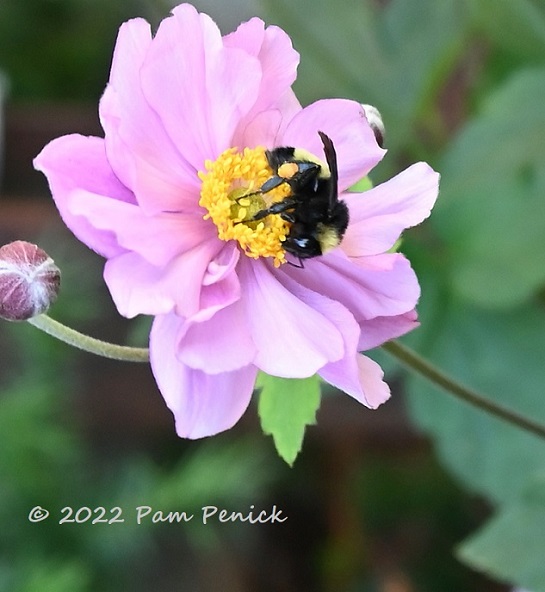 A bumblebee working on a flower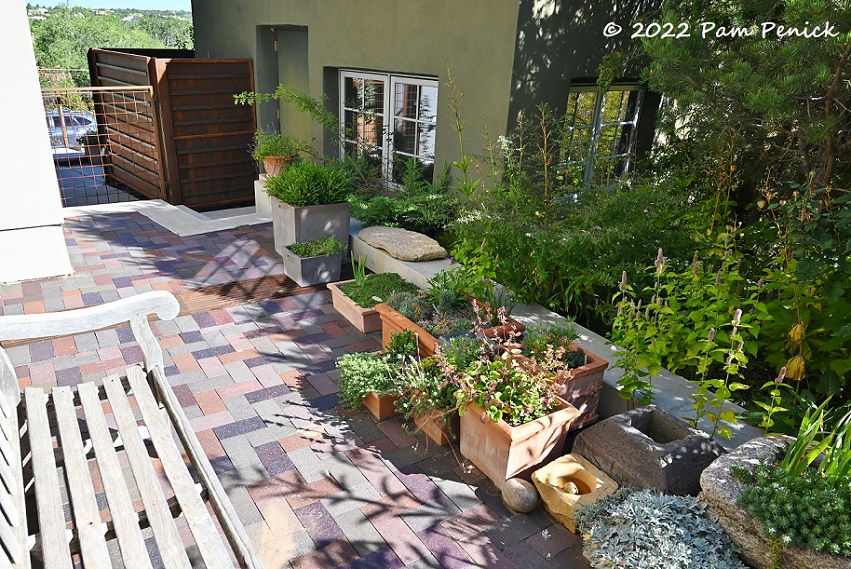 James had an impressive collection of potted plants in his old garden and he does the same here. Beautiful terracotta pots from Italy are mixed with rough stone grooves and modern concrete or steel, many filled with succulents and alpines. Also notice the beautiful paver path in mauve and purple.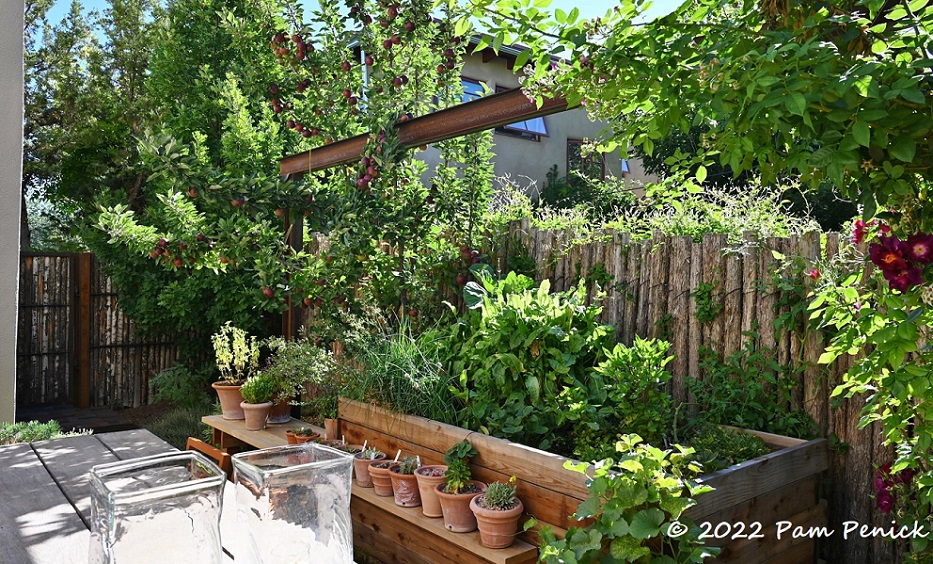 Entering the back garden, I felt at home seeing their coyote fences, which are as common in Santa Fe as they are in Austin. A coyote fence is made of straight posts of juniper/cedar, with random bark left over, wired palisade-style. An almost monumental steel-beam arbor spans the length of the space, and James and Gary are training to grow alongside an apple tree and roses. Vegetables and herbs grow in a raised bed along the fence.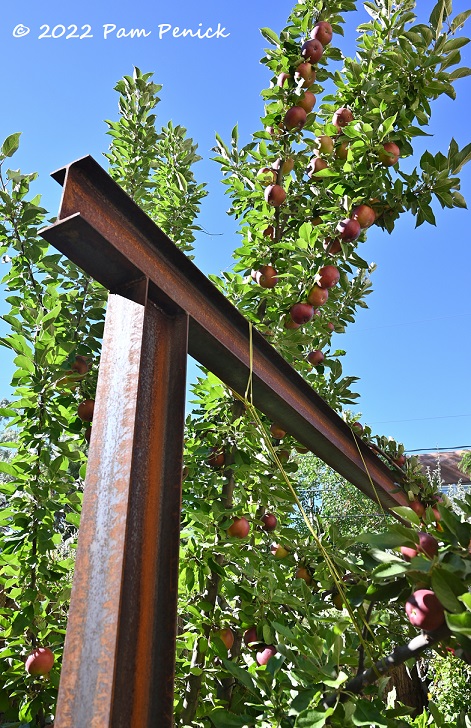 Ripe red apples harmonize with rusted steel beams.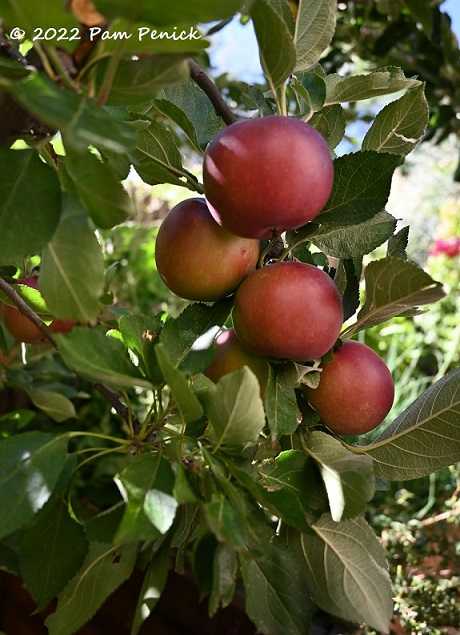 I saw fruit trees all over Santa Fe in late August.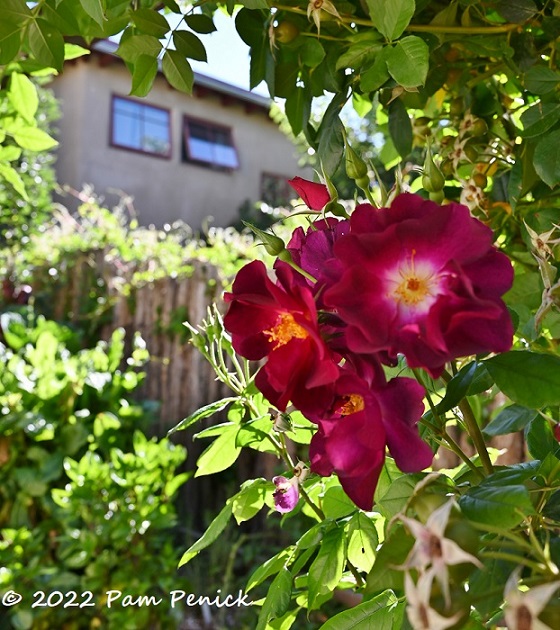 The red rose reached for the light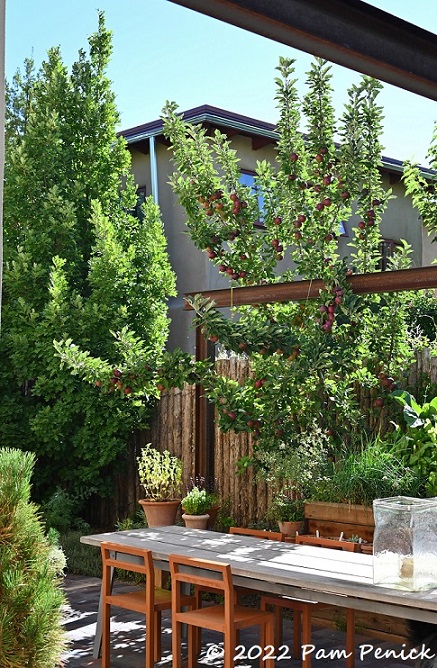 A steel arbor wraps around the patio, where a long mahogany table and burnt-orange chairs provide a space for outdoor dining…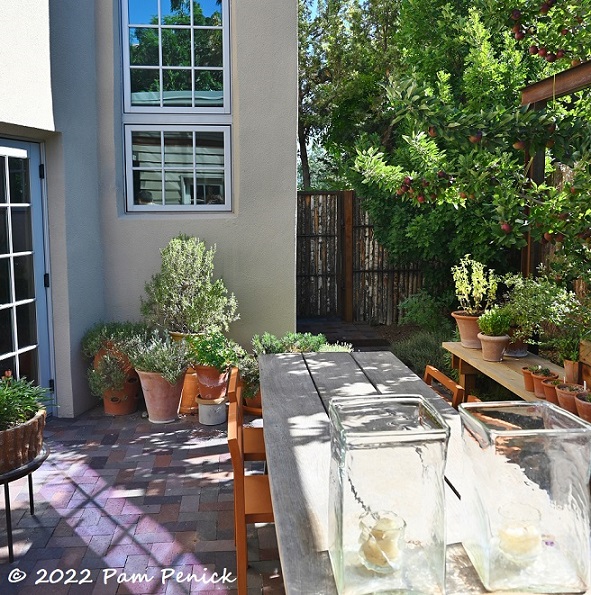 …conveniently located near the kitchen door.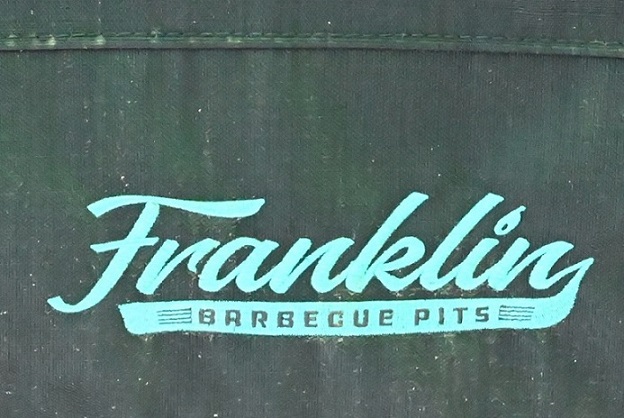 Gary wanted to show me something — a reminder of Austin and its revered BBQ master, Aaron Franklin.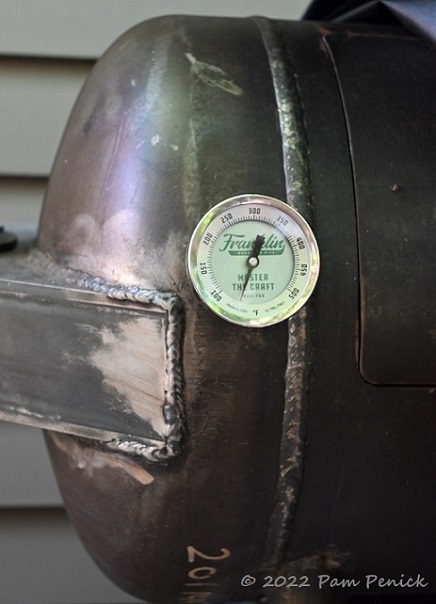 Yes, they have a Franklin BBQ smoker — bringing Austin BBQ to Santa Fe.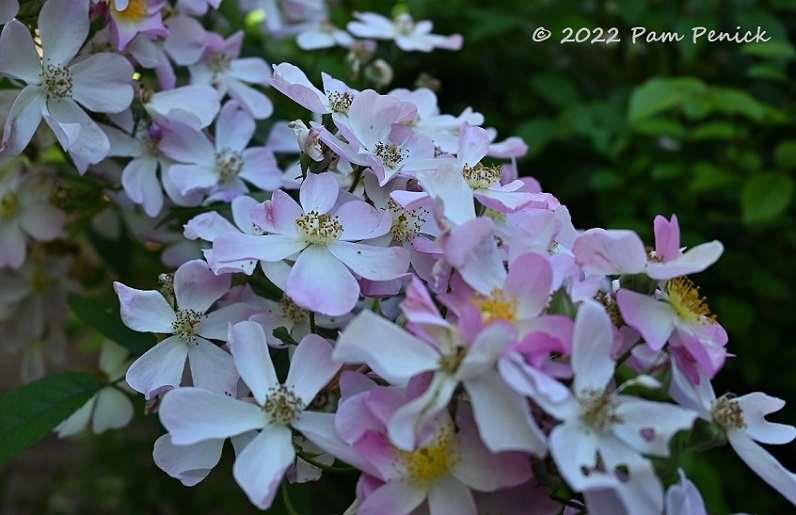 The garden continued to wrap around the house, and I admired the pink roses …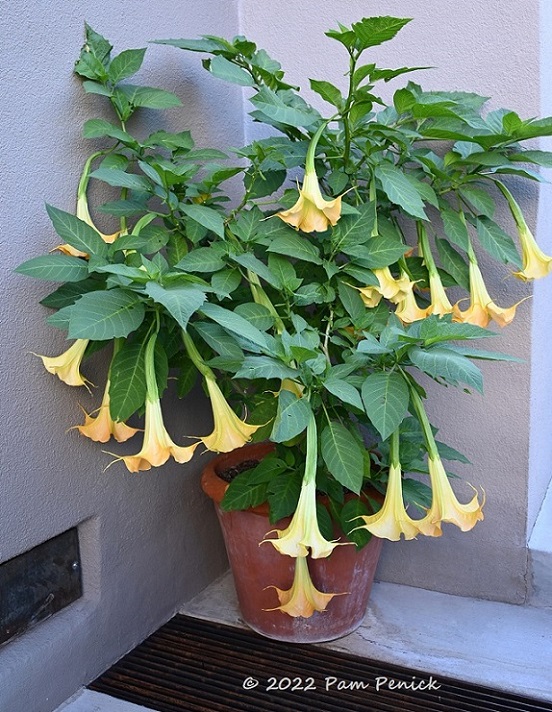 …Golden Brogmansia…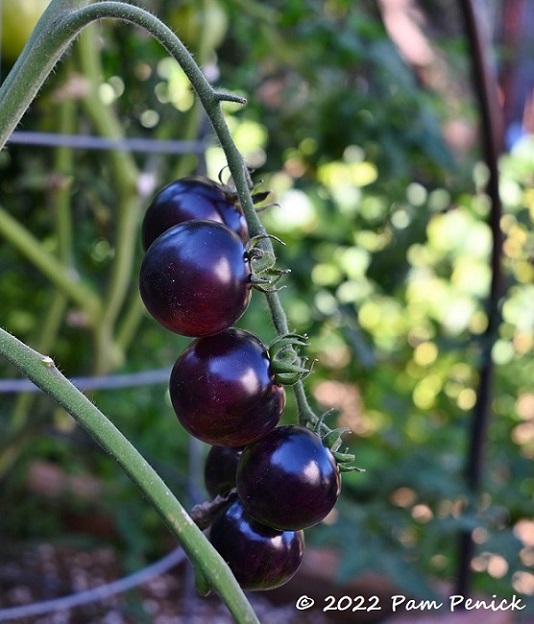 …and almost black tomatoes on the vine.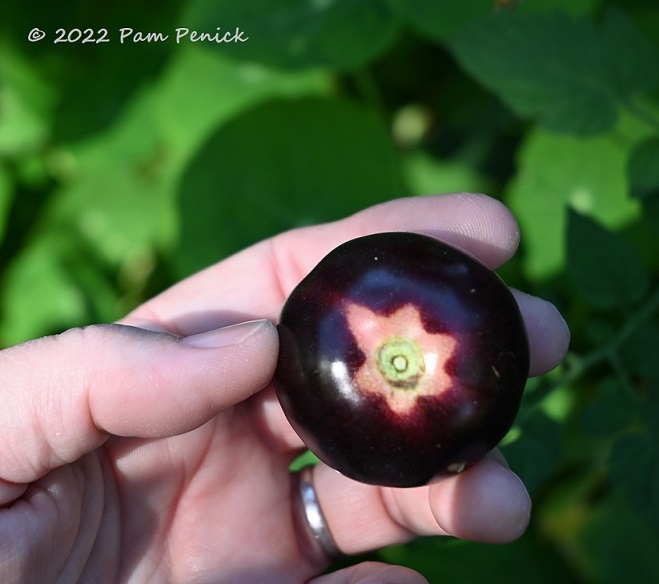 Gary plucked one and offered a taste.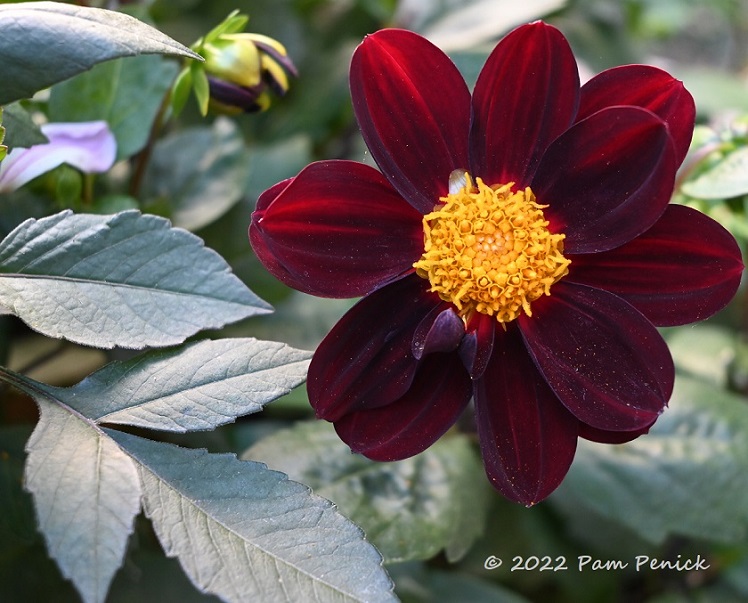 Gary is nuts about his tomatoes and his dahlias, and he's hooked on them as much as he can. I'm dahlia-crazy myself, so I've been photographing the 'Chocolate Sundae' dahlias and others here while James bids his time, occasionally trying to get us to go with the plants he's crazy about.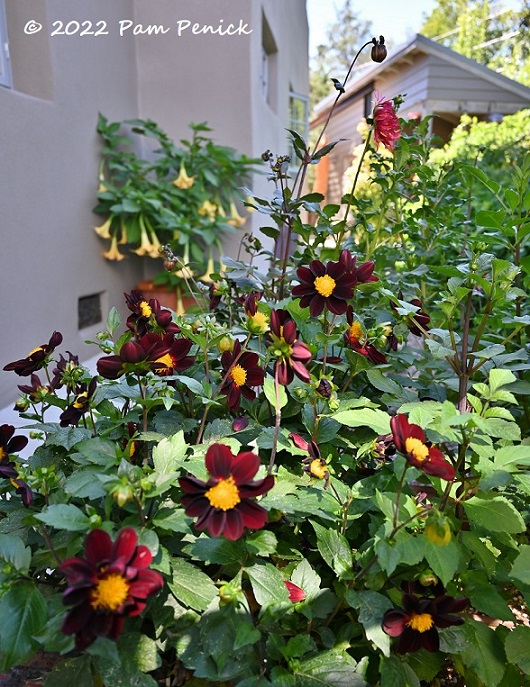 But I mean, they're great, especially since they're compatible with Brugmansia in the background.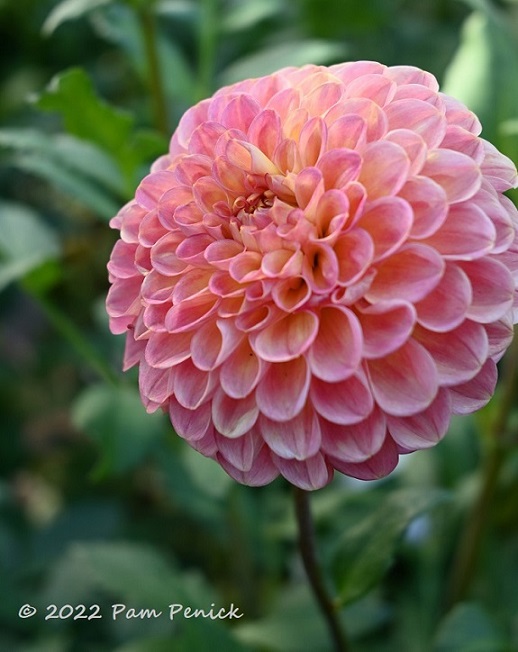 More!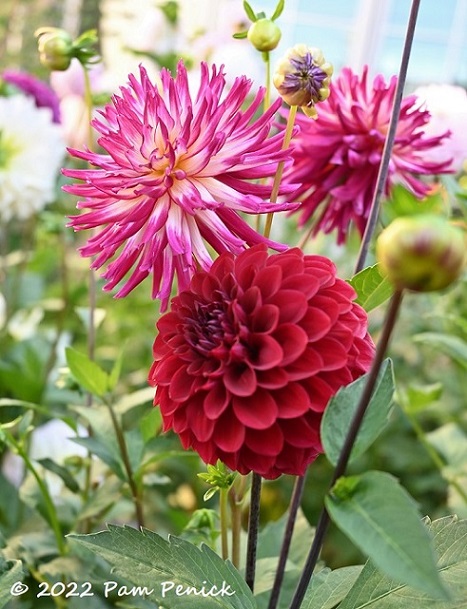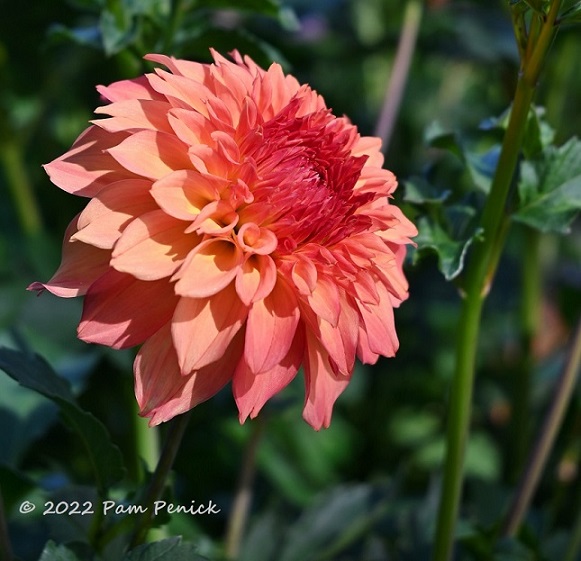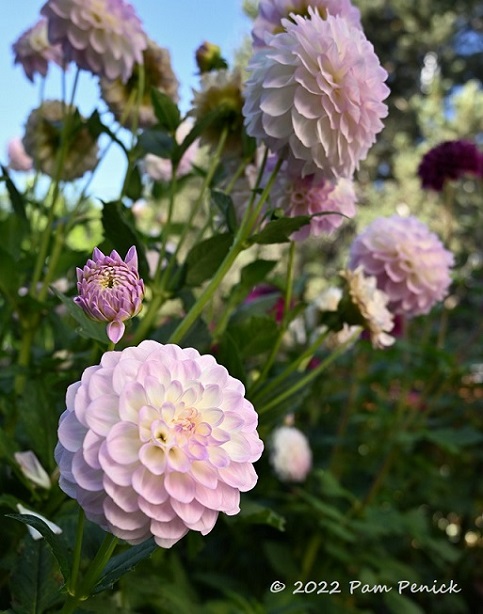 Okay, last one, I promise. (But if you need a dahlia fix, check out my post from last fall on Coastal Maine Botanical Gardens.)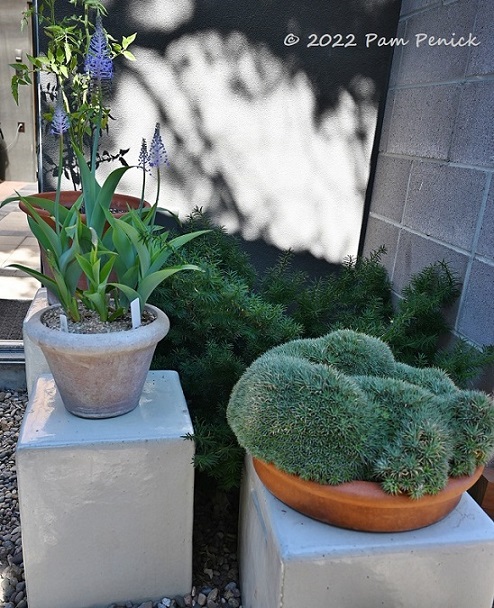 A few of James's favorites displayed with elegant restraint on shiny blocks along the way.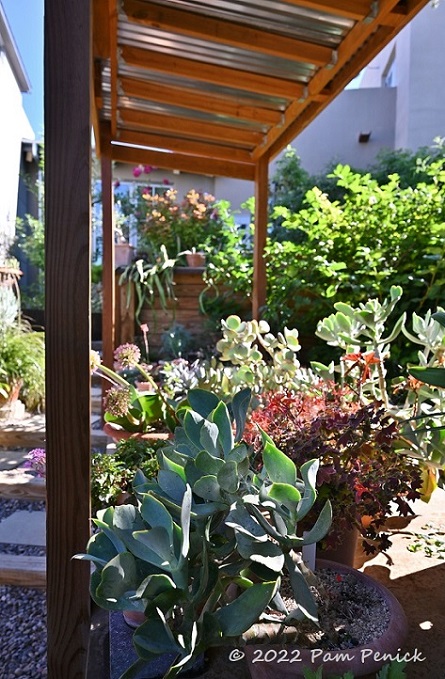 Beneath a long, skinny canopy, James displays dozens of his other plants.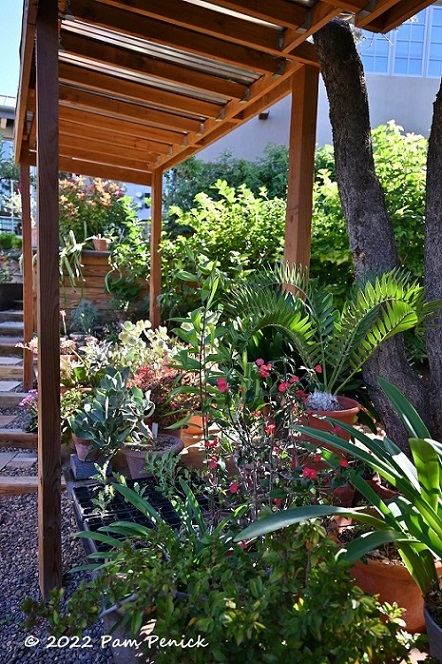 In the warm months they live here…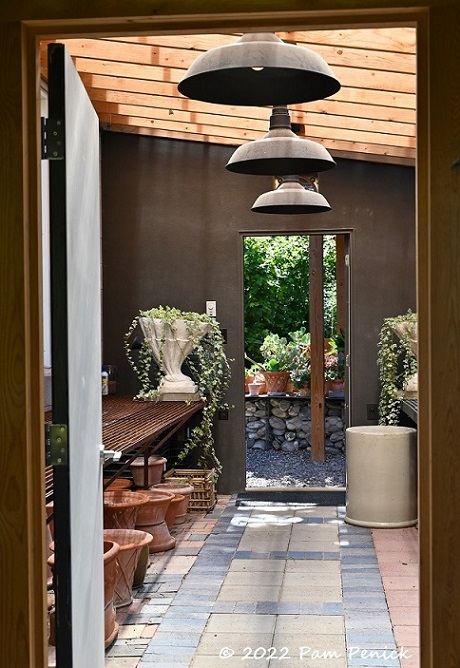 …and move to the greenhouse in late fall.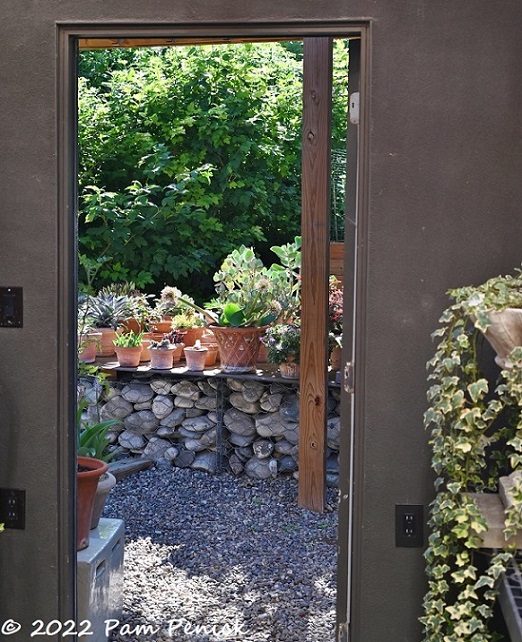 The doorway view reveals more pots and plants above the low gabion wall.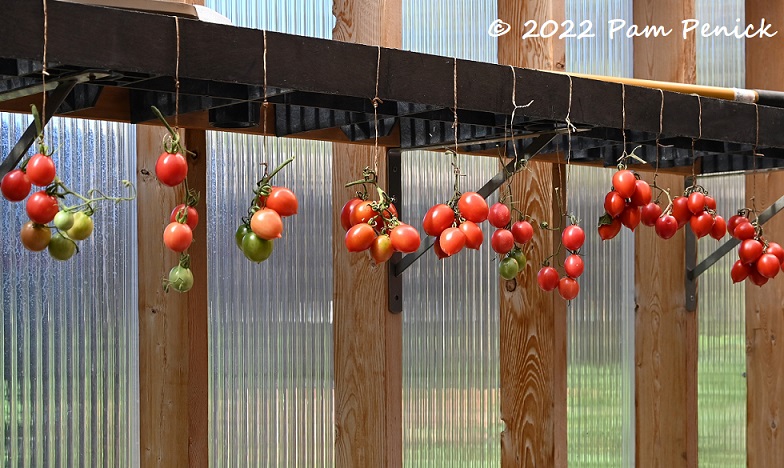 Inside the greenhouse, Gary hangs tomatoes so the fruit will finish ripening out of reach of the critters who steal it.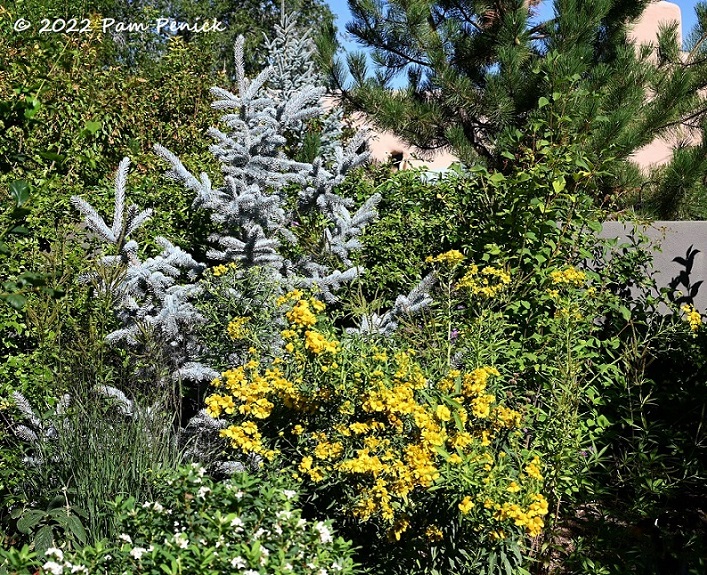 A blue spruce contrasts with sunny yellow flowers.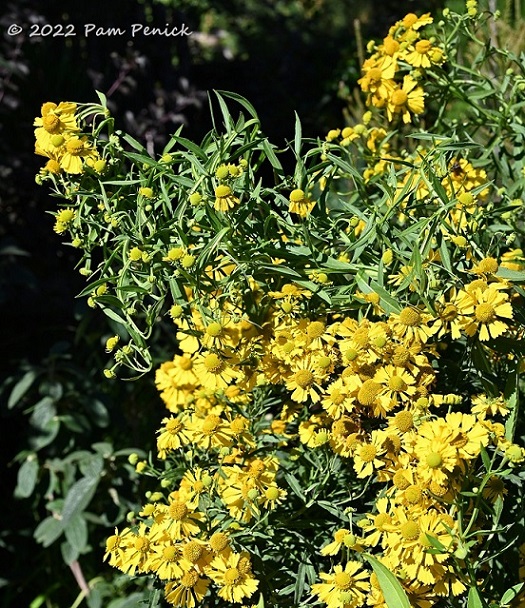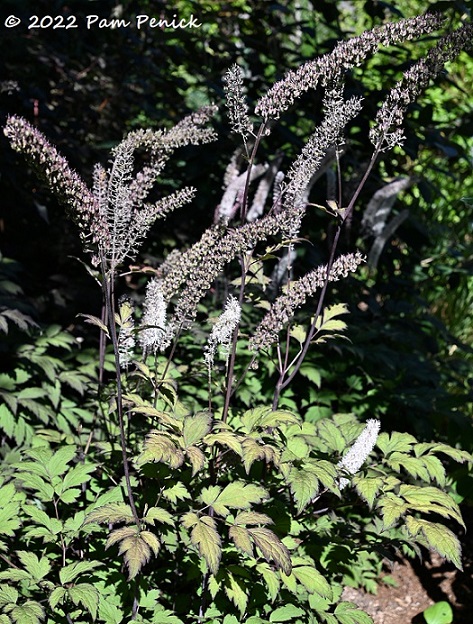 Black cohosh, I think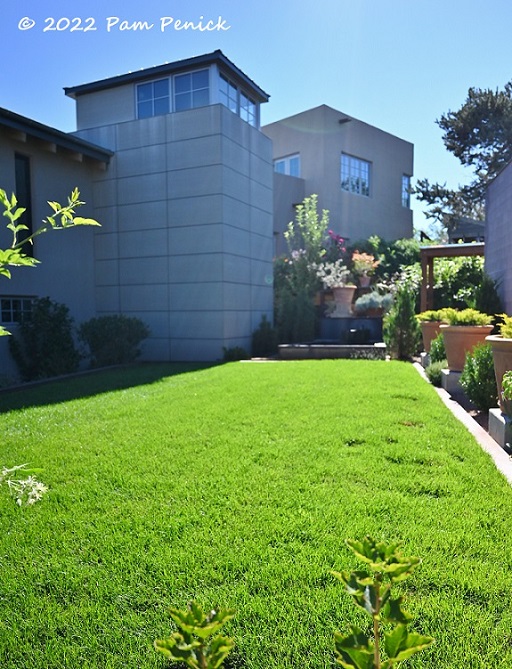 A rectangular formal lawn is a familiar element to those who knew James and Gary's Austin garden. This small lawn is an eye-catcher amongst the densely planted garden, and can double as an outdoor entertaining space.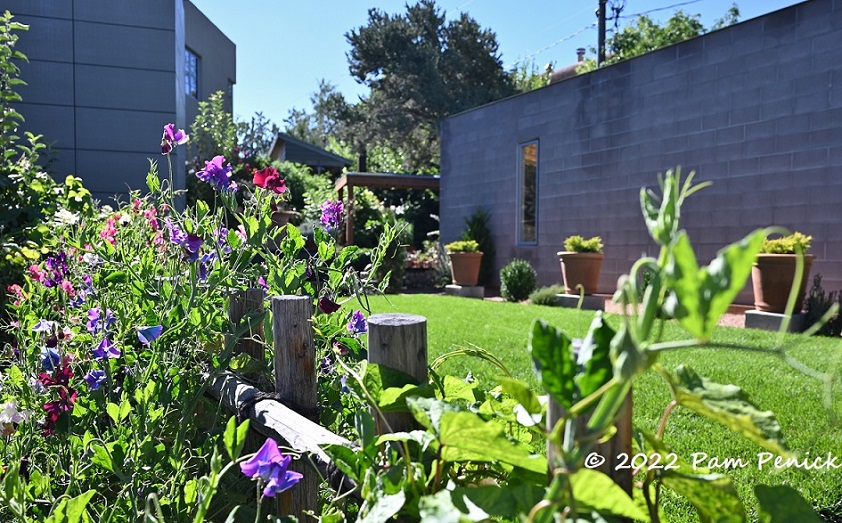 Sweet peas (late August!) perched on a rustic fence.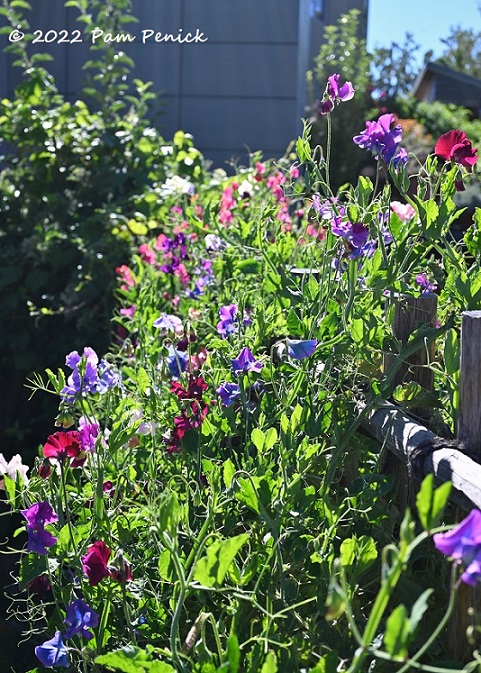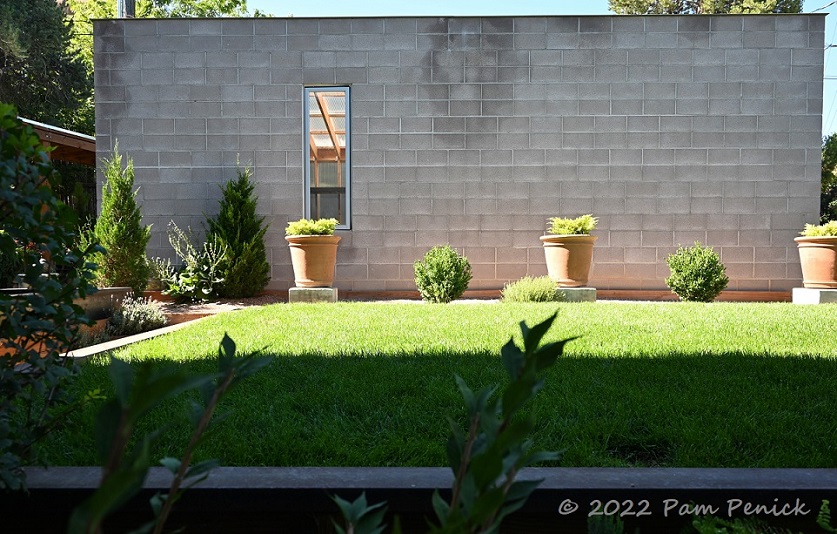 A completely modern wall of stacked cinderblocks, peeking in through a narrow window, hides the greenhouse from view as it runs the length of the lawn.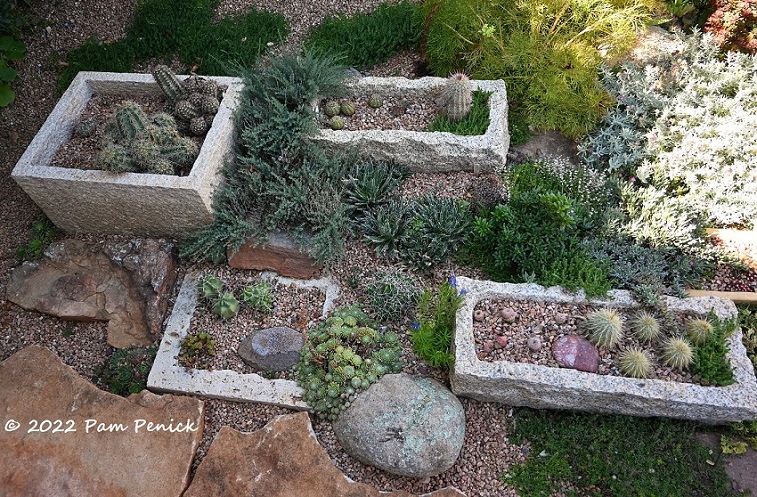 Stone trough planters, some sunk into the ground, hold James's cacti in a gravel garden with sempervivum and other alpine plants.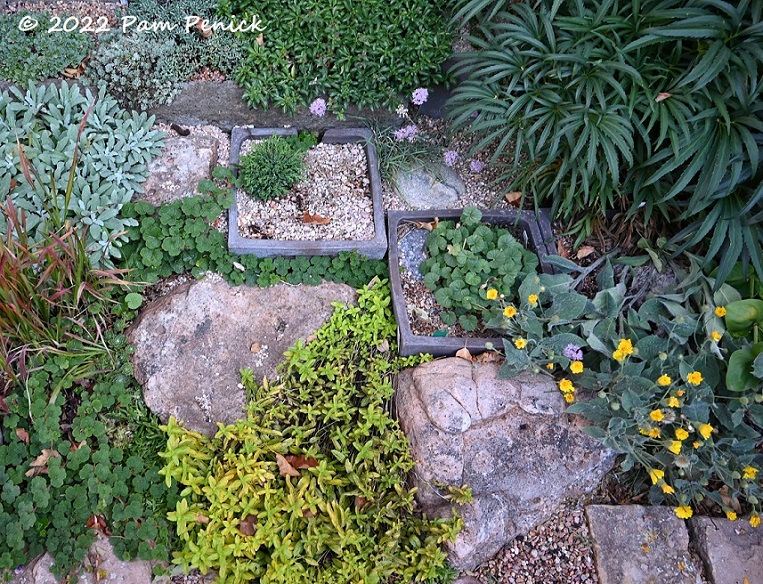 And another sunken-garden-and-rock vignette, this one less desert-like.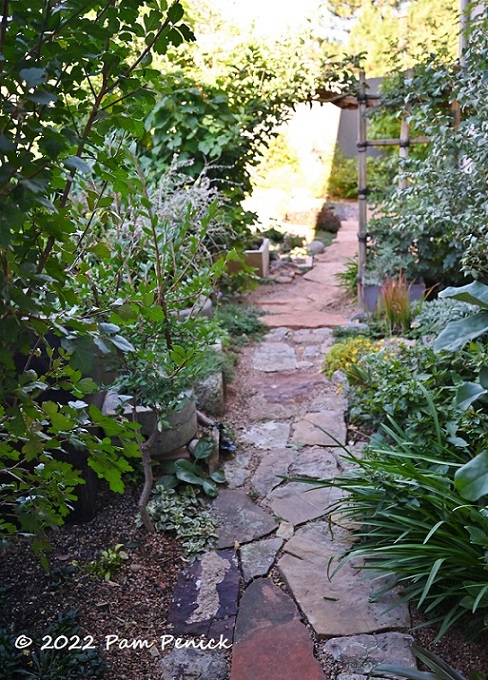 A flagstone path of maroon and purple stone echoes the more formal path to the dining patio.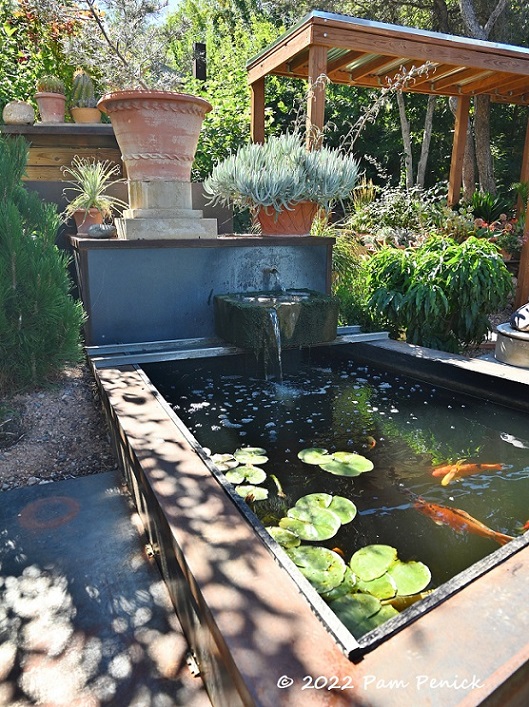 Back uphill we came to a tall, steel-framed pond with a trickling trough balanced on wooden poles at one end.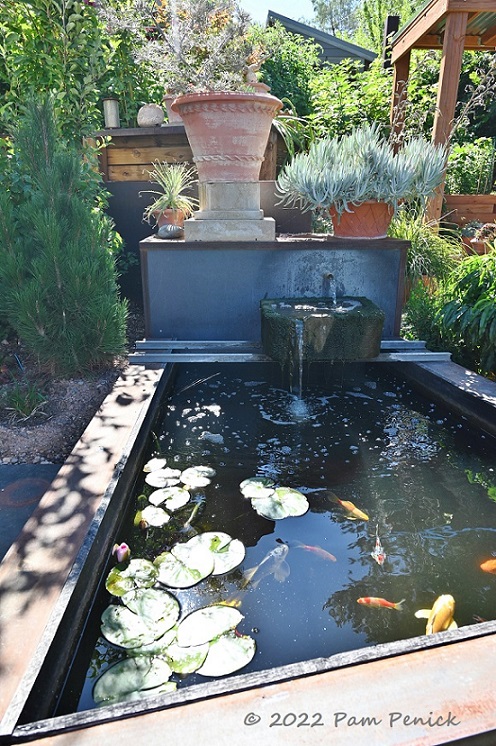 The koi were eager to feed and Gary obliged.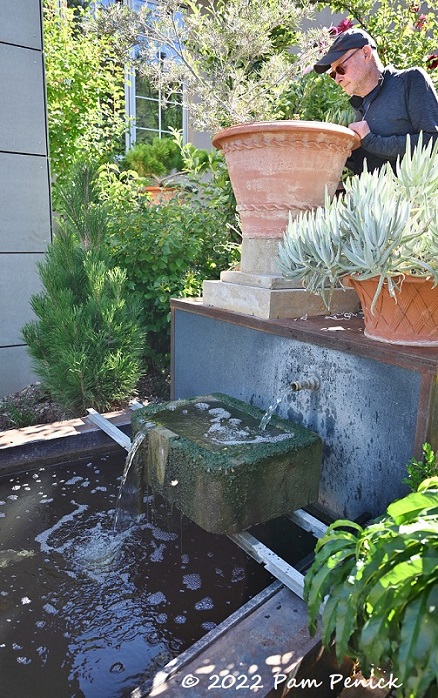 Take a closer look at the suspended stone groove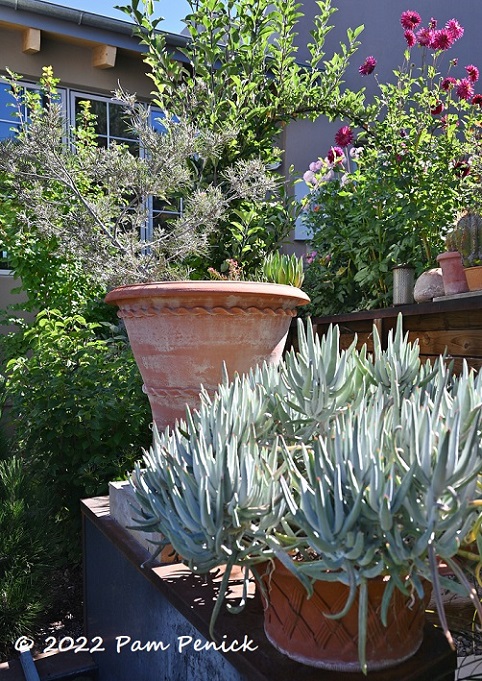 More beautiful pots by James, with Gary's dahlias above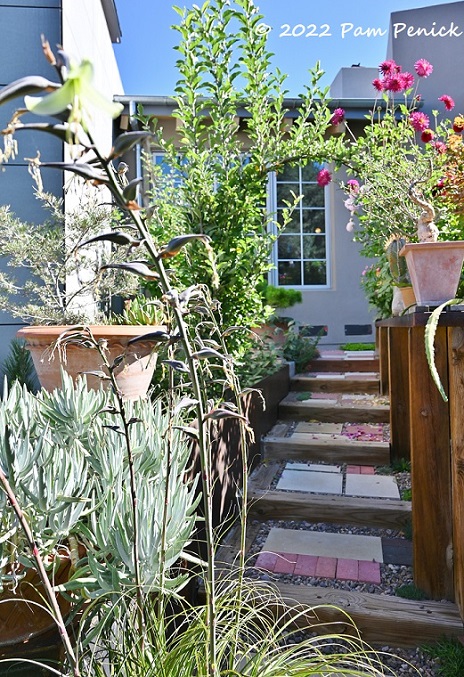 A young tree is being trained to arch over the path with a charming touch.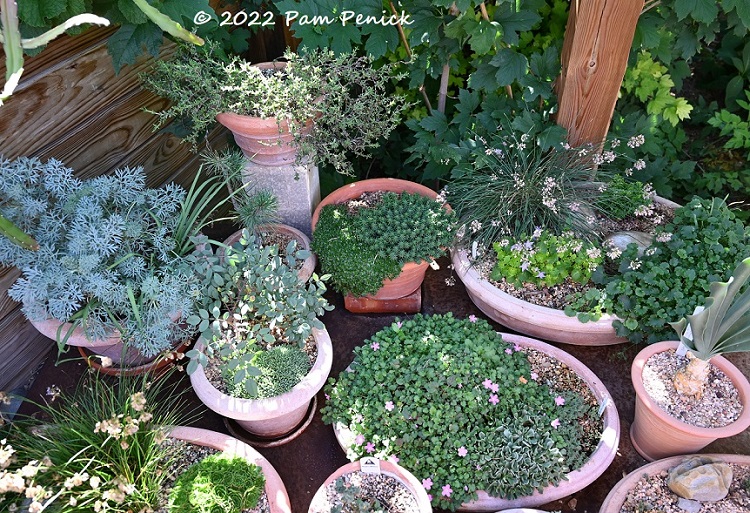 Another look at James' potted collection under the pergola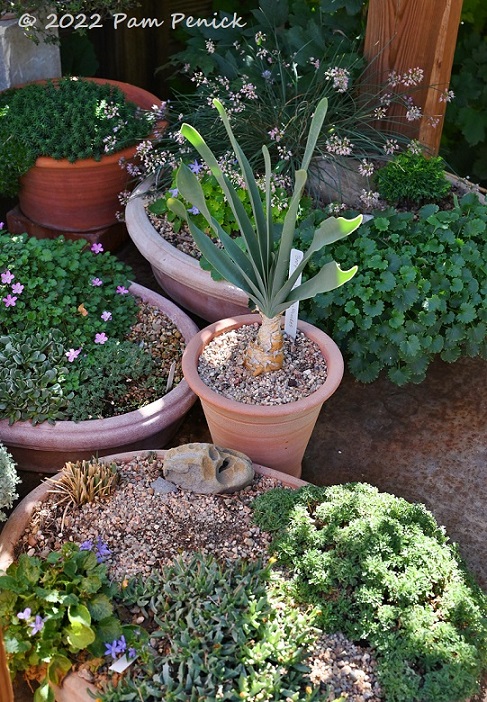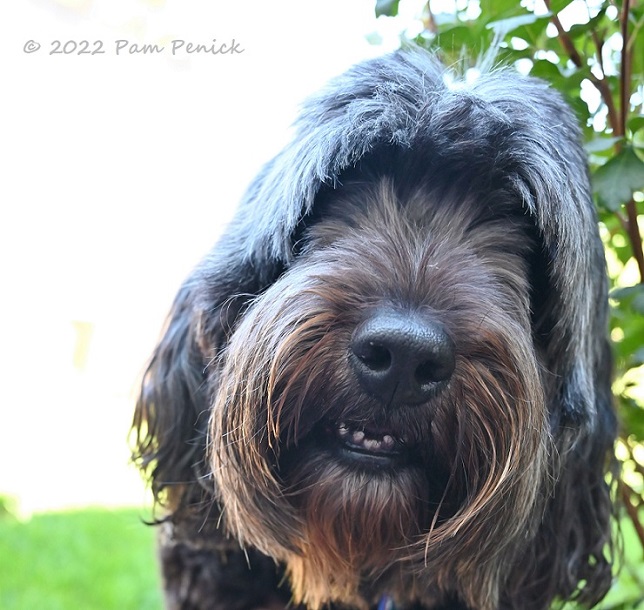 And here is that sweet girl and garden companion Betty.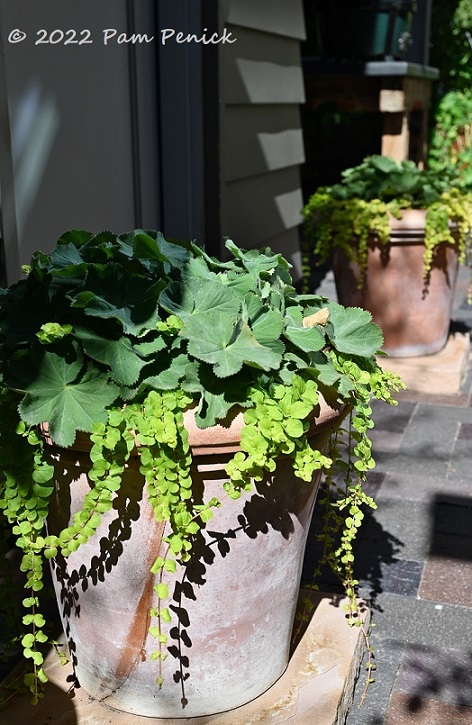 Framing a door, terracotta pots are spotlighted by clear New Mexico light with creeping jenny behind.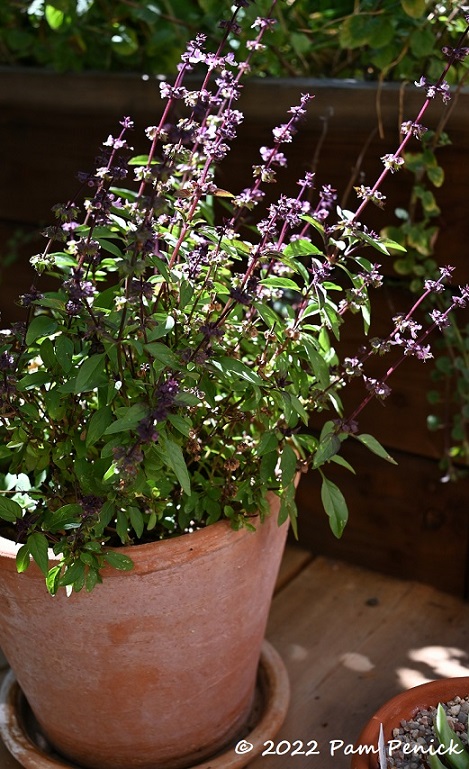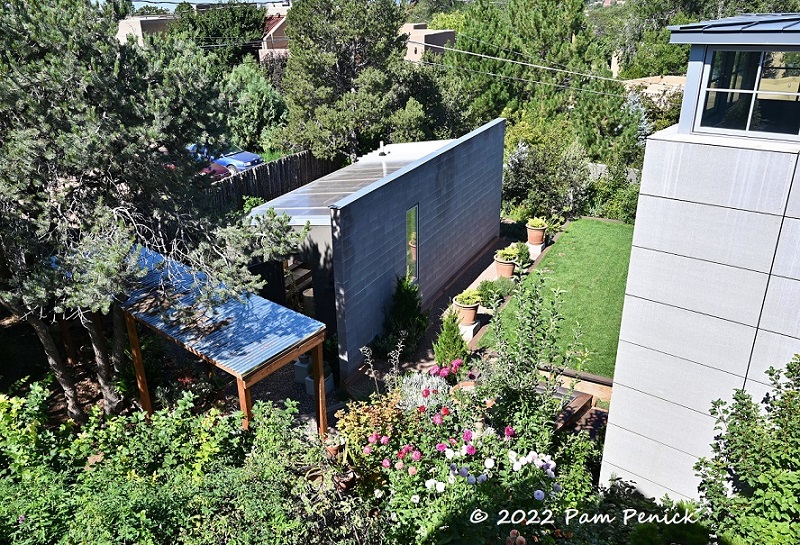 James invited us to see the interior of their home, which is gorgeous with handmade furniture, lovely art and an incredible steel "origami" staircase. Santa Fe Modern for pictures). A balcony offers a bird's eye view of the rear garden with shady pergola, greenhouse, dahlias and formal lawn.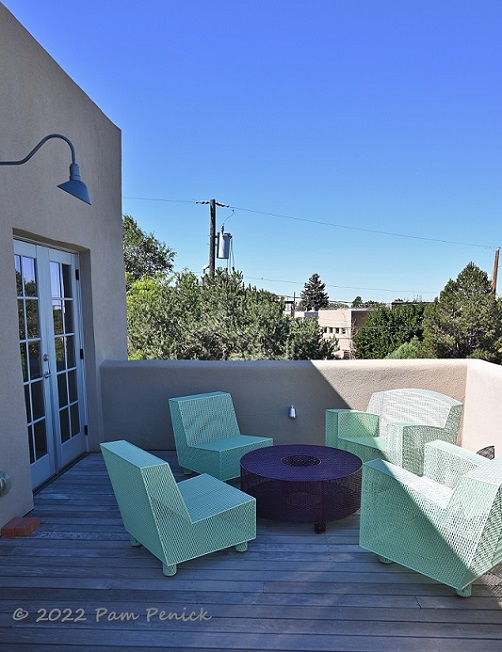 I believe this upper deck is off the primary bedroom. Check out those mint-green mesh chairs. I would like to try one out.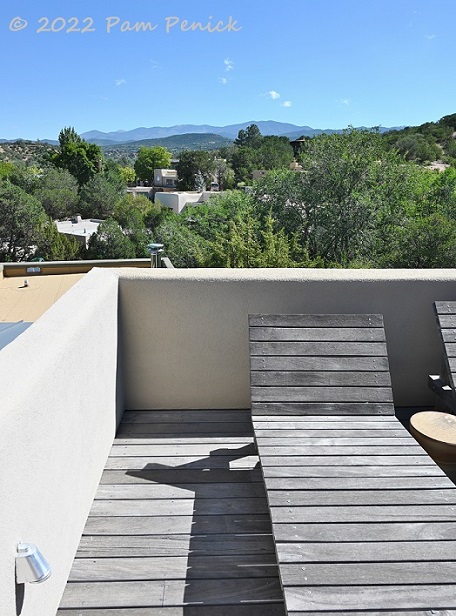 A view of the Jemez Mountains in the distance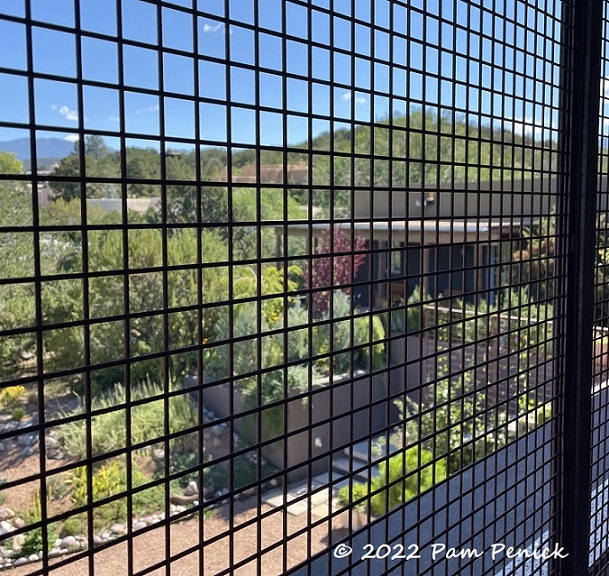 A mesh screen offers a windowed view of the front garden.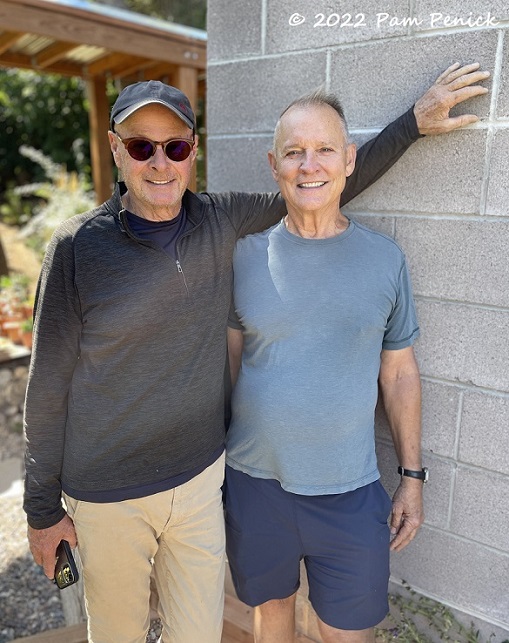 James and Gary couldn't have been more generous about sharing their home and garden, and I'm so happy to have the opportunity to see them again, meet Betty, and see their Santa Fe digs. Thanks, James and Gary!
I welcome your comments. Scroll to the end of this post to leave a. If you're reading an email, click here to go to Digging and find the comment box at the end of each post. And hey, did someone forward you this email and you want to subscribe? Click here to have Digging delivered straight to your inbox!
__________________________
dig deep
Learn about garden design from the experts here Garden Spark! I host private talks with inspiring designers, landscape architects, and writers several times a year in Austin. These are limited-attendance events that sell out quickly, so join the Garden Spark email list to be notified in advance. Just click on this link and ask to be added. You can find this year's speaker lineup here.
All material © 2022 by Pam Penick for Excavation. Unauthorized reproduction prohibited.