August 18, 2022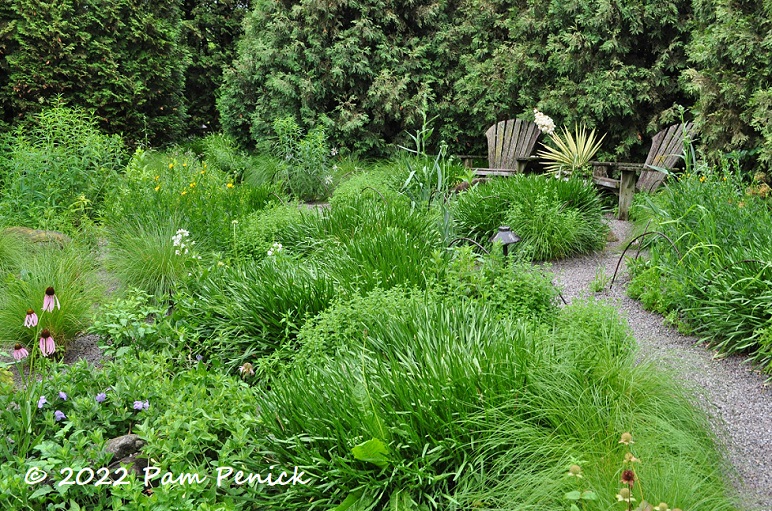 I keep hearing about a new way to plant in gravel for easy-care, low-weed, low-water gardening. The idea is, you scrape 4-to-5 inches of soil, add a 6-inch-high barrier to keep the gravel at a consistent depth, spread 4-to-5 inches of clean, washed gravel, and plant directly into the gravel. , to encourage roots to grow into the soil and prevent weed seeds from finding bare soil that lends them a foothold.
Jeff Epping, director of horticulture at Olbrich Botanical Garden in Madison, Wisconsin, is leading the gravel-garden movement in the Midwest (along with Roy DiBlick of Northwind Perennial Farms). His private garden is gravelled, and he has created multiple gravelled gardens in Olbrich. According to Margaret Roach, who recently interviewed Epping The New York Times article, gardens planted with gravel "may require 80 percent less effort."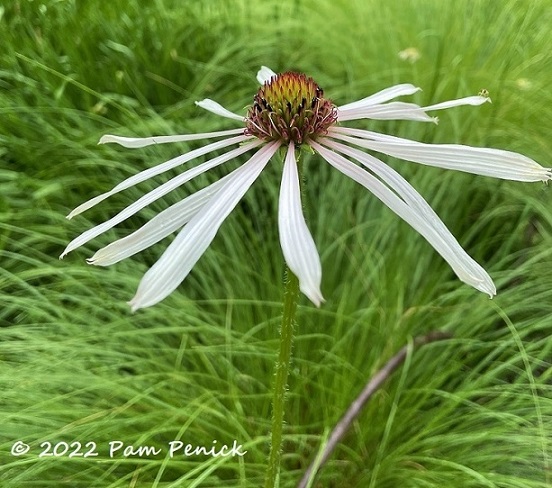 I am interested to know if anyone is planting this way in Central Texas and how it is doing in our much hotter, drier climate. Here in Austin I see many desert-style gardens mulched with a layer of decomposed granite (DG), and they fail quickly unless someone diligently plants bermudagrass, spurge, nutgrass, purslane, and other weeds. What we are talking about here is different. Gravel is 3/16″ to 1/2″ and angular — and, importantly, not DG, a medium that weed seeds love.
I will just add that I use DG in my own garden for a low cost pathway material and it is useful. Be sure to tamp it down firmly a few inches deep to discourage weeds and remove weed seedlings as they appear.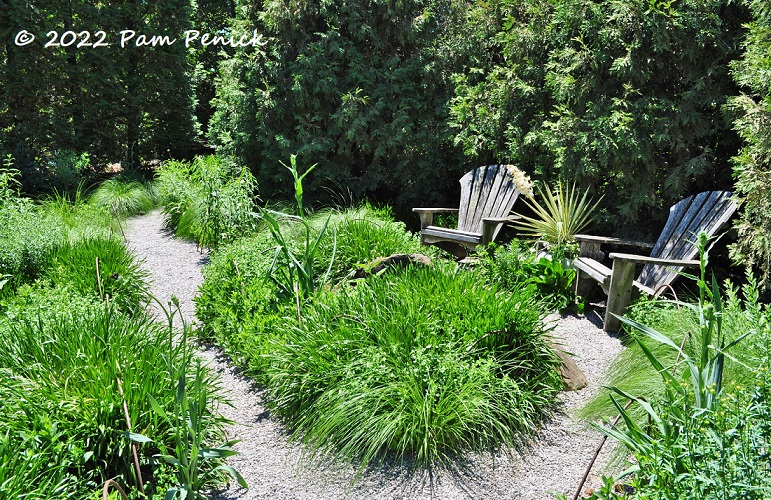 I had the opportunity to see one of Olbrich's gravel gardens firsthand during the Madison Fling in June. I found it beautiful even outside of peak bloom season, when the predominant color was green. (See now article for a photo of it in peak bloom.) Gravel paths wind through dense patches of prairie dropseeds, coneflowers, and alliums in this sunny spot.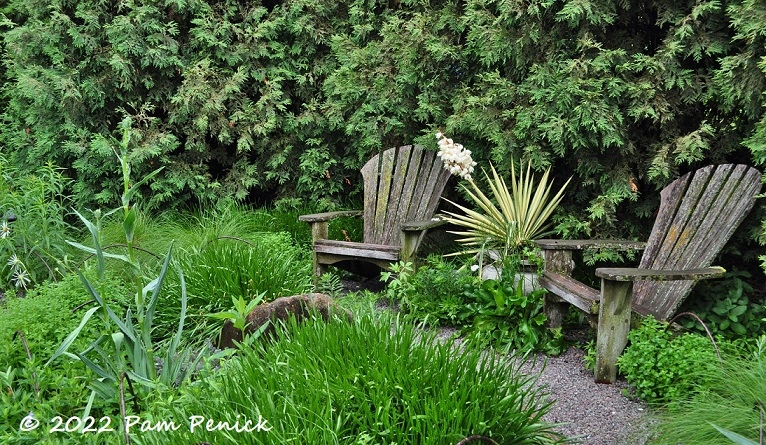 A pair of Adirondacks sits against a hedge accented by a flowering, golden-leafed yucca.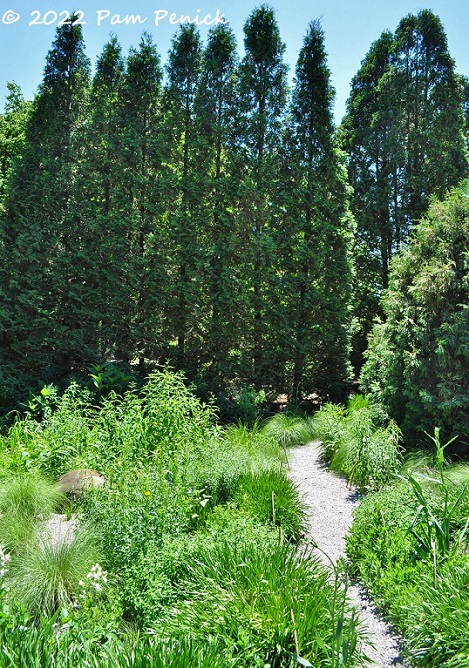 LONG VIEW — An inviting path through tightly woven trees, a vertical hedge of trees screens the path ahead.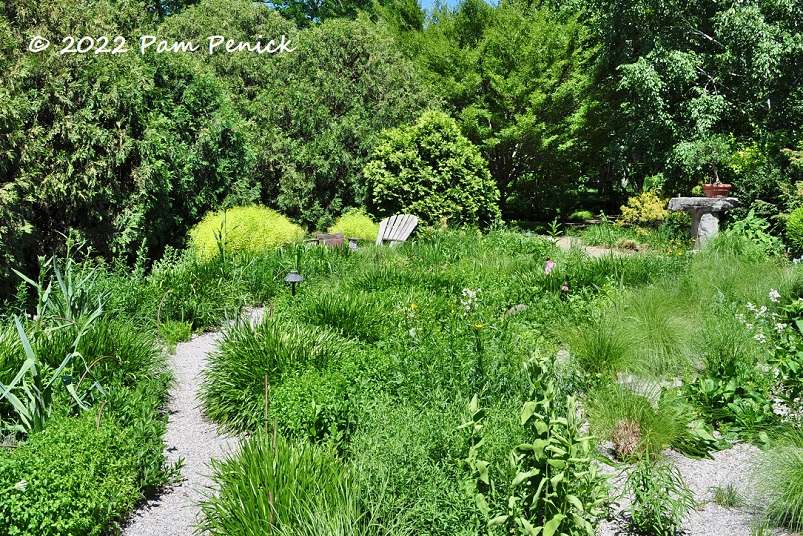 I can't remember now if it's the same garden or similar. Mounds of chartreuse trees catch your eye…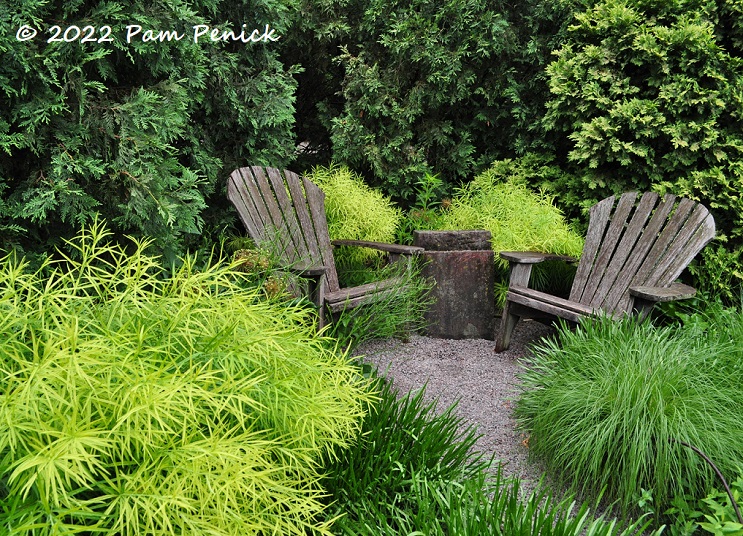 …a hidden seating area for two — so inviting!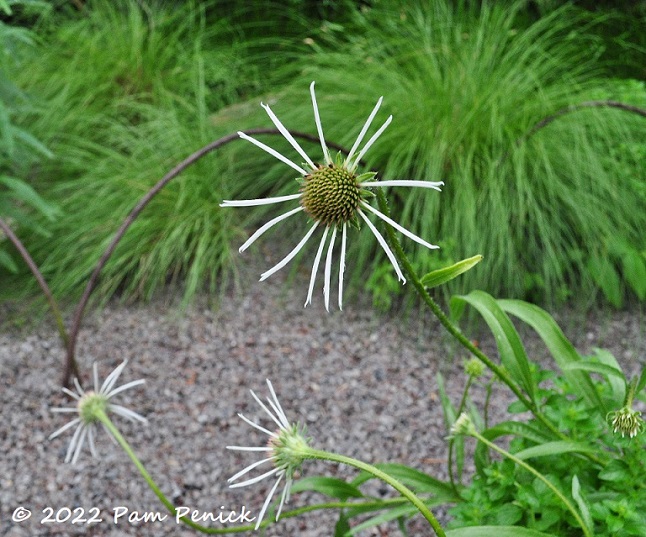 A few coneflowers were blooming.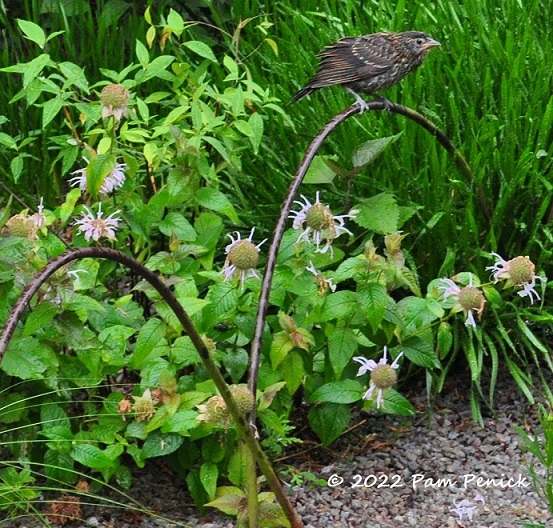 A young red-winged blackbird swoops down to the side of the road and sits on the roadside hoops, waiting, I hope, for mom or dad to bring food.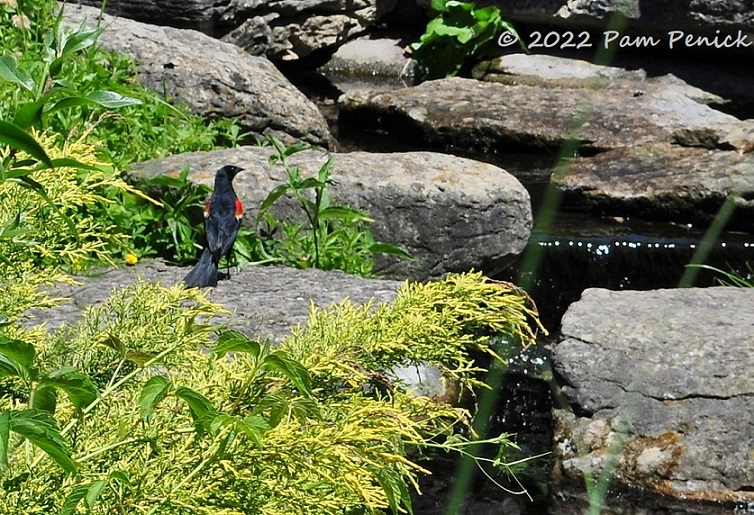 Could it be Papa Red-winged Blackbird?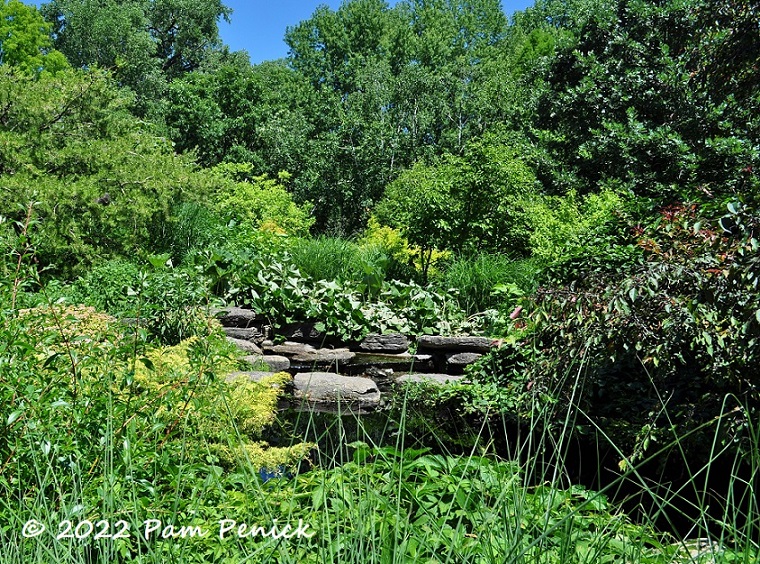 The perennial garden was alive with birdsong, including an expansive stone pond. I also saw a Baltimore Oriole here.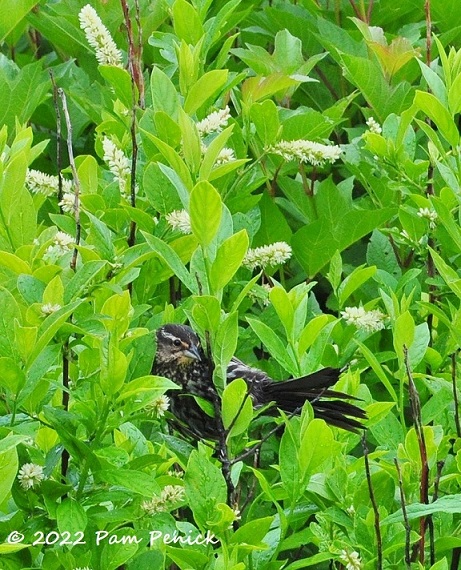 and another young red-winged blackbird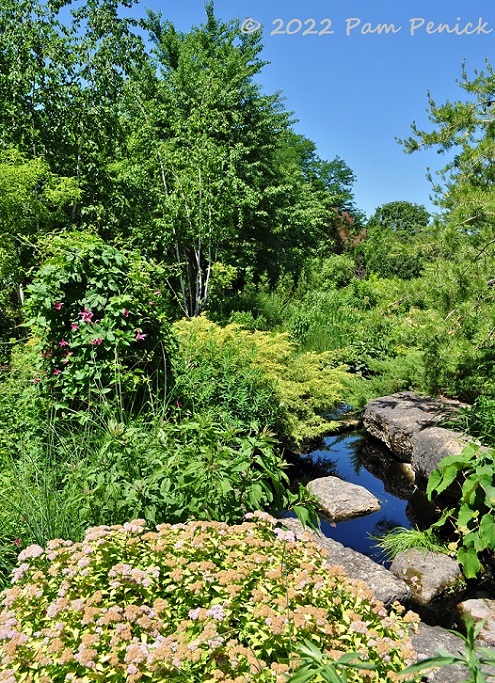 There's nothing like water to attract birds.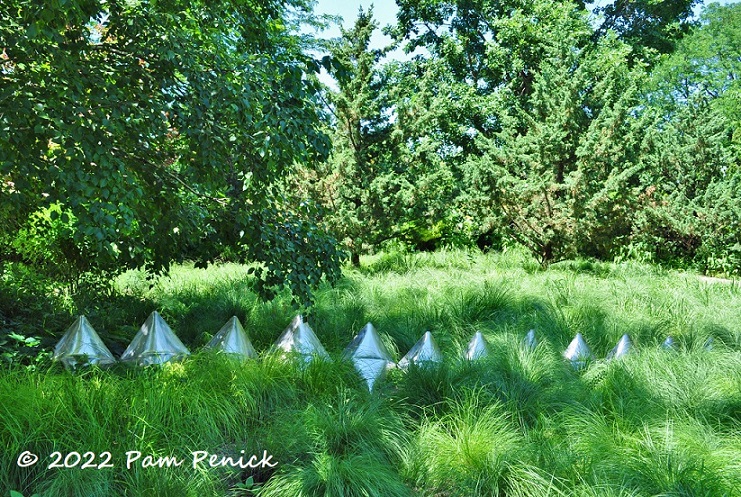 Silver sculpture of a tooth – or perhaps the spine of an underground animal? – Appears in a green meadow.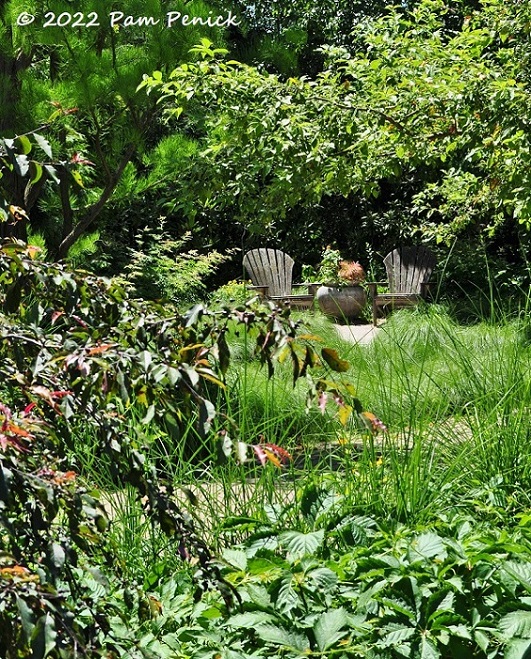 Another meadow seating area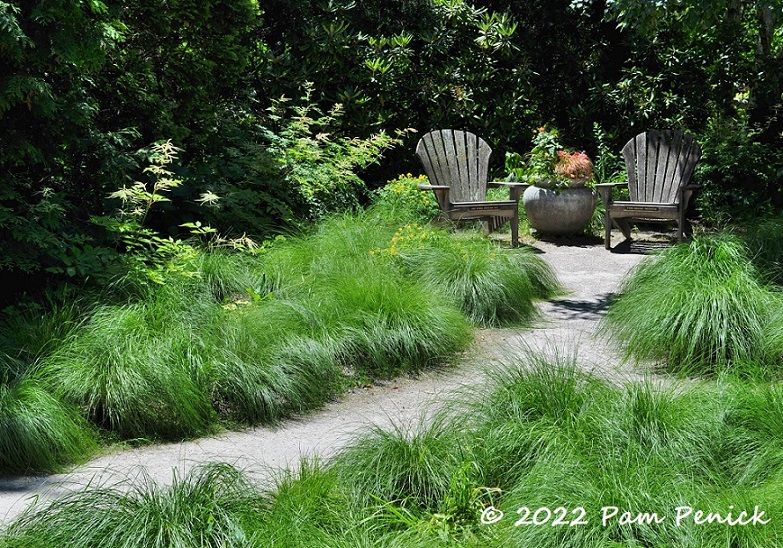 Prairie dropseed grass creates a crisp but peaceful setting for a few chairs.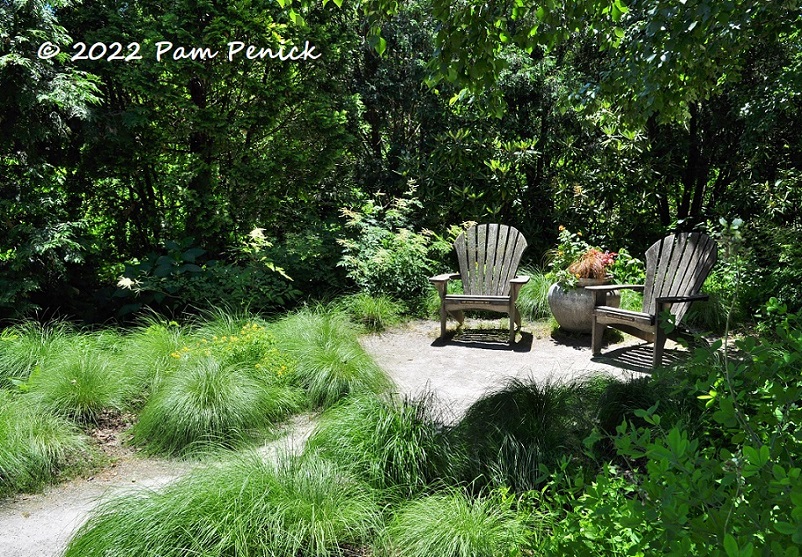 Wouldn't it make a nice little patio for a residential backyard – or front yard?
Next: Golden Thai Sala and Tropical Gardens at Wolbricht. For a look back at Olbrich's planted plaza, fountain and rose garden, click here.
I welcome your comments. Scroll to the end of this post to leave a. If you're reading an email, click here to go to Digging and find the comment box at the end of each post. And hey, did someone forward you this email and you want to subscribe? Click here to have Digging delivered straight to your inbox!
__________________________
dig deep
It's juicy time Austin Cactus and Succulent Society's Fall Show and Sale Sept. 3 and 4 at the Austin Area Garden Center at Zilker Botanical Garden. Includes a plant exhibit, plant and pottery sale, silent auction, and plant raffles. Open from 10 am to 5 pm. Entry to the garden is free with payment.
Learn about garden design from the experts here Garden Spark! I host private talks with inspiring designers, landscape architects, and writers several times a year in Austin. These are limited-attendance events that sell out quickly, so join the Garden Spark email list to be notified in advance. Just click on this link and ask to be added. You can find this year's speaker lineup here.
All material © 2022 by Pam Penick for Excavation. Unauthorized reproduction prohibited.