October 26, 2022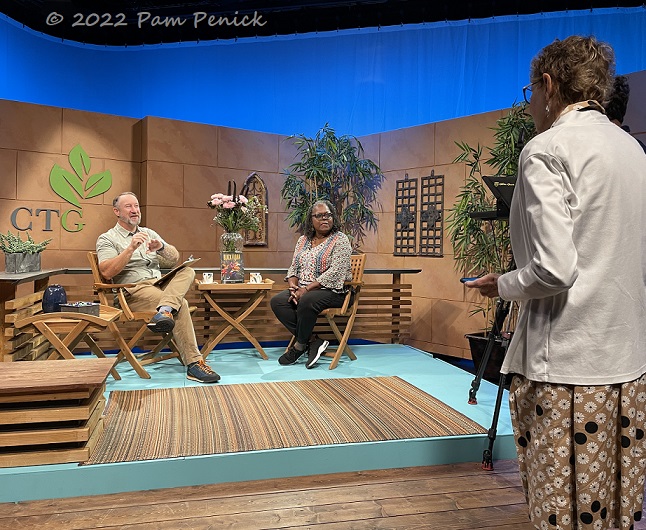 Last week, when author Terry Speight was in Austin to give a Garden Spark talk, I new him Central Texas Gardener Studio in Austin PBS. Producer Linda Lehmusvarta announced CTG's move to the new Austin Community College (ACC) Highland Campus in December 2020. Then there was covid. And the snowpocalypse, which caused the pipes in the brand new studio to freeze, then flood. After all these delays, Austin PBS was finally able to reopen in late August, to great fanfare. I was interested to see the new digs.
Wonderful from the mall!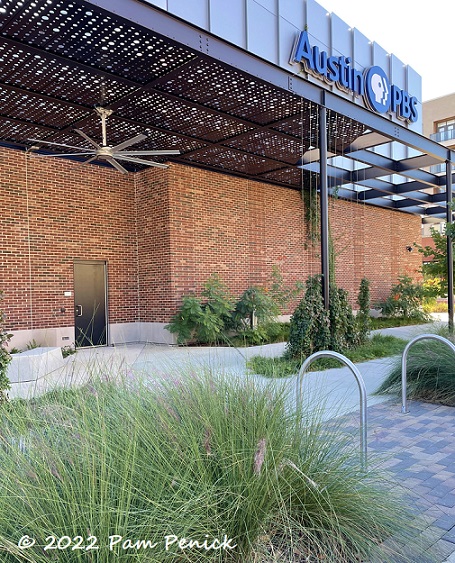 After Terry's taping, I explored native-plant landscaping around the Austin PBS and ACC campuses. They are built on a large paved area – the 1970s Highland Park Mall. When the mall was closed in 2015, ACC began converting it into a college campus. Today the college is surrounded by a planned community with shops, restaurants, office space, residential units and parks filled with native plants. Let's have a look.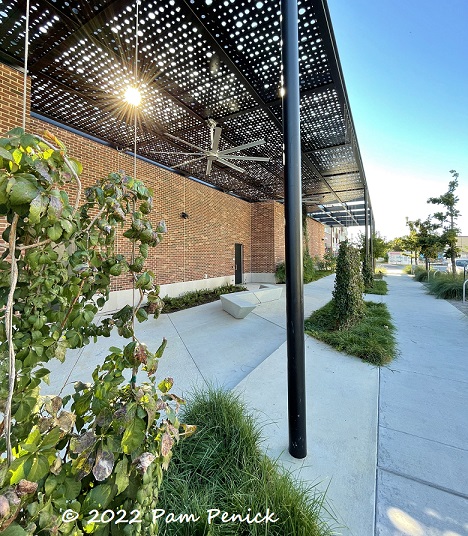 In a hot climate, shade is essential. Along the PBS building, a sidewalk-shading arcade with perforated ceilings and giant outdoor ceiling fans promises summertime relief for passersby.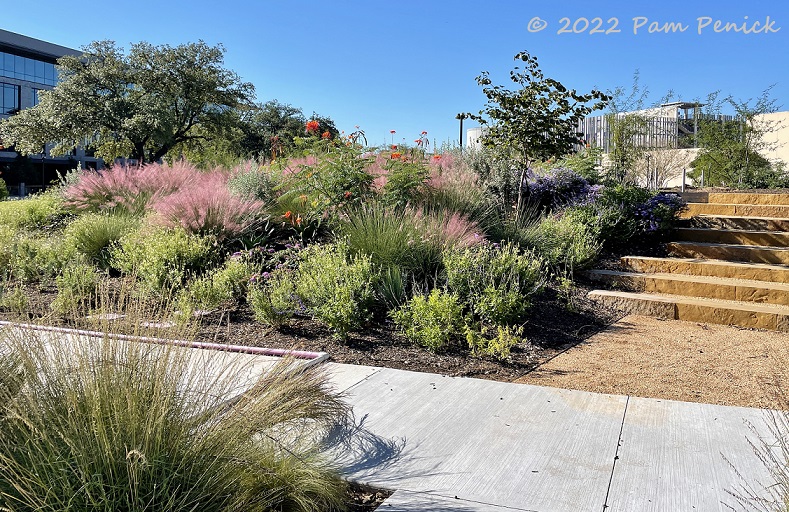 Nearby, a new park — still fenced off to visitors — looks pretty in pink thanks to Gulf muhli grass. Purple fall asters, white autumn sage, and orange Pride of Barbados add additional color.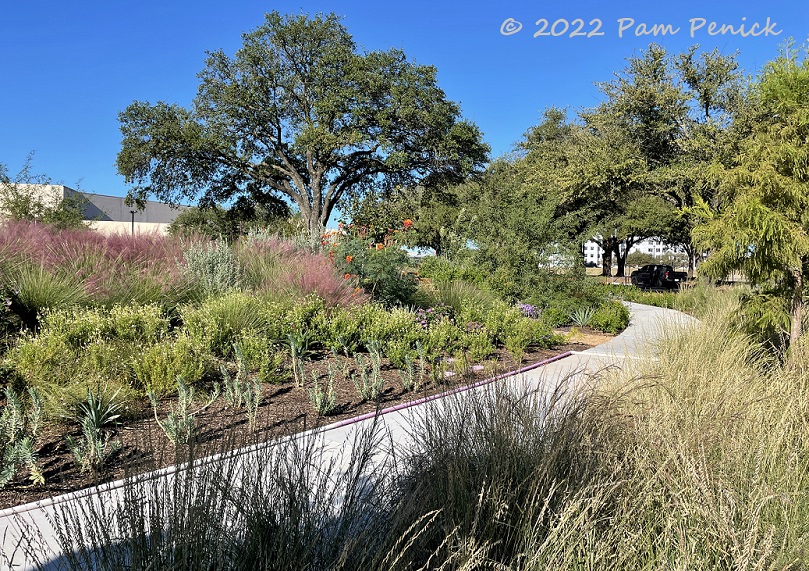 The park was swarming with butterflies that day, and I really wanted to wander around. I'll have to come back and explore after it officially opens.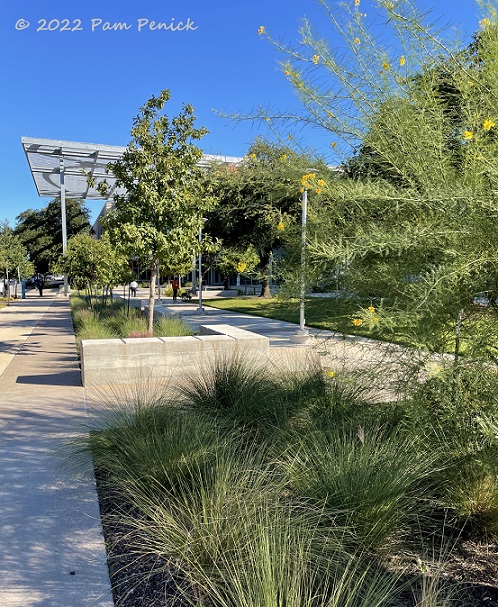 Now let's explore the ACC's west entrance, where a feathery 'desert museum' blooms amid the palo verde soil-covered muhli grass.
Austin Community College – Highland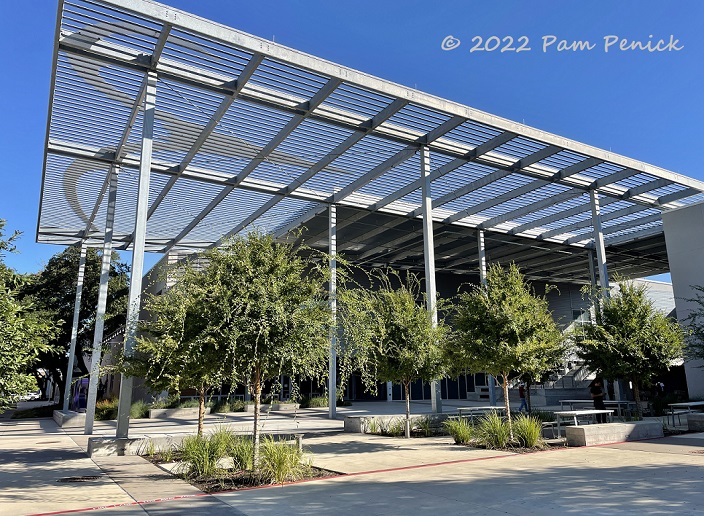 At the school's entrance plaza, a towering shaded structure makes a welcoming gesture. A bosk of young trees promises living shade in a few more years.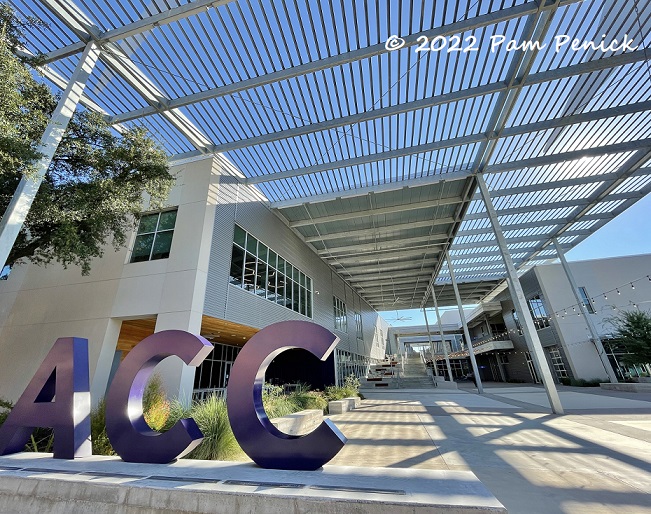 Shaded entrance to ACC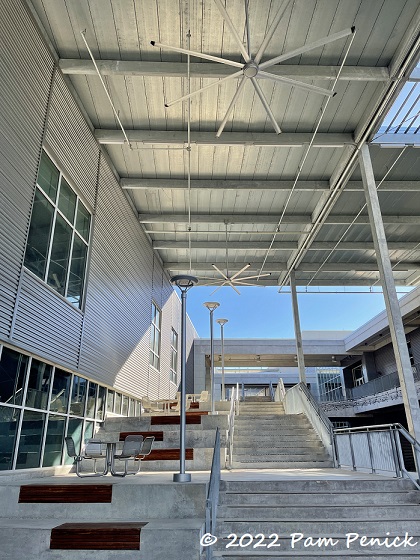 Concrete terracing tables follow the main staircase up to the second level, providing shaded and fan-cooled outdoor seating for students.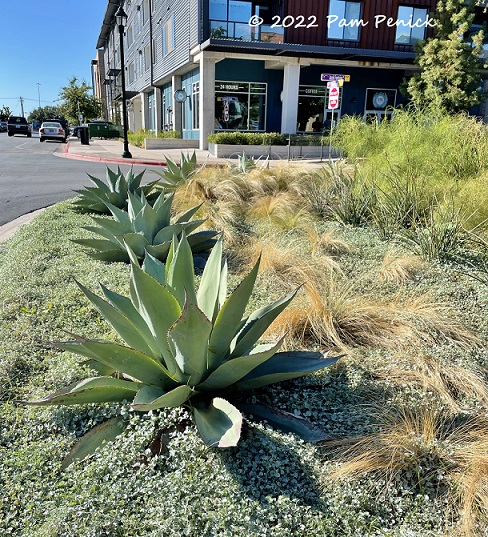 Directly across the street is Fontaine Plaza, a beautiful park surrounded by an expanse of native and adapted plants. Plants pictured here include whale tongue agave, silver ponyfoot and Mexican feathergrass.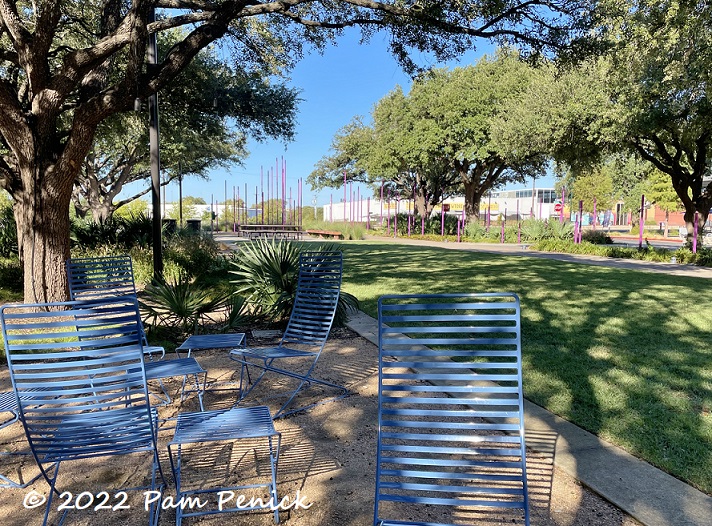 A narrow lawn creates a green stripe down the length of the park — a space for events, games, lounging, etc. Along the lawn are gravel patios with comfortable metal chairs. I like movable park chairs — so more flexible than French and benches. I drove past the park again later that evening and saw a movie showing — The Nightmare Before Christmas — On outdoor screens, people watch from chairs and lawns. It looked like fun!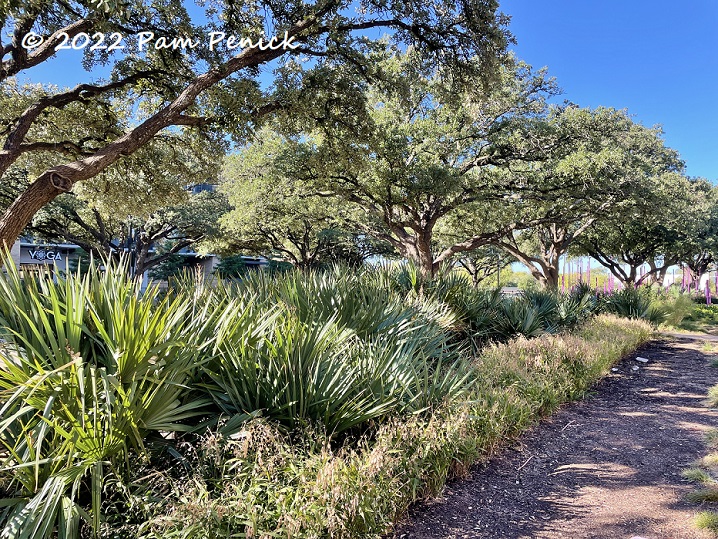 Austin farm dwg. Designed by Fontaine Plaza, the west side entrance of the former mall is transformed into a green gateway to the new development — one that focuses on foot traffic rather than vehicle traffic. The alley of live oaks – the entrance to the old mall ran between them – was preserved, and I'm sure their roots are breathing a sigh of relief at the removal of all that water-blocking and heat-reflecting concrete. Today they spread their canopy over massive plantings of dwarf Texas palmetto and inland sea oats. See this article for photos of the old entrance to the mall and the trees from then.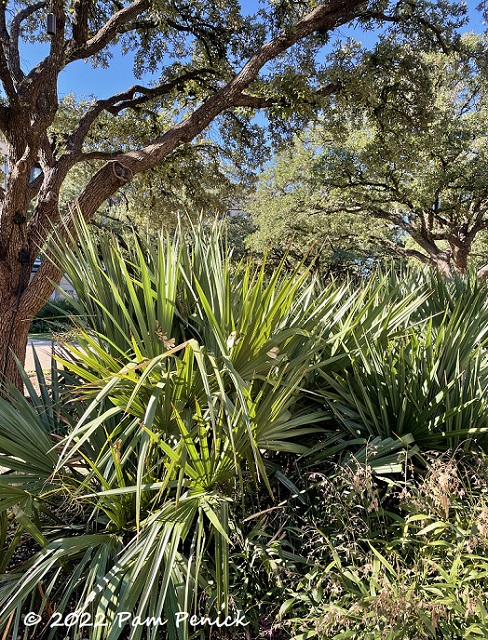 Live oaks and plants that thrive in their shade, Sabal minor And Chasmanthium latifolium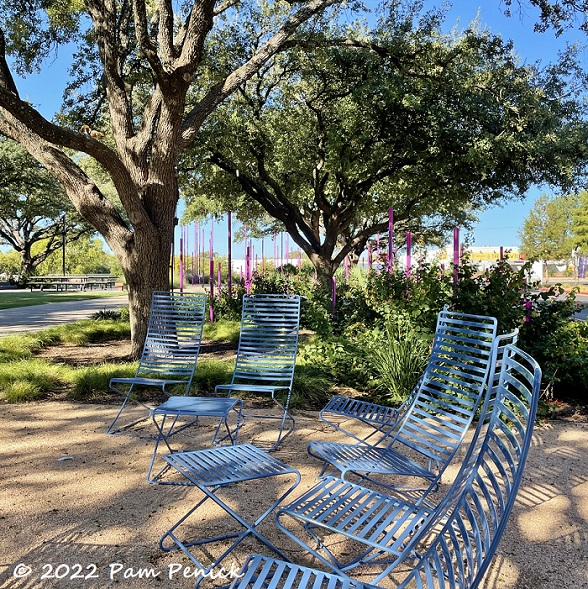 More seating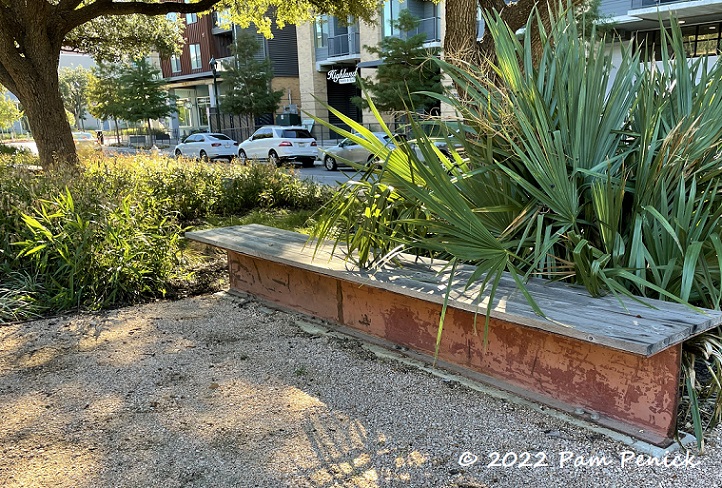 The old steel beams from the mall have been re-instated into the bench.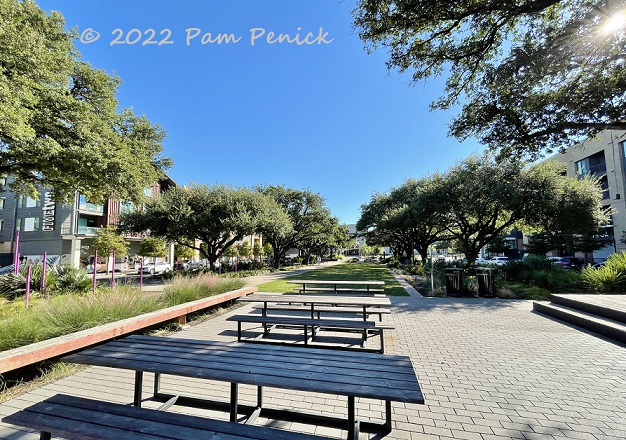 Picnic tables at the west end of the park offer dining or study space.
Thicket Industrial installations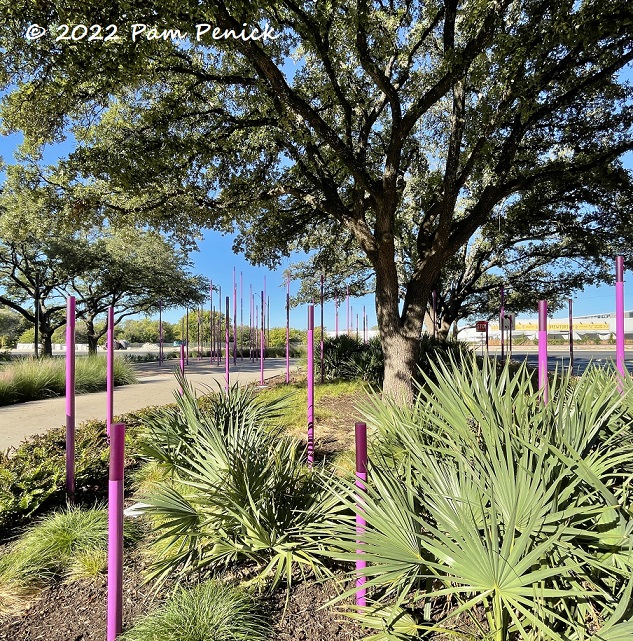 Here you'll also find dozens of purple posts of varying heights spread along the entrance to the park.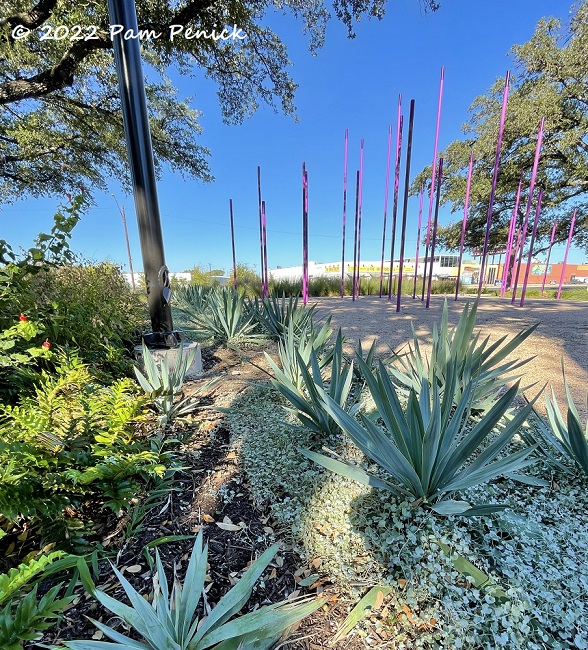 They put up an installation called light art Thicket, which represents a flock of flying bats. An article in WLA Explains:
"Seventy-five purple poles, varying in height, are an abstraction of bats flying and pay homage to the ACC mascot. During the day the poles are uniform in color then in the evening an inner glow appears at the top of each pole. An exquisite light show takes place every twenty minutes and is choreographed using sophisticated programming to traverse seventy-two poles."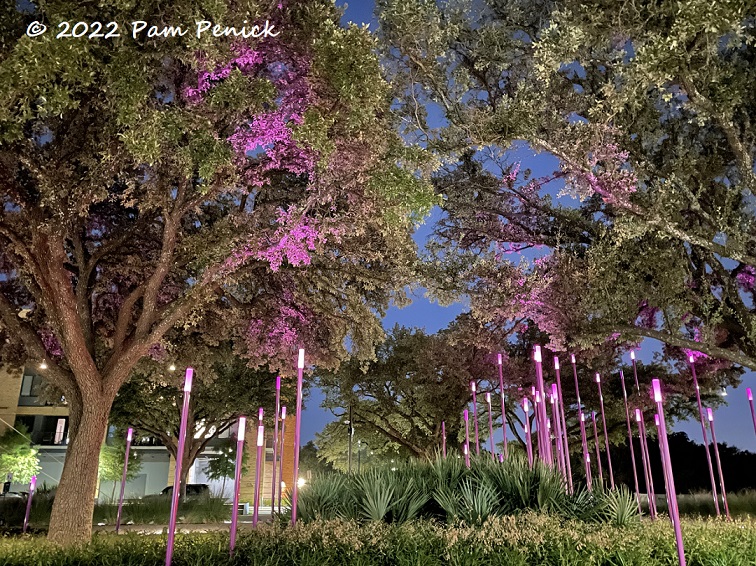 That evening I went out for dinner in the nearby neighborhood of Muller. Later I swing by the ACC Highlands campus to check out the "bat". They were "flying" and glowing!
I welcome your comments. Scroll to the end of this post to leave a. If you're reading an email, click here to go to Digging and find the comment box at the end of each post. And hey, did someone forward you this email and you want to subscribe? Click here to have Digging delivered straight to your inbox!
__________________________
dig deep
Learn about garden design from the experts here Garden Spark! I host private talks with inspiring designers, landscape architects, and writers several times a year in Austin. These are limited-attendance events that sell out quickly, so join the Garden Spark email list to be notified in advance. Just click on this link and ask to be added. You can find this year's speaker lineup here.
All material © 2022 by Pam Penick for Excavation. Unauthorized reproduction prohibited.