July 14, 2022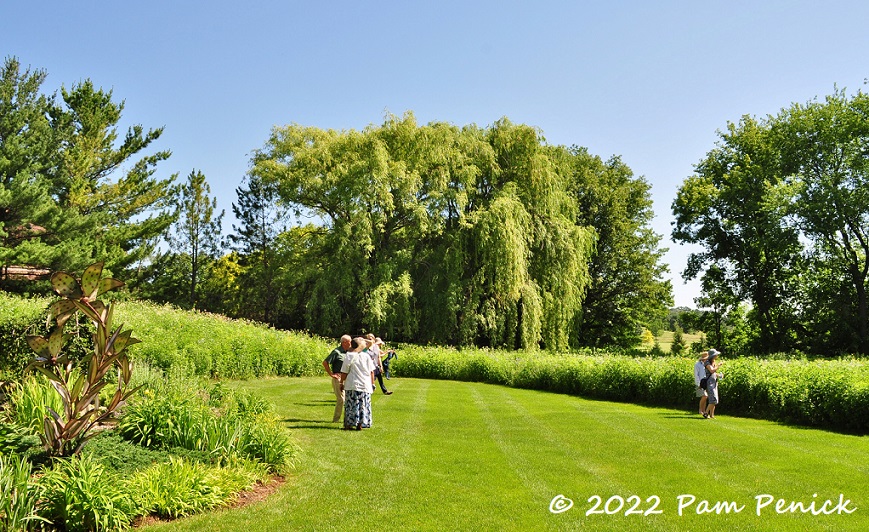 A shoulder-high, prairie-style garden makes a charming splash through Linda and Phil Grose's sunny backyard in Middleton, Wisconsin. As the second stop on the Madison Garden Bloggers Fling Tour in June, it immediately grounded me in the high Midwest, in the land of the tall grass prairies.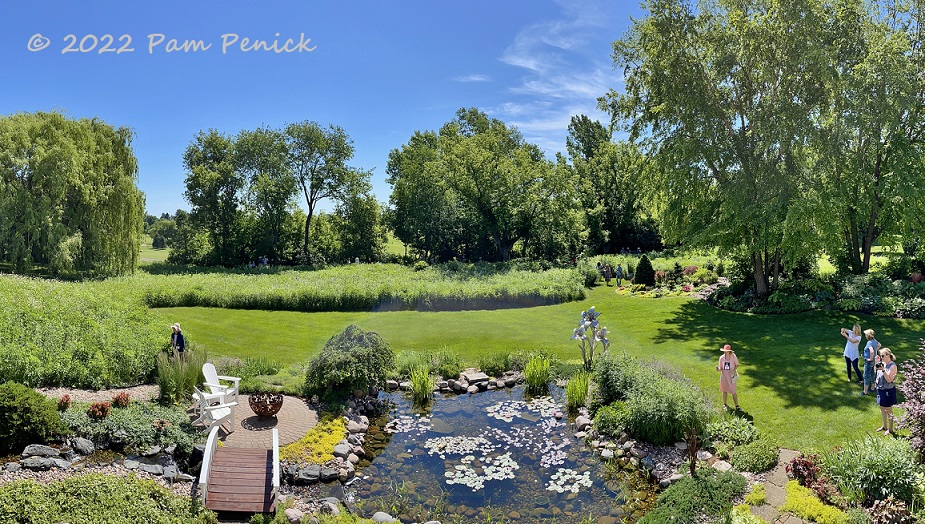 Linda and Phil built their home 25 years ago. At the time, Linda said, "the only plants on the lot were weeds and rows of old box antiques." Today a large pond and prairie garden occupy much of the sprawling backyard — a space most people carelessly carpet with lawn.
Linda had other ideas. "I lived in Los Angeles for 20 years before moving back to Wisconsin and wasn't much of a gardener at the time….I wasn't sure what to do with all that land, but I knew I didn't want just one big, boring, lawn. I perused gardening books to get some ideas and had a eureka moment when I came across a picture of a colorful wildflower meadow. I then received a referral to Neil Dibble at Prairie Nursery, who helped us realize our backyard prairie vision….Neil designed a custom seed mix that was perfect for our heavy clay soil, adding additional species for moist, shady areas. done He also specified 'no-mow' fescue paths that wrap around the back and sides of the prairie plantings."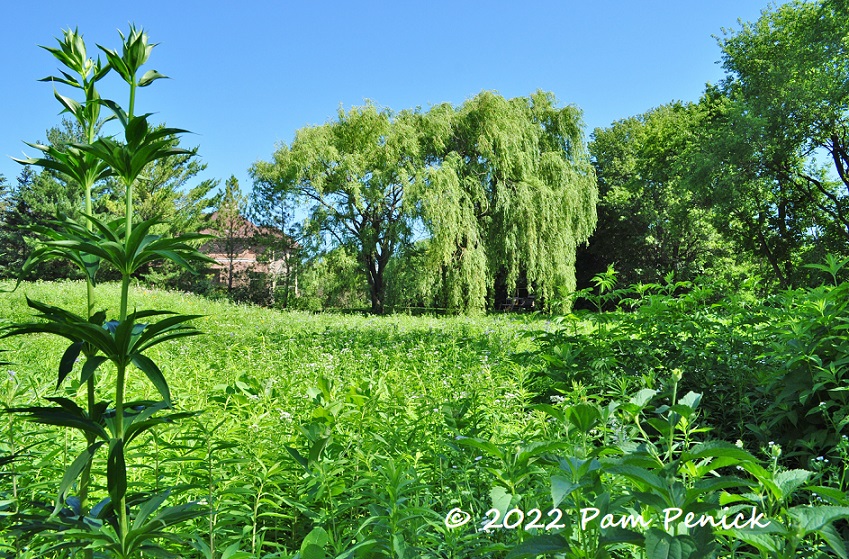 Although the garden is located within a neighborhood (although the houses are spaced apart) and backs up to a golf course, it feels private thanks to willows and other large trees and shrubs around the perimeter. This keeps the center sunny and open, which prairie plants love.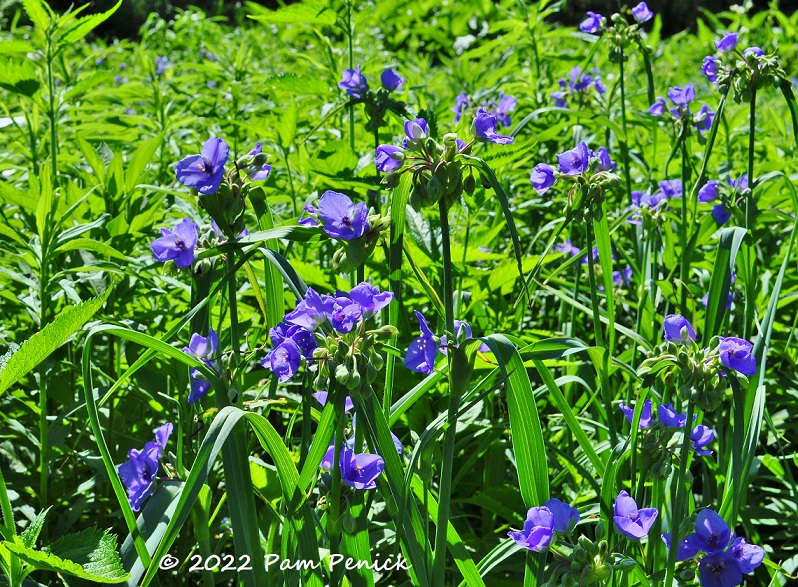 June was still early for the Wisconsin native prairie garden, and while it was tall and sprinkled with flowers, the main show would come later. "The planting is composed of 100% native plants," says Linda. "When Fling visited, the most prominent plants were tradescantia (spiderwort), golden alexander, penstemon and baptisia (blue). It gets more colorful later in the summer, with ox-eye sunflowers, orange butterfly weed, purple coneflowers, lavender monarda, and my favorite, Turk's cap lily, among the many plants in bloom. Fall bloomers include a variety of asters as well as rudbeckia."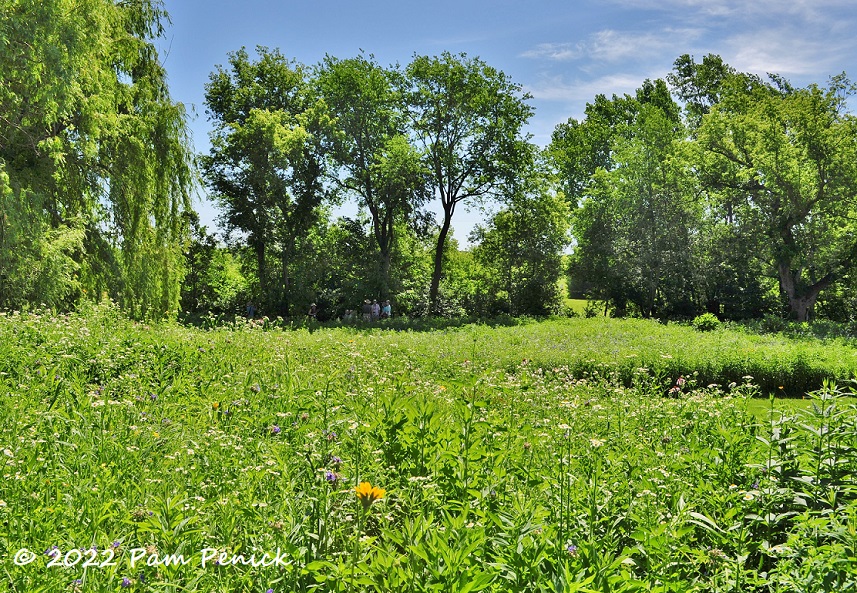 I didn't see many grasses coming up among the wildflowers — grasses are a big part of Blackland Prairie-style gardens here in Texas — and I asked Linda about it. "There are some native grasses that show up in late summer and fall (including Indian grass, big bluestem, little bluestem, and switchgrass) as well as some fox sedge along moist, shady edges. But dominated by our prairie forbs (perennial wildflowers). It's pretty and colorful, but a large percentage of grass allows for a well-controlled burn and helps suppress weeds. Prairie Nursery's original planting mix included a large amount of grass seed, but while forbs grew abundantly in our clay soil, grasses did not. I've tried adding more grass seed over the years, with limited success, because the tall forbs often shade out the grass seedlings."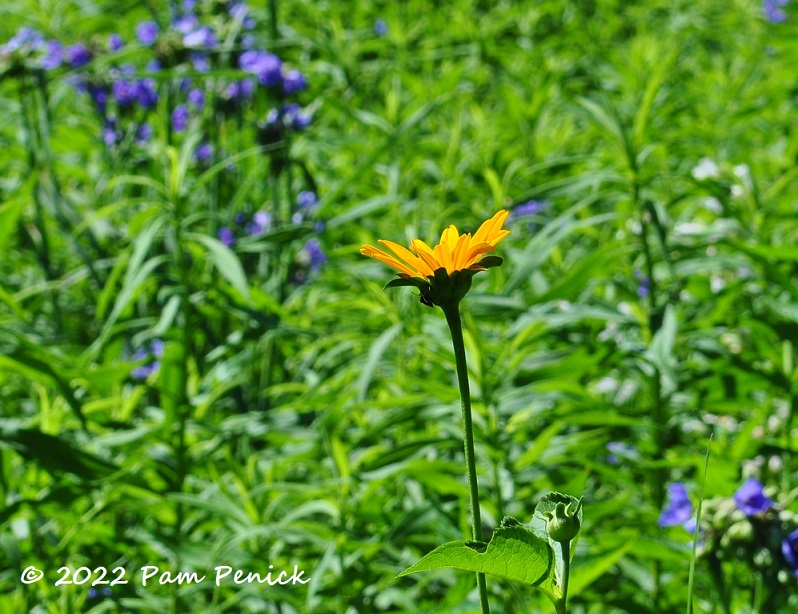 I like to see this garden in its peak bloom, but it was also quite beautiful in early summer, with early flowers catching the sunlight amidst the greenery. Linda says prairie gardens don't need watering or fertilizing, but weeding is essential. "In the early years, my husband and I cleared all the weeds to pull Canada thistle, prairie dock and other perennial weeds or to cut biennial invasive weeds like Queen Anne's lace. I still do some weed control, but I now have help from Good Oak Ecological Services to control weeds and invasive native species such as Canada goldenrod and cup plant. Good Oaks also does controlled burns for us every three or four years. Other years, our lawn service mows the prairie with a sickle bar mower once in early spring."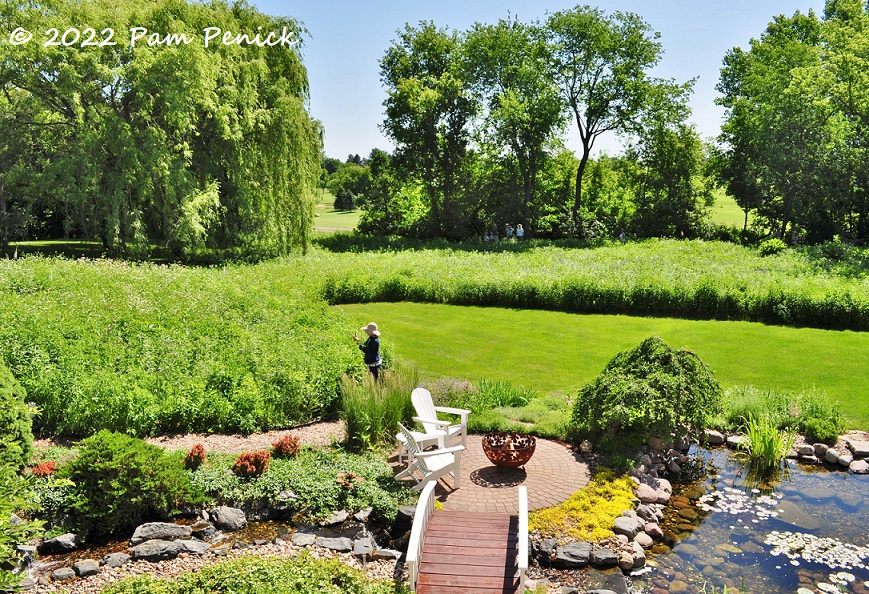 Native prairie plants, ponds, and tree cover provide habitat for all kinds of birds, insect pollinators, and other species, Linda enjoys observing wildlife such as the beauty of the trees and the changing seasons. "The prairie offers year-round beauty, but my greatest joy is being sustained by all the birds, butterflies, bees and other pollinating native plants," she says.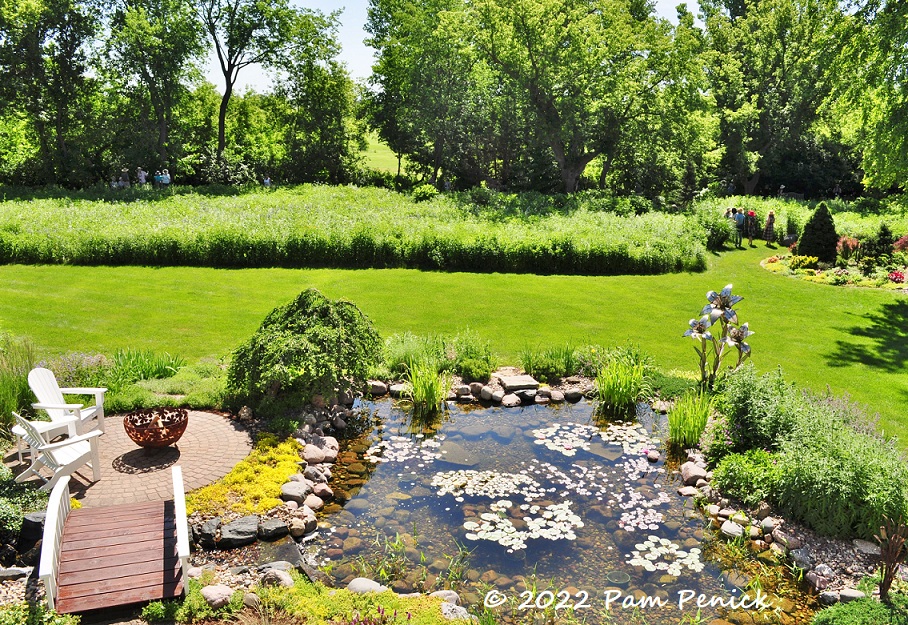 Converted to native-plant gardens, Linda added, "I would definitely encourage others to replace lawns with native prairie plantings or incorporate more natives into their home landscape. As long as you select the right species for your soil type — in my example, very heavy clay — native plants can grow very easily. There are countless benefits, including eliminating the need for watering, fertilizing and weekly mowing. Deep root systems absorb and filter water and sequester carbon."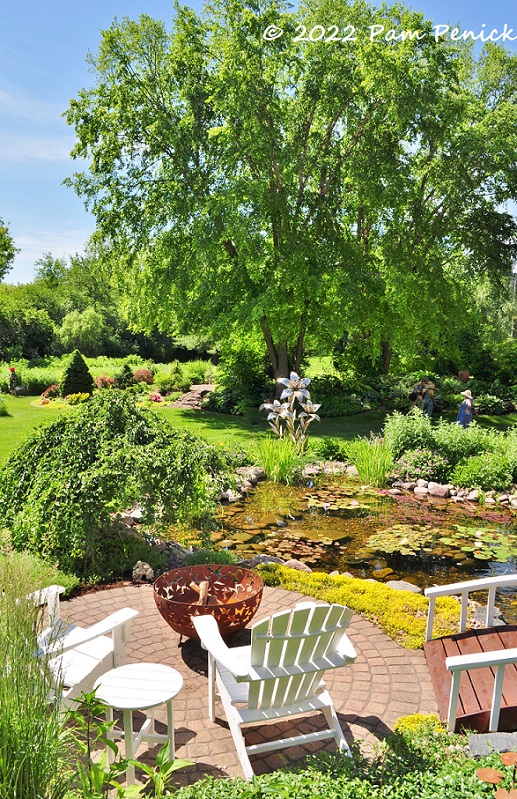 And now let's explore the other features of the garden, including the backyard pond, with a circular patio for two, with a firepit for chilly evenings.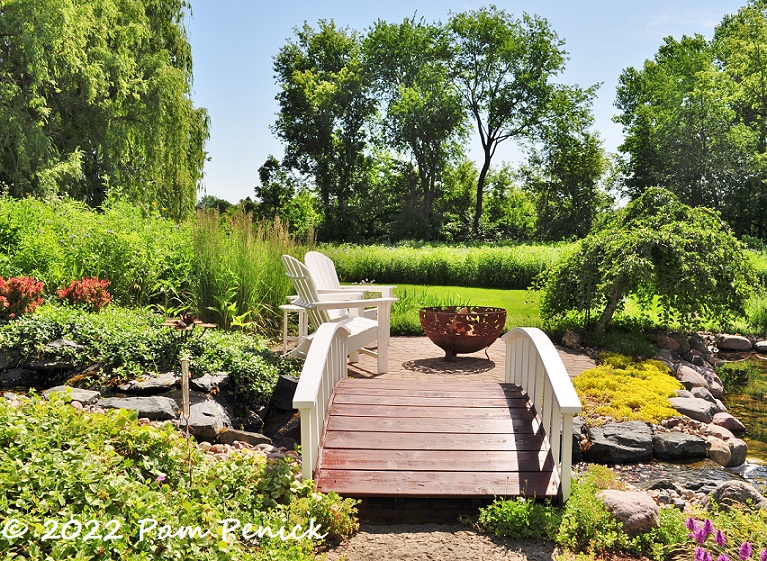 A wooden bridge leads to the patio arched over a stream flowing into the pond.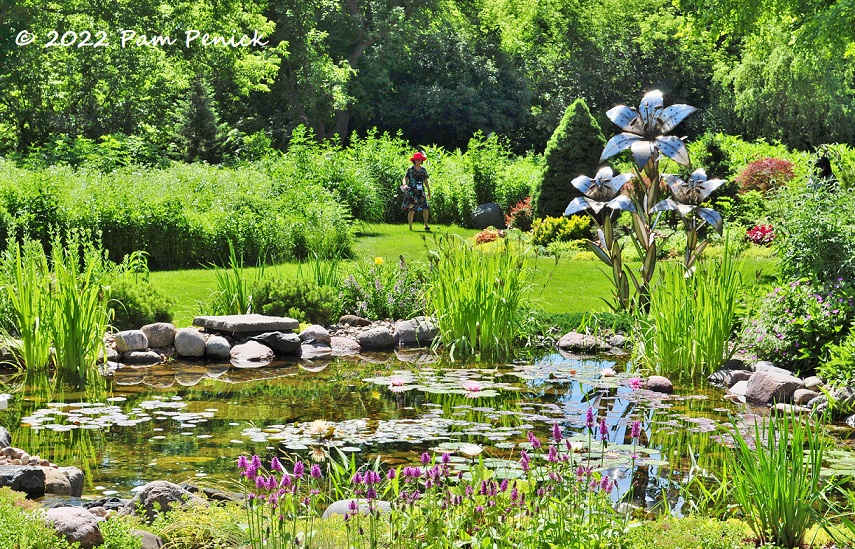 It must be a paradise for birds. For owners too. I enjoyed their giant flower sculpture as a focal point at one end of the pond.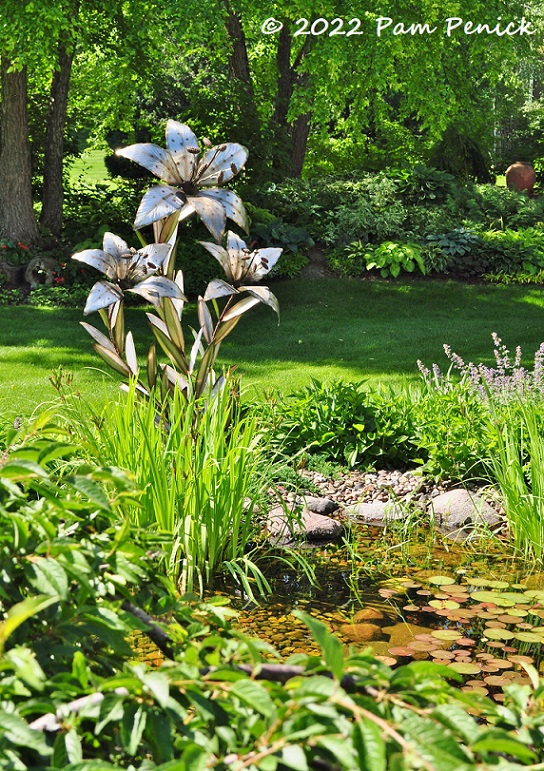 Daylily sculpture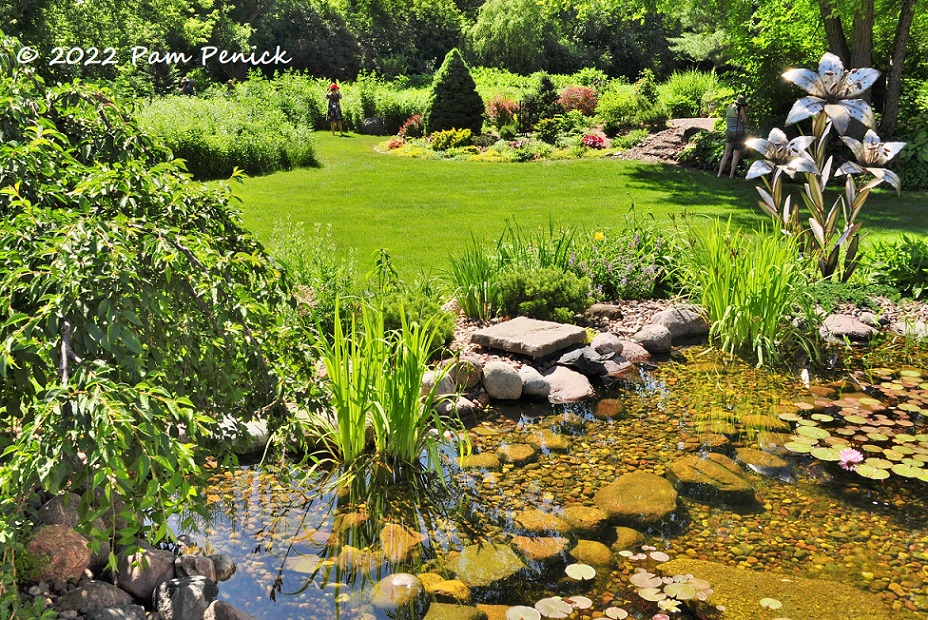 in another way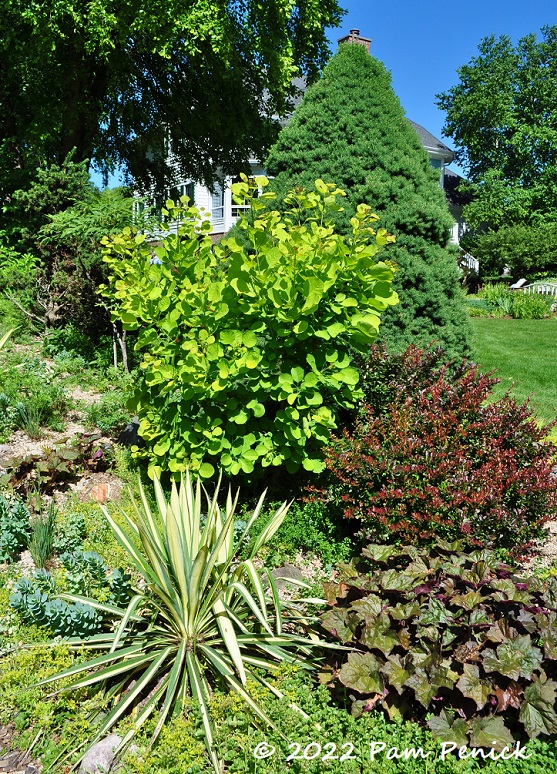 One along the border, the other sun lovers – even a yucca! – Create a beautiful combo of contrasting leaf colors and forms.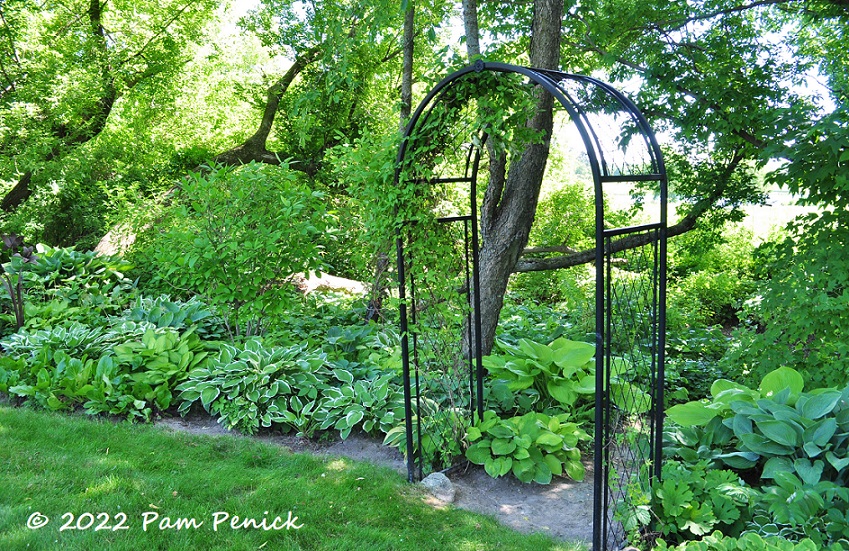 At the rear of the property, a shady garden offers views of cool greenery. Beyond the arch is the adjacent golf course.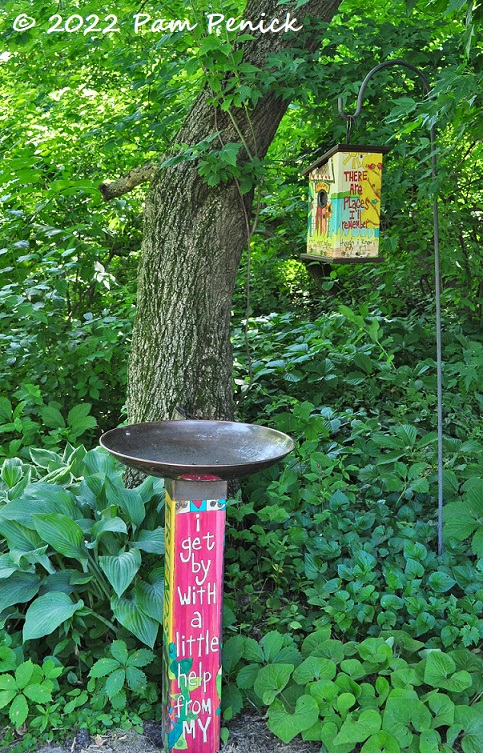 Colorful garden art brightens shady scenes.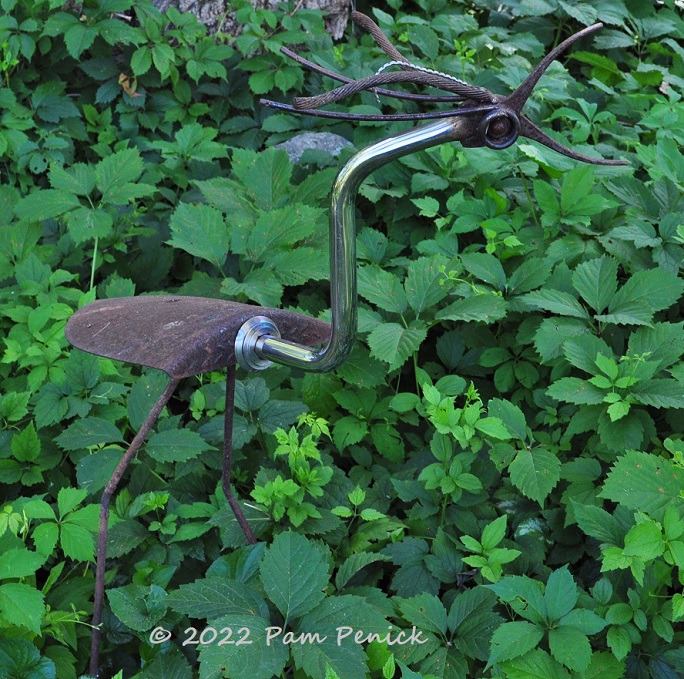 Quirky found-art pieces like this bird made from old tools also catch the eye.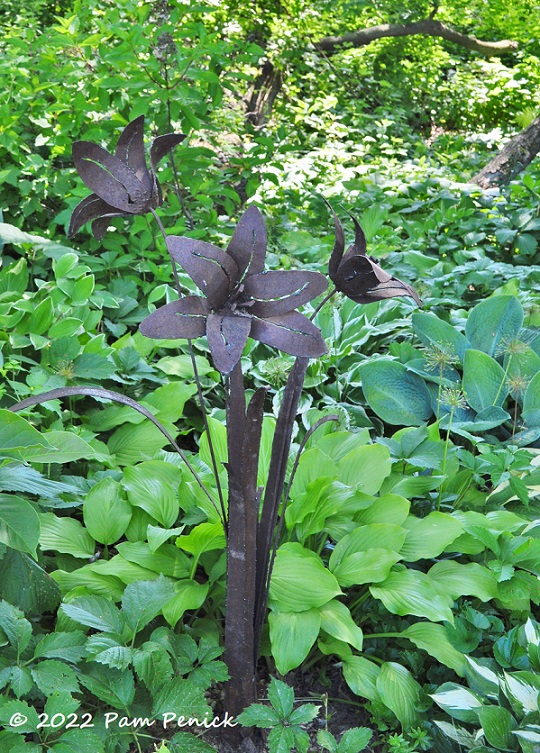 metal flower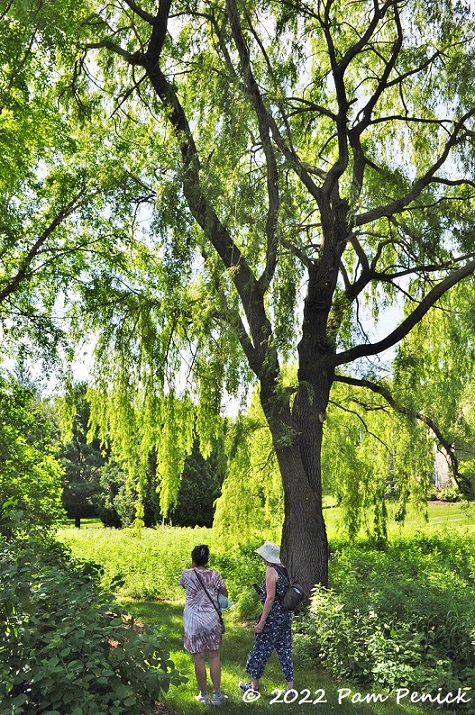 Under a willow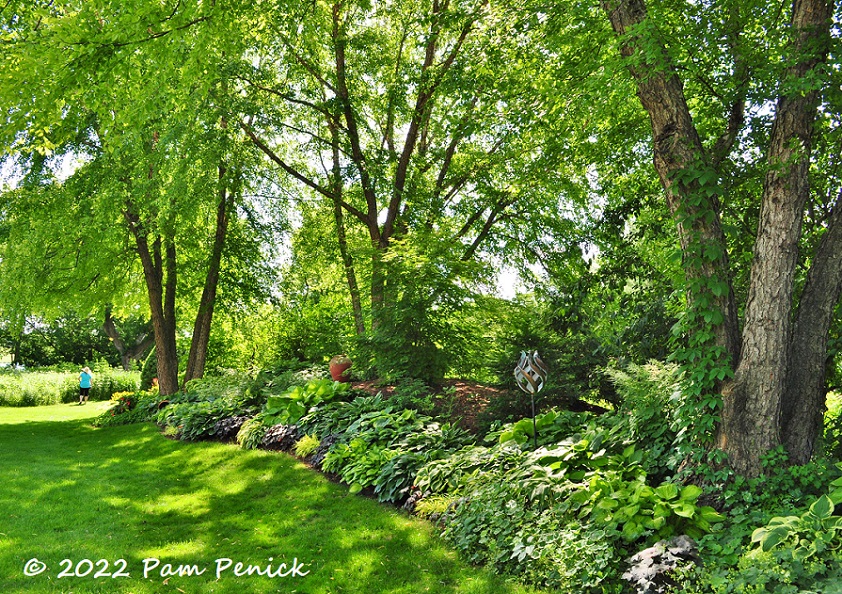 In the side yard, another shady garden with showy hostas forms a long, mounded border that screens the neighbors.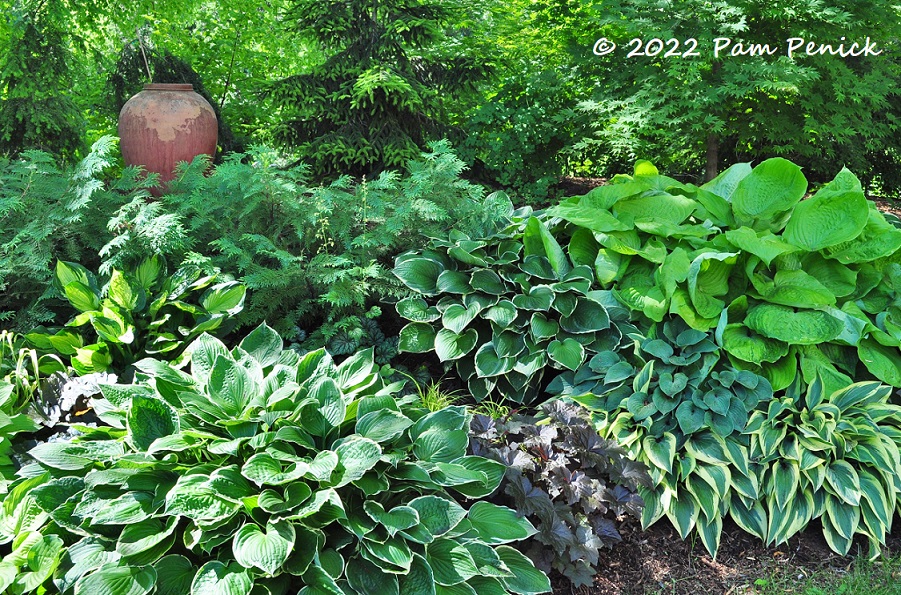 Shades of green and a perfect accent pot make for a lovely composition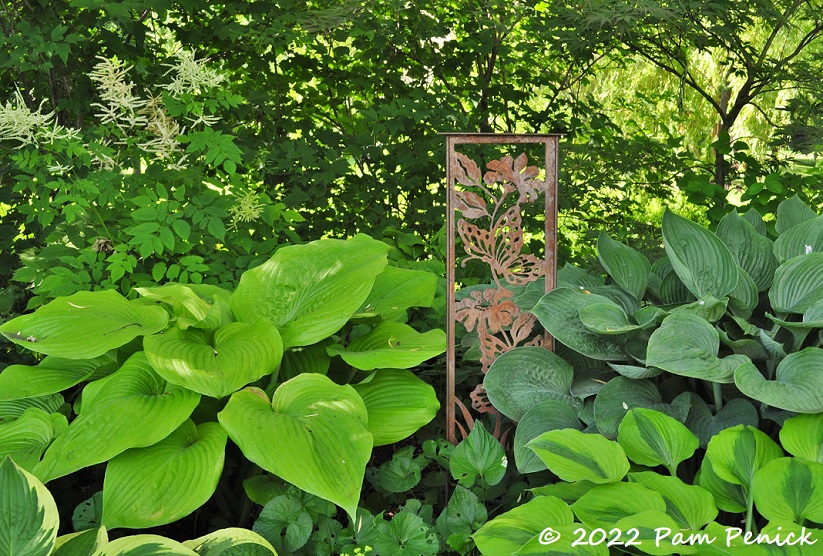 Great host!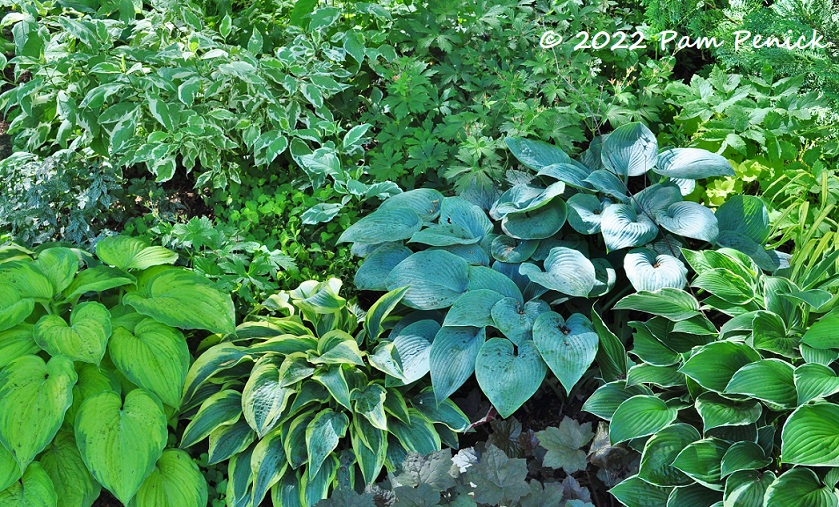 I especially like this blue one.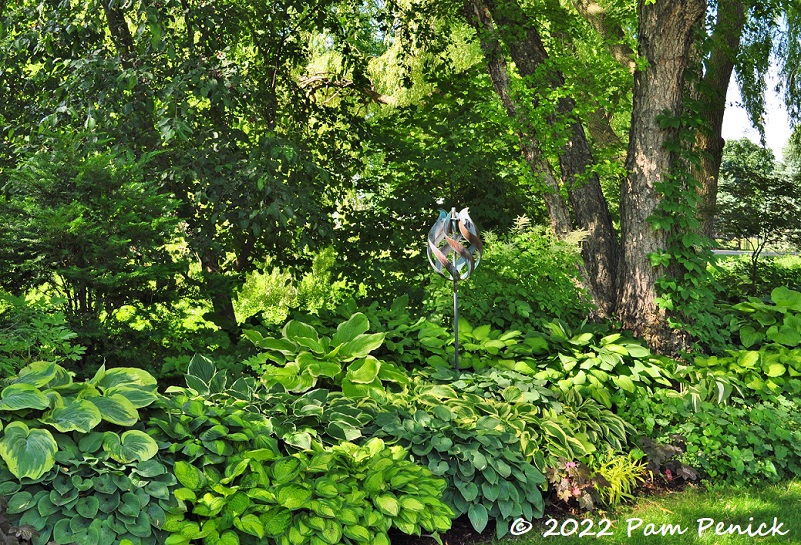 They just keep going.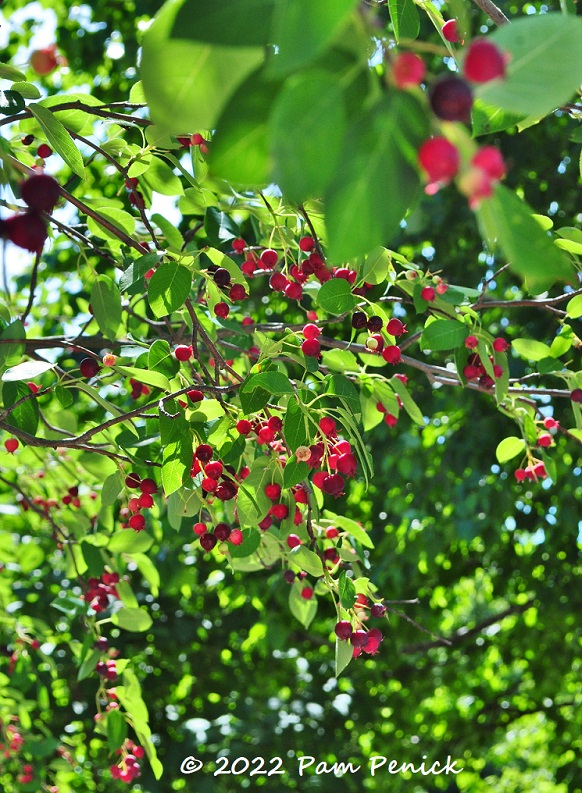 I had time to take a few quick photos in the front garden with this red berry tree…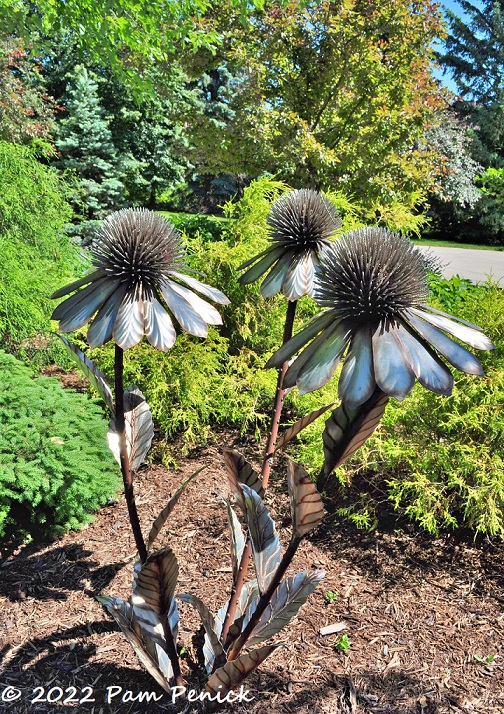 …and a large metal cone with bristling cones – a hint, perhaps, of the sprawling prairie garden unfolding in the backyard.
Next: A rare American chestnut at the UW Arboretum. For a look back at the Custer Garden with pond and textural shade garden, click here.
I welcome your comments. Scroll to the end of this post to leave a. If you're reading an email, click here to go to Digging and find the comment box at the end of each post. And hey, did someone forward you this email and you want to subscribe? Click here to have Digging delivered straight to your inbox!
__________________________
dig deep
Join the mailing list for Garden Spark! Hungry to learn about garden design from the experts? I host a series of inspirational talks by designers, landscape architects, and authors several times a year in Austin. These are limited-attendance events that sell out quickly, so join the Garden Spark email list for advance notice. Just click on this link and ask to be added. Season 6 will begin in Fall 2022.
All material © 2022 by Pam Penick for Excavation. Unauthorized reproduction prohibited.