August 19, 2022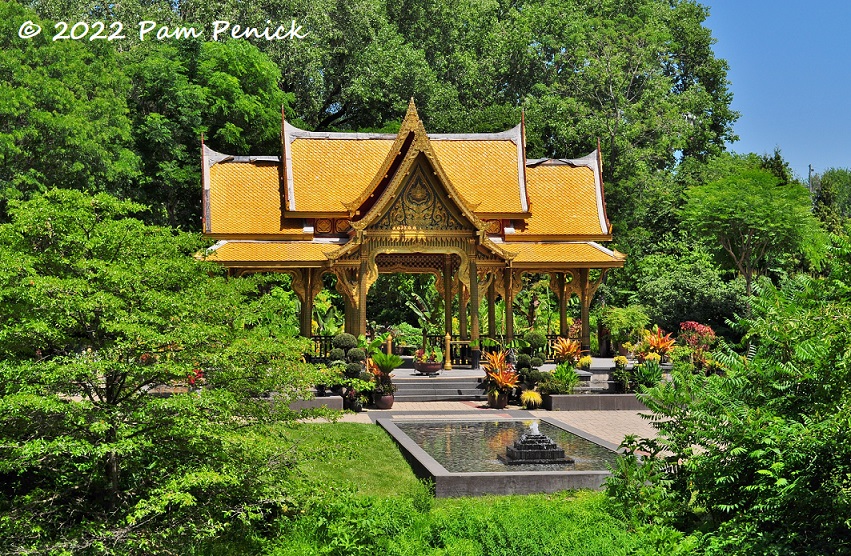 For my final post about Madison Fling in June, I'll share the Thai Garden, a surprisingly exotic-looking space at the Olbricht Botanical Garden. First, that glimmering golden pavilion!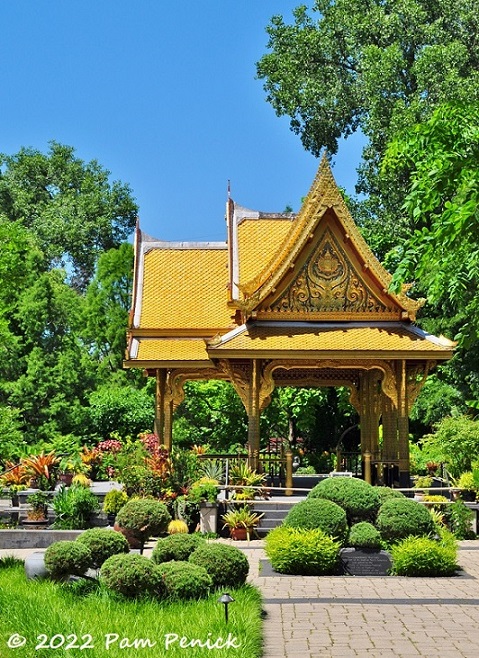 called a Salasuch as a pavilion "is a common structure in Thailand that is usually used as a shelter from rain and heat. Olbrich's pavilion is more ornate than most roadside pavilions in Thailand and represents things found in temples or palace grounds. However, Olbrich's pavilion is not a religious structure."
Olbrich's website further explains, "The pavilion was a gift to the University of Wisconsin-Madison from the Thai government and the Thai chapter of the Wisconsin Alumni Association….[It] Built in Thailand, then disassembled and packed in shipping crates. The pavilion traveled seven weeks by sea, then by rail to Chicago and by truck to Madison. Nine Thai craftsmen traveled to Madison to reassemble the pavilion after building it in Thailand. It took three weeks to rebuild."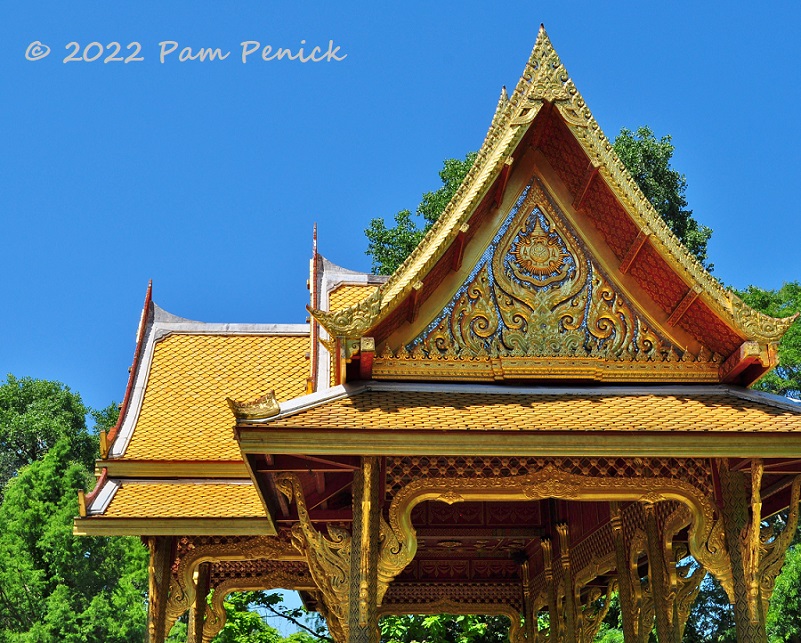 Yellow roof tiles and gold leaf ornamentation sparkle against the bright blue sky.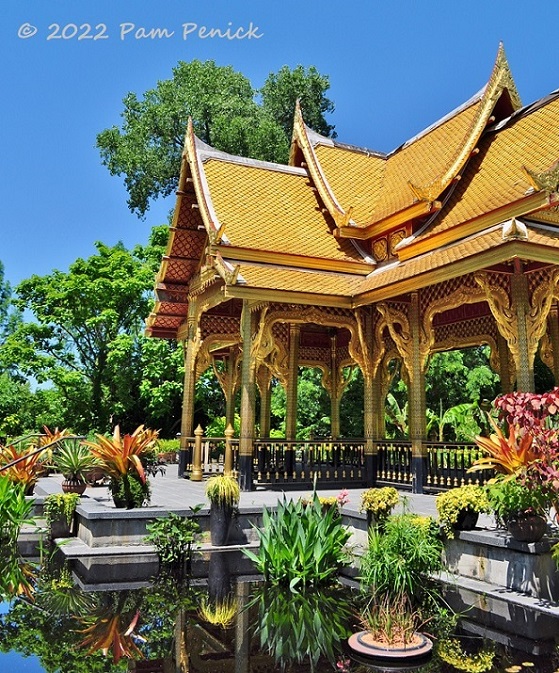 A stone patio extends around it, as does a black, mirror-like pool. Darker pots showcase brightly colored bromeliads, sedges, bananas and other tropical plants.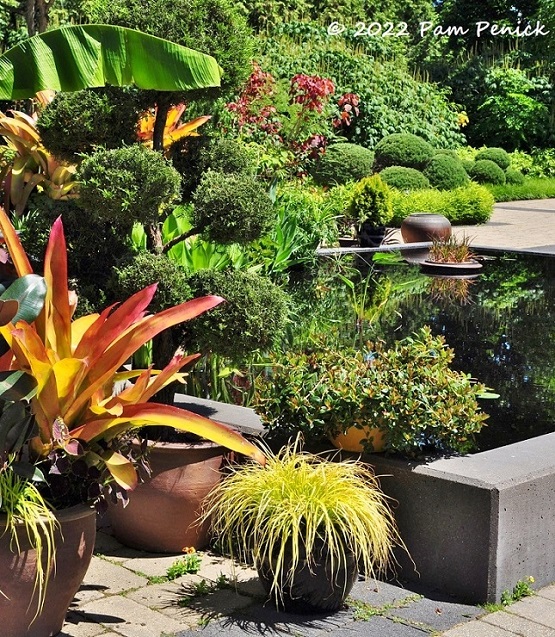 A view across the raised pool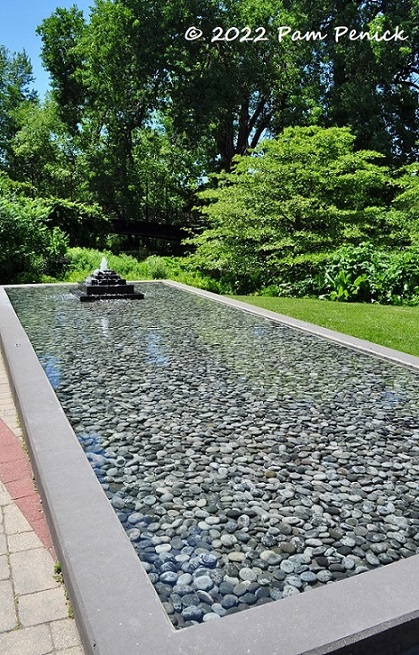 Another pool, a contemporary rectangle of river rock under a sheet of clear water, with a pyramidal fountain at one end, draws your eye to the surrounding gardens.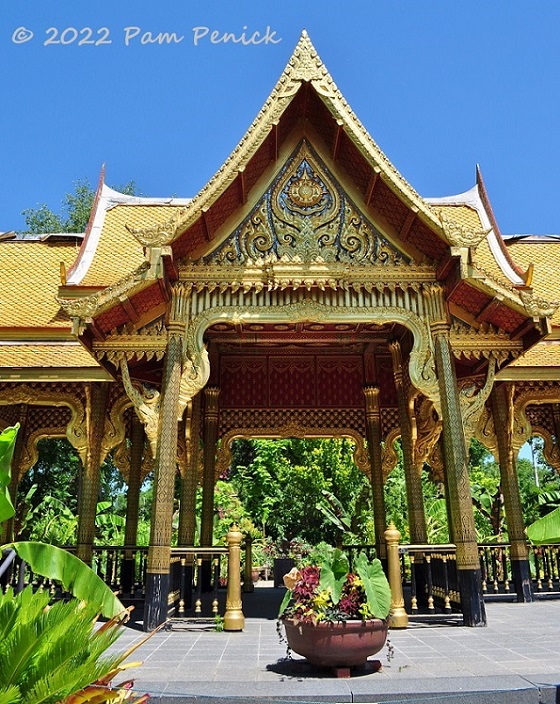 What a beautiful garden structure.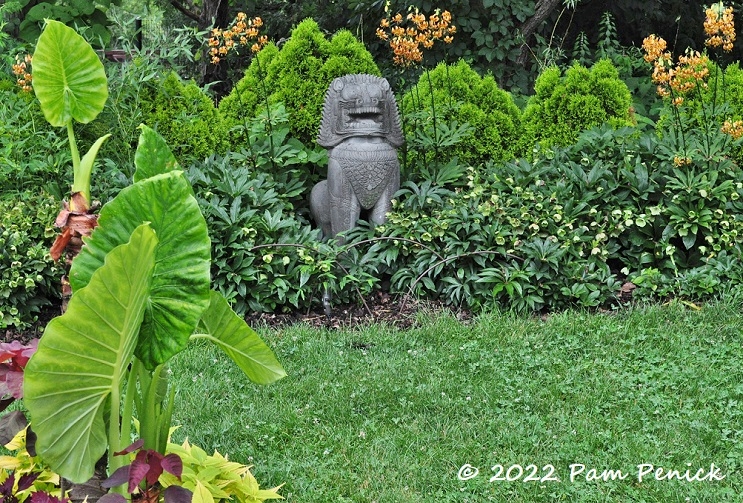 The surrounding garden relies on trees hardy in Wisconsin's cold winters, but it still creates a tropical atmosphere. "The Thai garden surrounding the pavilion," explains the garden's website, "simulates a lush, tropical garden with Wisconsin-hardy plants. Ornamental grasses, some up to 12 feet tall, and several hardy bamboos are necessary to create a tropical look. A typical Thai Large leafy shrubs and trees are pruned to give the appearance of trees in the garden."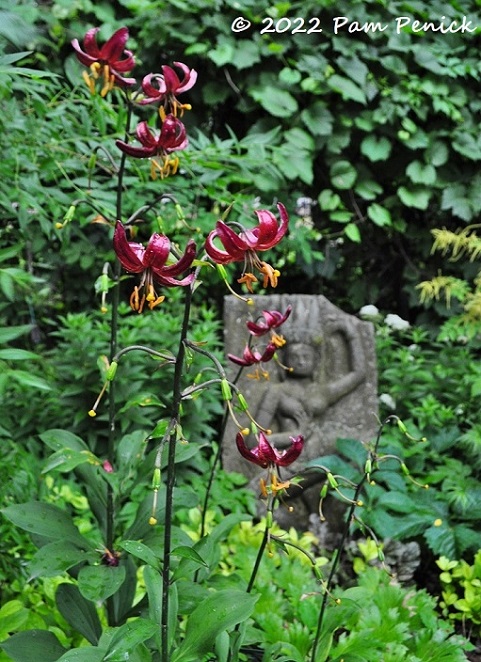 Lilies add rich color to pieces of Thai art and sculpture.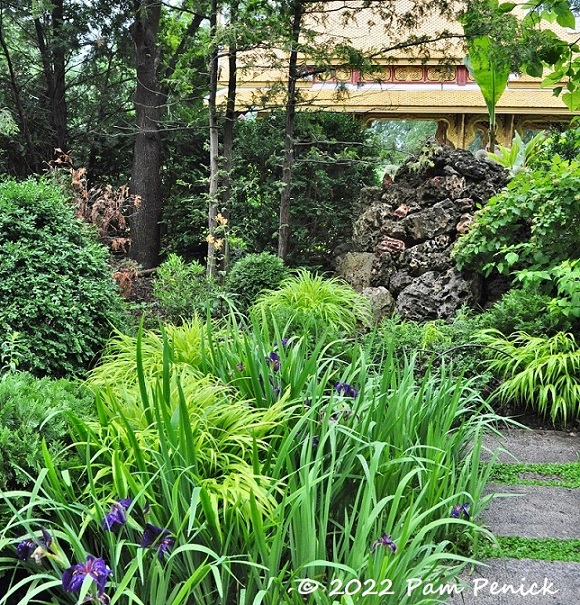 Blooming iris with a chartreuse grass or sedge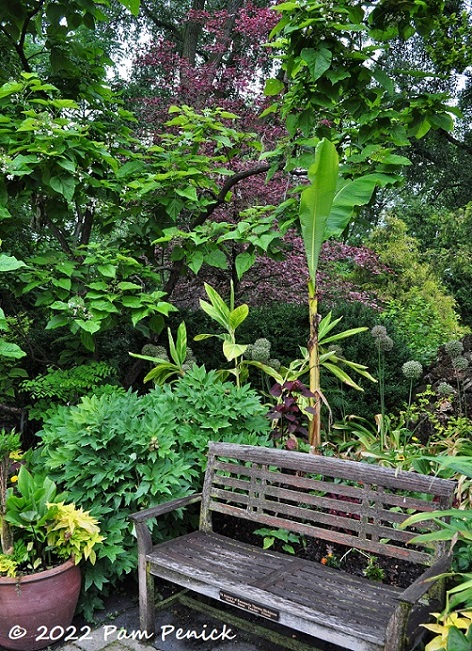 A potted banana is supported by a large leaf hardwood and allium.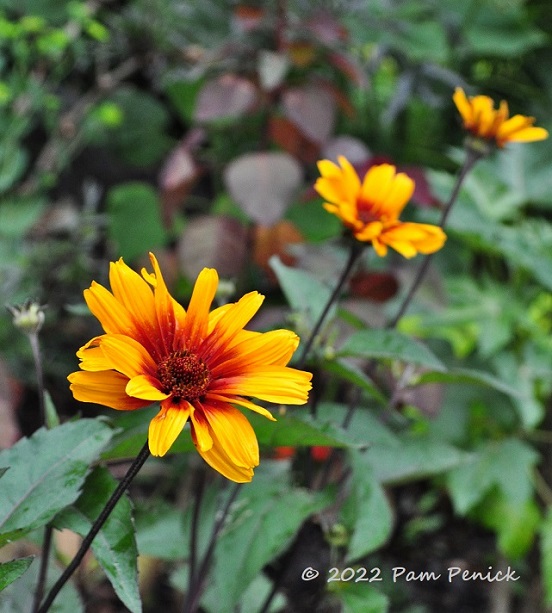 Warm colored plants hold their own alongside golden ones Sala.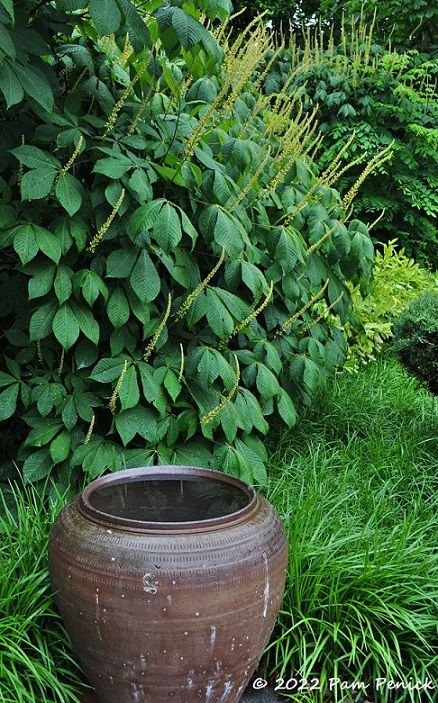 A study of yellow-green, accented with a simple pot of water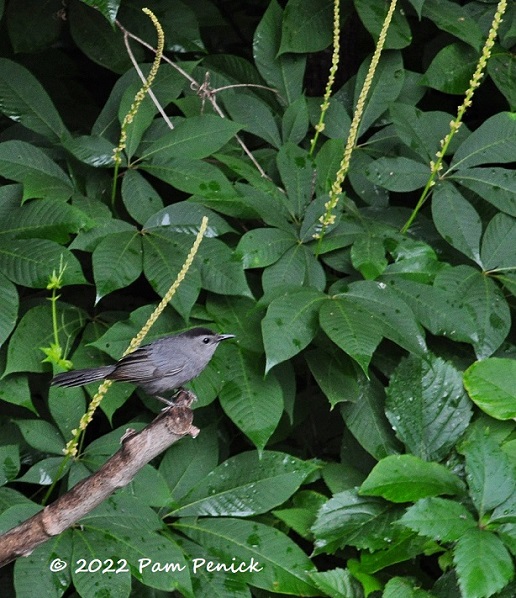 Is it a small bird, I wonder?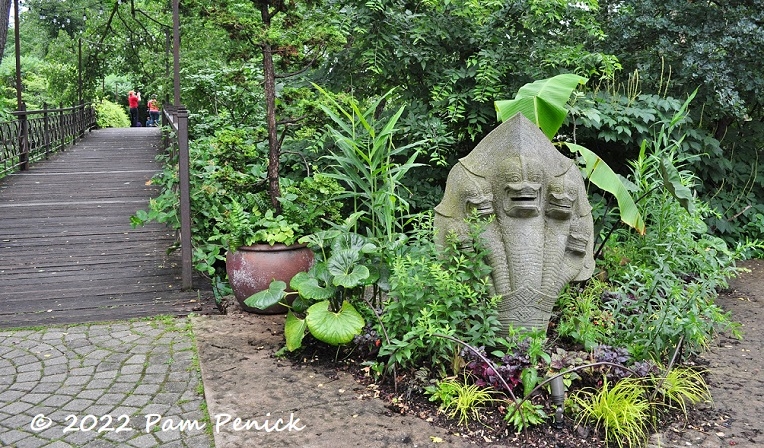 Naga is a sculpture, a snake deity, guarding a creek-spanning bridge that takes you to a Thai garden. This water crossing makes the tropical Thai garden feel a world away from its Midwestern counterpart.
This concludes my coverage of the Madison Fling! For a look back at Olbrich's meadow gravel garden and pond, click here. At the end of that post and the next post, you'll find links to my other Madison fling posts. Happy virtual garden visit!
I welcome your comments. Scroll to the end of this post to leave a. If you're reading an email, click here to go to Digging and find the comment box at the end of each post. And hey, did someone forward you this email and you want to subscribe? Click here to have Digging delivered straight to your inbox!
__________________________
dig deep
Learn about garden design from the experts here Garden Spark! I host private talks with inspiring designers, landscape architects, and writers several times a year in Austin. These are limited-attendance events that sell out quickly, so join the Garden Spark email list to be notified in advance. Just click on this link and ask to be added. You can find this year's speaker lineup here.
All material © 2022 by Pam Penick for Excavation. Unauthorized reproduction prohibited.